Vibrant, daring, sleek and stunning. And flattering, for everybody. Those are just a few words that come to mind after viewing the stylish new Brittany Cavaco Collection for Só Dança. The collection features a wide array of dancewear and fitness attire – leotards, skirts, jackets, warm-ups and even a backpack. And everything is designed with the idea of making dancers of every size, age and ability feel empowered and beautiful. It is truly a collection for everybody.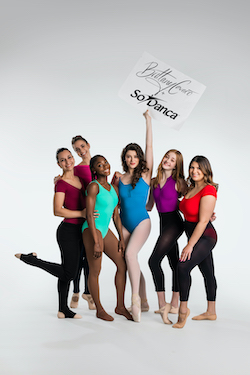 Here, we speak with Cavaco, who has been an ambassador and model for Só Dança for four years, about her vision behind the collection, some of her favorite products and how you can get 10 percent off your entire order!
Tell us about your new collection for Só Dança!
"The Brittany Cavaco Collection is the dancewear collection for everybody. When Só Dança asked me if I wanted a collection, I was truly over the moon. It has been my dream since I was a little ballerina to have my own collection some day. This collection is for everybody, and I wanted there to be pieces in this collection that would make dancers of every size, age and ability feel beautiful and empowered.
There are two big drops – the first dropped in April, and the second will drop later this summer! The first drop's theme was bold, editorial and high fashion. The second drop is much lighter, airy and ethereal.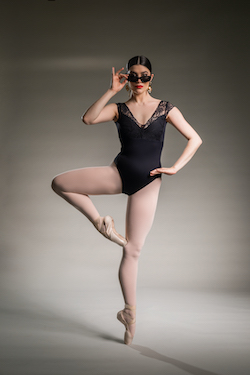 The Brittany Cavaco Collection has a large array of dancewear and fitness wear. There are leotards, skirts, jackets, warm-ups, booties and even a backpack! The leotards in my collection are really unique. I wanted pieces that ranged from conservative to edgy so everyone would find a piece that could match their own unique style. In order to embrace everyone's unique body types, I had to make sure we had different cuts, styles and fabrics in the collection. I made sure that there would be lots of support in the leotards for dancers like me who have a larger chest. I incorporated some very basic shaped leotards for dancers who may be older or adults who are new to dance and want something more simple. I also was so excited to include quite a few jaw-dropping leotards that have such unique lace and mesh embellishments. A few of the pieces from my collection are Só Dança styles that I have been obsessed with and always wear! I was able to add my own flare on them by selecting colors and sizes!"
What are some of your favorite pieces from the collection if you had to choose a few?
"Oh, this is definitely hard! In my first drop, I would have to say my favorite pieces are the Elise, the Elena, the Kaela, the Tiffany Set and the Athena Jacket!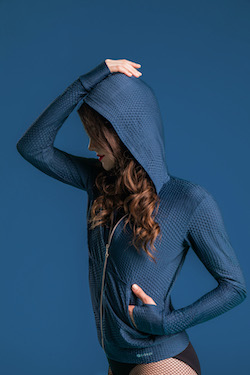 The Elise is a ¾-sleeve leotard with color matching mesh on the top and mesh sleeves. I usually do not like mesh on long-sleeve leotards because it bothers me when I sweat, but this mesh is so comfortable, I could wear it 24/7. It may be one of the most comfortable and complimenting leotards I have ever worn! The Elena is probably my favorite to wear because it makes me feel so beautiful. The lace accent on the top is stunning and the low, V-shaped back really makes it a statement leotard! The Kaela is so fun! It has a zebra mesh print and makes you just want to dance the second you put it on! A lot of my friends actually wear the Kaela out as a bodysuit! The Tiffany Set is such a gorgeous workout set. I love how the top supports your chest and keeps everything contained while you work out but still allows you to feel feminine and bold because of the cheeky mesh! I get so many compliments on the Tiffany Set every time I wear it. The Athena Jacket is the perfect combination of comfort, chic and class. Coming in both blue and black, the Athena Jacket is one of my workout staples! It is light enough that you can wear it while working out and not get overheated. I love that it has thumb holes, and I promise, as soon as you touch it once, you'll understand how soft and comfortable it really is!"
What was the process in creating the collection – from vision to sketching to construction?
"I started talking with Só Dança about my collection around six months before the line came out. Sometimes, I am a little overprepared, and so I started to put together a presentation about what I wanted my line to represent, the styles of dance and fitness wear I wanted in my collection, mood boards of designs and mood boards of photoshoot ideas. I then tried on all my Só Dança leotards and took notes and videos on each one – what I loved, what I would change and notes about how they would fit on dancers of all different sizes.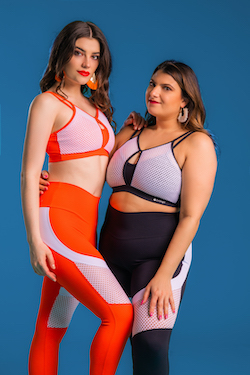 I am obsessed with dance fashion, and I have sketches of dance and fitness wear that I would love to see come to life! I then got to try on the samples and give feedback on what I thought. I then narrowed down and selected the pieces for my line! It was hard because they all were really beautiful. Then the team and I worked on building the collections and the ideas behind the photoshoot. I am so thankful that Só Dança let me be involved in every step of the process, and it took a lot of Zoom calls, phone calls, emails and planning to bring the Brittany Cavaco Collection to life! I flew down to Florida for a week to do the shoot and was blessed to have four beautiful models who were diverse in size, age and ethnicity model my clothes along with me!"
How would you describe this collection in three words?
"Empowering, inclusive and inspiring."
You are also passionate about bringing equality, diversity and unity to the dance world. How are you striving toward this goal?
"Yes! Growing up in the ballet world, I hated my body for a long time. I was told that my figure was too womanly and that my body was too muscular to be a 'ballet body'. I almost quit what I was most passionate about because I let stereotypes and other people tell me what I could or couldn't do, and I know a lot of dancers go through this. What I want everyone to know is that ballet is for every body! Every race, every size, every shape, every age and every skill level. In the last few years, there has been a huge push for equality in the dance world, but there is still so much we have to do. I had the option of making my collection shoot just me, but I asked if we could have a diverse group of dancers to model the collection with me to be more representative of how diverse the dance world should be. I think that it is important for dancers to see themselves represented in what they wear and the environments they are surrounded in.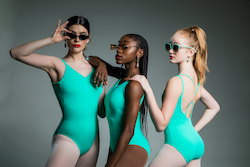 I hope that we continue to make diversity in ballet a priority and that the ballet world will start to become a bigger reflection of the beautiful diverse world we live in! In future shoots for my collection, I would love to make them even more diverse!"
What are some of your all-time favorite Só Dança products?
"The entire Brittany Cavaco Collection! I may be a bit biased on that, though. I love the SD16 ballet shoes, and my custom Toshie pointe shoes, and how soft and stretchy all their tights and leotards are!"
For more information on Brittany Cavaco, visit www.brittanycavaco.com or follow her on Instagram: @theballerina. Check out the full Só Dança + Brittany Cavaco Collection here. You can use the code BALLERINA for 10 percent off your entire purchase of items from the collection at www.sodanca.com.

By Laura Di Orio of Dance Informa.