"Empowering Boys In Dance" is a new initiative of the Vail Dance Festival in partnership with Arts In Society, a project of Redline Contemporary Art Center. It aims to encourage and empower young men to discover and express themselves through the art of dance. As we have witnessed in news coverage, there remains a stigma about boys who dance. Through youth outreach, storytelling, empowerment work and a choreography challenge, the Vail Dance Festival intends to raise awareness and encourage youth to "be you!" and follow their passion.
The 2021 Vail Dance Festival Artist-In-Residence, Calvin Royal III of American Ballet Theatre (ABT), will play an instrumental role in encouraging boys in the arts to follow their passion and talent regardless of social pressure.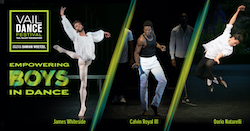 "It's important to all of us at the Vail Dance Festival that all people feel welcomed to the artform of dance," Royal said. "We all dance, every one of us, and this project is a wonderful way to make sure that all young men feel that the doors are wide open to their involvement."
Royal will also work with ABT's James Whiteside and tap phenom Dario Natarelli on this exciting project. The components of the project are as follows:
A video project featuring Royal, Whiteside and Natarelli focusing on challenges specifically related to gender and their accomplishments they have achieved in dance. This compilation video piece featuresthe collective stories of the project's dancers that will be shared with the intent to inform the public and overcome stereotypes in dance.
A choreography challenge for non-professional dancers, ages eight to 18, who identify as boys. Using the collective film piece as inspiration, young dancers and choreographers will be invited to share their personal stories by creating their own dance. The winner will have the opportunity to come to the Vail Dance Festival and participate in a Dancing in the Streets performance with Festival Artists. The winner will also interact with other Festival Artists to further develop their dance training.
Festival Artists will teach FREE online master classes in the coming weeks and will encourage youth to participate in the choreography challenge, utilizing the Festival's well followed social media channels.
Before arriving in Vail, Festival Artists involved in this project will work with dance programs in the front range.
During the Festival, community discussions will take place on the topic of social pressure and mental wellness.
Woven throughout this project, the Vail Dance Festival will work in partnership with The Hope Center and local mental health institutions to inform and assist with the mental health aspects of this work.