Streamed from New York Live Arts, New York, NY.
May 2, 2021.
Miriam Barbosa, previously a principal with the Martha Graham Dance Company, is one of the first to return to the theater post-pandemic lockdown at New York Live Arts. Alongside her partner Javier Dzul, she choreographed and performed a piece melding stage and aerial arts with multimedia projections (Marcela Bragagnolo), light design (Serena Wong) and sound meditation (Franck Raharinosy, Darya Savishkina and Michael Mustafa Ulmer).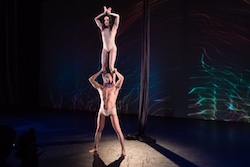 After contracting COVID herself, Barbosa's Transcending is a physical, visual and auditory healing meditation, maybe as much to perform as to witness. With singing bowls that hum and didgeridoos that growl, matched behind by constellations of pixels picking up on the resounding peaks and dips of the sound bath, the movement takes on a trance-ish quality. Barbosa and Dzul are steady and strong and supple.
When together on the ground, they move like one creature combined. Two-headed, eight-limbed, melding dance partnering with circus hand-to-hand. When together in the air, they connect into a singular structure that spins in the tissues, their weight evenly dispersed along one long line. Or they hang one from the other, stand atop each other or sit like their partner is a swing seat. They act as each other's stability when wrapped up in soft cloth so many feet from the ground.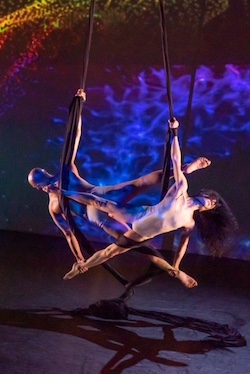 In one moment, Dzul perches high in the tissues as Barbosa is entangled low below. As he pulls on the fabric, he rolls her upward to him, like a spider ensnaring a fly, wrapping her up at the top of the tissues where she hangs in the balance.
While the performance was mostly shared via livestream or video on demand, a lucky few were able to experience it in person. The emotional response of the audience live in theater reminds us the effect of being purely present, and pulls us back toward the magic of bodies in the space, and in the air, around us.
To learn more about Miriam Barbosa Dance, or to watch Transcending on demand, visit www.miriambarbosa.com.
By Holly LaRoche of Dance Informa.