Sometimes, the best laid plans just don't work out. And sometimes, they work out far better than expected. 
"Plans" is, perhaps, an imprecise term for what San Diego-based artist Carly Topazio had waltzing through her mind when she formed The Rosin Box Project (TRBP) in the spring of 2018. At the time, she was simply dreaming of how she might keep herself and her colleagues employed and energized during the looming summer hiatus. Dancers are used to filling their layoff periods with additional shifts at the coffee house or, if they are lucky, pickup performance and teaching opportunities that may entail travelling far and wide. But Topazio, a Massachusetts native whose dance career had taken her around the country and the world prior to her arrival at City Ballet of San Diego in 2014, sought a way to stay close to her adopted home — and to create something meaningful there.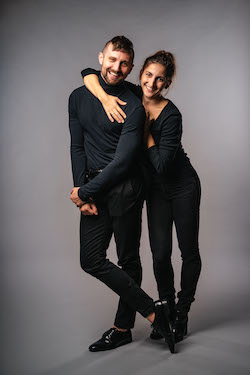 "In a typical company, we really only had four productions per season and then all these off months," Topazio explains. "It just felt like there was a big gap. And along with that… I think I was kind of tired of the way the ballet world operates. So much of it didn't make sense to me; so much of it didn't feel like a healthy environment. It seemed like the integrity of dance and movement art, in general, was so far lost. I was longing to feel fulfilled by dance again."
Thus emerged the idea for a single weekend of shows, featuring works choreographed by Topazio and two other dancers, at The Geoffrey Off Broadway, in San Diego's Historic Spreckels Theatre building. With scant funding and no official staff to speak of, the small but eager band of performers coordinated everything from technical logistics to marketing to ticket sales on their own. At some moments, Topazio reports, they felt that they were in over their heads. But four full houses and a slew of enthusiastic audience reviews later, they surfaced in triumph.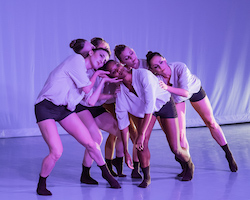 "I never thought that I would be a director," she says. "That was never in my game plan, or anything that I was even thinking about working toward. That first summer, I knew that there was so much more I wanted to be doing, and there simply weren't the opportunities or the resources. So it literally started as a 'project,' and we all were completely blown away by how well it was received."
Encouraged, inspired and educated by that inaugural venture, Topazio was ready for round two in the summer of 2019, when TRBP presented an expanded program (five new pieces instead of three) at a different venue (Liberty Station's White Box Live Arts), again to sold-out crowds. The big question following this second success was not how to repeat it but how to top it. At the beginning of 2020, Topazio did just that, announcing the company's new nonprofit status, the onboarding of choreographer and erstwhile dancer Thom Dancy as managing director, and the formation of a board. TRBP was on a roll.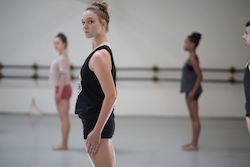 "It just happened to line up perfectly," she recalls. "[Thom and I] knew each other from Milwaukee Ballet. He moved to San Diego a few years ago, and we got back in contact. He was no longer dancing; he was choreographing and working in arts administration… And so he became our first guest choreographer. From that experience, I think he fell for our little project. It's funny: He sat me down and said, 'So how do you plan on doing this actually? What's the big picture? Where are we trying to go?' He was the one who kind of set it in motion. From there, everything focused in."
A pandemic, of course, was not on Topazio's to-do list for 2020, but she and her compact team barely missed a beat in redrafting the blueprint for what was to be an ambitious third season. Also an established photographer and videographer, Topazio already possessed the tools necessary to engineer ample digital content without having to call on outside resources, and those assets certainly factored into her strategy. But rather than turning inward to focus solely on steering her fledgling troupe into an indefinite future, she turned out, her instinct for collaboration propelling her to engage with the community and with fellow artists in unique ways.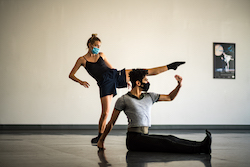 During the early days of the shutdown, TRBP launched a fundraising campaign with the aim of financing exclusive shows for San Diego's first responders and frontline workforce. This effort culminated in Art for the Frontline, a two-pronged initiative comprising a series of outdoor performances at local hospitals and the donation of tickets for digital events to essential businesses and their employees.
The company then re-envisioned the fundraising gala it had intended to produce last summer, turning The Ghost Light Masquerade into a virtual experience that led viewers on a cinematic tour through the empty corridors of The Tenth Avenue Arts Center, in San Diego's East Village. The event was originally intended to be immersive, with attendees wandering the supposedly haunted passageways of the venue, formerly a First Baptist Church chapel, in the wake of dancers sporting eye masks. The irony is not lost on Topazio.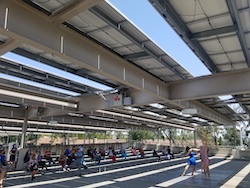 "Yeah, the masks," she chuckles. "But the idea of a ghost light, too: All theaters have them. It's the light you leave on when the stage is empty. So it was also ironic in that sense — that there was going to be no one in our theater. It was bizarrely fitting… I'm very intrigued by immersive theater. I think it's one of the most thrilling and captivating formats. And it kind of aligns with the whole MO of The Rosin Box, because our slogan is 'step inside.' We really value and want to nurture the way that audiences experience dance, focusing on its intimate nature and building connections. But this [event] was not at all something that we would be able to host in the COVID era."
With the help of a 360° camera, however — and Topazio's obliging brother, who served as videographer while Topazio directed and managed lighting and sound — the company bridged the distance between performers and remote viewers, redefining the notion of an "immersive" event. Patrons who purchased their tickets early enough even received complimentary VR headsets and quarantine cocktail kits in the mail.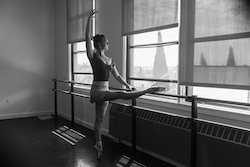 The success of this endeavor fueled further innovation in the ensuing months, with the dancers training and rehearsing in open-air facilities, sporting face masks, receiving weekly virus tests and generally following pandemic protocol all the while. Events staged during this period included a livestreamed concert of premieres featuring contact-free choreography, a film series that placed TRBP members in original productions by local cinematographers, an ongoing multidisciplinary collaboration with San Diego creative industry advocate Vanguard Culture and the invitingly named Stay at Home Film Fest.
Initially made available for free during the month of March, the Film Fest is now housed on the company's website, in The Virtual Box, where patrons have the option to rent recent video selections for a fixed time window or to purchase a subscription to TRBP's entire current digital repertory collection and forthcoming additions. Subscribers also receive access to recorded rehearsals, behind-the-scenes featurettes and interviews, Q&A sessions with dancers and choreographers, and discounts on tickets to future in-person performances — two sets of which Topazio aims to offer this summer.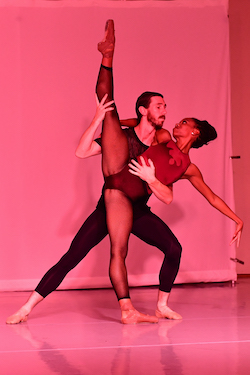 "We do have, crossing fingers and toes, live performances planned," she states. "They are hybrid, so we are offering them virtually as well as at limited capacity in person. They're also taking a very different shape — totally COVID-geared now, very safety-precaution heavy. Our priority will [someday] shift back to live theater, live performance art, but our digital offerings are definitely something that we will continue to have. We're actually trying to vamp up what our virtual subscription will look like after this year because we have so many people subscribed that are nowhere near California."
It is with this balance of pragmatism and optimism, with this propensity to keep her feet planted firmly in the present while her eyes remain trained on the ever-shifting horizon, that Topazio has navigated through an era in which planning beyond tomorrow's breakfast has become something of a futile pastime. This intuitive business strategy has paid off not only virtually, in the exponential growth of TRBP's online presence, but also quite tangibly: The company moved into its own studio space at Liberty Station in late March, decking it out with air purifiers and sanitizers from the start.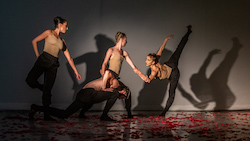 "A studio — a home, more or less — is something that I've wanted since day one," Topazio says. "Every season, we've been completely out of space to rehearse. We've used Thom's balcony, we've used an alleyway, a parking lot… because what else could we do? We live right on the ocean. It's beautiful, and so expensive. Then we started looking at Liberty Station's Dance Place, which houses a whole variety of other dance companies. It's exactly what they do; it's who they look for as tenants. They had a studio available, and the price was right… And then we had our home, which was a pretty surreal feeling. There are no bells and whistles; it's nothing super glamorous. It's a floor and it's mirrors and it's speakers. But it's very magical to us."
Paired with the recent, unanticipated receipt of a grant from The Conrad Prebys Foundation, this development readies TRBP for a future of which Topazio had no notion when she recruited a few friends to put on a set of breezy summer performances three years ago. As the company celebrates its fourth season and its latest windfalls, she and Dancy continue to broaden its scope with flexibly palpable goals, such as the launch of a streaming adult class program that will transition to a hybrid in-person format as circumstances allow, and the cultivation of relationships with more outside artists.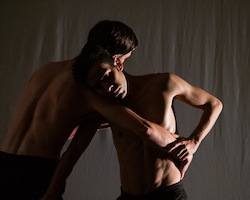 The latter objective has, to some extent, been facilitated by the pandemic and its flourishing Zoom choreography trend. In another age, partnering with the likes of New York City Ballet dancer Emily Kikta, Nederlands Dans Theater member Donnie Duncan, Jr. and Boston Ballet alum Lauren Flower — all of whom have created or will create pieces on TRBP within the year — might not have been possible for a small, young company. But regardless of how expansive and well connected the organization becomes, Topazio is adamant that the mission and spirit upon which she founded it will not change.
"In my opinion, the way a lot of classical companies operate just doesn't work anymore," she reflects. "There were a few key factors [involved] in the birth of The Rosin Box Project. One of them was this bottomless pit of hunger to create and dance and share our art form, and work with different artists and hear different voices… It's like Hollywood: We see the same faces over and over again, and that's just how it is. But there's so much more talent out there. There are so many more voices to be heard, so many more viewpoints to see. That's what I am really interested in. So much of me is against claiming this company as my own… It's not mine. It's bigger than me; it's bigger than all of us."
For more information, visit therosinboxproject.com, or follow the company on Instagram (@the.rosinbox.project) and Facebook (@therosinboxproject).
By Leah Gerstenlauer of Dance Informa.