Creating an appropriate and safe dance floor at home can present a number of challenges.
Your first consideration is where to locate your home studio. If it is in a dedicated spot, you have options depending on what is the current floor and what styles of dance you are practicing. Generally, homes do not come with sprung floating subfloors. Chances are your wood floors are installed directly over concrete, which provides zero protection from injury. Carpeting, especially the thick, plush variety, provides only the illusion of safety. If you are a tap dancer, carpet is a sound killer.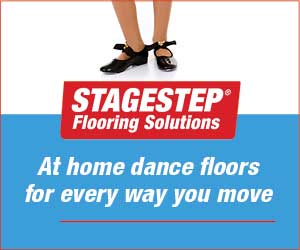 The option for those having a dedicated space should be to consider a transportable floating wood subfloor that is assembled and disassembled without tools (such as Stagestep's Springstep IV). The floor surface depends on whether you do everything, or just ballet, ballroom, jazz or tap. Go to stagestep.com to find the dance floor surface that is designed for how you move.
There are those who are dealing with a restricted space, perhaps in size and accessibility. Here, it is best to consider a practice board or mat that addresses your needs and is very portable. Stagestep provides boards — ballet, tap and turning (modern, jazz), and all have built-in floating subfloors and are very portable. A Dancestep Plus mat has built-in dual density foam backing, comes in four standard sizes with free shipping and is available in custom cut lengths.
For those interested in a real hardwood floor that you can install and remove yourself, Stagestep offers Encore Home (image above). This finished wood floor comes with a built-in floating subfloor and requires no tools to assemble.
One problem that comes with dealing with a home environment is carpet. The softer and more shag a carpet is, the less likely for it to serve as an underlayment to a dance floor. The best bet is the practice board or the floating wood subfloor and a top dance floor surface. There are a number of options and variations on those options.
The two most important things to keep in mind when dancing at home are safety and performance. The tile floor in the kitchen and the wood floor in the living room may be lovely to look at, but they represent a danger zone for the dancer Zooming from home.
Stagestep is ready to answer your questions at 800-523-0960, or visit online at www.stagestep.com.
By Randy Swartz of Stagestep.