Nathan Hirschaut missed out on his senior year of Juilliard last spring but took it as a sign to re-examine what it means to be a dancer, and artist, a healer and an activist, and how all of those titles together can reflect his mission and his work. Hirschaut has opened Hive Creative Company, where he is working as a creative coach, shepherding the creative journeys of other artists through investigation, immersion and spirituality, while also working to create interdisciplinary art that that seeks to question the need for self-realization and self-actualization.
It seems fitting then, that his first work of the New Year, Seek, is an art film that has autobiographical remnants of his own journey toward purpose and truth, utilizing the talents of a Juilliard peer, an opera singer, a contemporary composer and a cinematographer.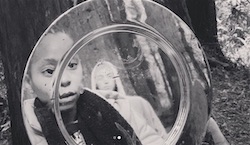 Hive Creative Company will stream the evening-length Seek on January 31, at 6pm PDT. The film fuses together six short story-like cinematic sequences that artistically document the quest for self-trust and purpose.
Following a three-week creative residency, Seek is the first premiere of 2021 by Hirschaut and Hive. The work weaves together themes of ambition, reflection and surrender to provide an intimate look at the self, using landscape, soundscape and autobiographical anecdotes by Hirschaut. With elements of nature, filmed utilizing both land and water, Hirschaut's cutting edge approach to creativity empowers risk-taking for both artists and audiences to consider their own emotional and mental potential.
"For me, art that reflects a quest for truth, both internally and externally, is what inspires me," explains Hirschaut. "This art film personifies remnants of my own autobiographical journey but is rooted in a clear call to action to ignite soul-searching journeys of others."
Seek will stream on Sunday, January 31, at 6pm PDT, followed by a live talk back event. Tickets are $75, $40 and $20, and are available for purchase at www.hivecreates.com/seekshow. The link to stream the film will be available for replay seven days following the event.