October 30, 2020.
Streamed on YouTube. 
Most of the dance works that truly resonate with me do so because of a strong concept, one that the artists at hand skillfully bring to life. Creating a concept is genuine creative and intellectual work. Deciding to bring it to life, and believing that it's something that can come to life, takes sincere courage. The work of bringing the concept to life follows that — something that takes commitment, rigor, adaptability and yet more courage. Theatre Dance Vietnam showed such courage through committing to a complex and challenging concept, portraying the history and cultural context of American musical theater dance, in Dancing Through... The work was filmed at The Tank in NYC, and directed by Elizabeth Troxler. 
Certain ahistorical aspects and structural weaknesses were evident, but the courage to take on a concept of this magnitude is something to commend and celebrate. The choreography and performance were masterful, allowing me as a viewer to not be too absorbed with my intellectual quibbles about structure and historical accuracy. The work itself also underscored the level at which America has been a global leader in dance — something to also celebrate as well as to encourage for generations to come.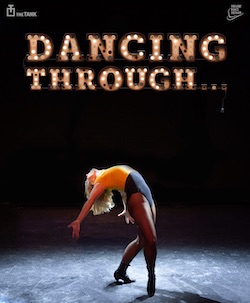 The work opened up on a dance team dancing a Broadway style, impeccably costumed in sequins and feathered headbands. The team members wanted to learn more about the form; one asked where it came from. Their coach began to explain this rich history by explaining how the form came out of vaudeville. The first dance scene was a lovely duet, beginning with following a bowler hat through landing in a box and then it being picked up by one of the dancers prior to her waltz. Movement vocabulary reminisced dream ballets of classic Hollywood. This moved into tapping with impeccable sounds and an energy that just had to make you smile — just like the classic tap scenes of old. The music sounded like it was coming out of an old time radio box, which helped build the atmosphere of the scene throughout.
From there, we cut to scenes of the Great Depression and the beginnings of WWII. While images of this era flashed across the screen, the coach explained how dance and theater lifted people up in difficult times and unified them in a national spirit. The next dance scene was another lovely duet with movement that was a bit more jazzy, sultry and daring — showing evolution of the form as time went on and social attitudes changed. The dancers moved with ease, joy and facility.
Later came a dance scene representing the 1960s, with the rebellious spirit of the hippie movement. The movement was vivacious and infectious. Following that was a fun and funky sequence of 1980s, with bright colors and high cut leotards.
Following that was the 1990s portrayed as a time of darkness and isolation — with dancers separated in space, each in their own spotlight and all else dim. A happy tap dance stood for the 2000s — a time of overseas wars, terror threats and socio-political discord surrounding it, rising socio-political polarization, and the worst financial collapse since the Great Depression. Perhaps this choice was meant to point out how shows like Thoroughly Modern Millie were bringing tap into the 20th century with a bang of fresh ideas — that did ring true to me, and made me smile. 
Both scenes were beautifully danced and designed, so I could highly appreciate them on an aesthetic level. And one major element that helped with structure and continuity was the use of a bowler hat. It was "passed through" the decades through a combination of movement and film editing. This was a clever use of a prop to bring a sense of continuity through time. That approach made me think of the things that have continued throughout American history, in and out of the arts — aspiring to the freedom for all envisioned in our founding documents, for example.  
A sequence of high, high-energy scenes from recent Broadway musical hits rounded out the dance scenes. This creative choice seemed to meet the cultural moment in highlighting the essential contributions of Black artists to American theater, music and pop culture. These scenes included those from the musical The Temptations, a Michael Jackson cover and the recent Tina: The Tina Turner Musical. Like the show as a whole, it was beautifully performed and choreographed.
A powerful ending with scenes of NYC dancers had the coach reminding us that theater remains with us even when theaters are closed; it's in our heart, mind, body and soul. That's the source of the art, after all! Even with the structural and historical issues that stuck out to me, that message — along with the beauty and joy of the performance and choreography — made this a memorable work. The courage to create is something to applaud — because powerful meaning can resonate with that courage as its source. Add in wonderful dancing and design, and you can't lose. 
By Kathryn Boland of Dance Informa.