Imagine landing a job because of your…shoes. Só Dança's Broadway Cabaret character heels can have that effect. The Broadway Cabaret collection offers superior quality, comfort, versatility, and they're a more affordable option in the character shoe market. All of that will leave a dancer feeling confident and ready to attack any audition.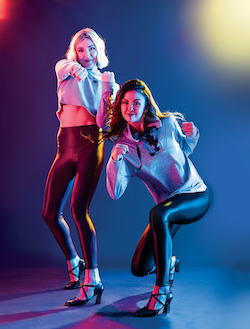 The collection features four different styles, all named after characters from iconic Broadway shows. The Roxy has a 3" heel that is stunning yet stable and a classic T-strap, and comes in black and caramel colors. The Lola has the same features but with a 2.5" heel. The Velma has a beautiful and stable 3" heel with an X-strap, and comes in black and caramel colors. The Charity has the same features but has a 2.5" heel.
All four styles have a center strap that slides through a loop under the arch so that you can customize the fit across the arch. The buttery leather upper with elastic gussets at the metatarsals offer supreme comfort, and the soft leather lining will allow your feet to breathe through hours of dancing. In addition, the suede soles are the ideal surface for turns, and the shoes transfer seamlessly from a slick wood floor to a more sticky Marley. The Broadway Cabaret heels get even softer the more they're worn.
So what do professional dancers think about these heels?
Maya Kazzaz, who has worked as the assistant choreographer to Josh Bergasse on a lab of a new show, loves the Lola. "I love how flexible the shoe is," she says. "Another huge thing for me is being able to manipulate the shoe and making sure I can get to my full pointe and have great lines. The Lola really provides that flexibility and durability."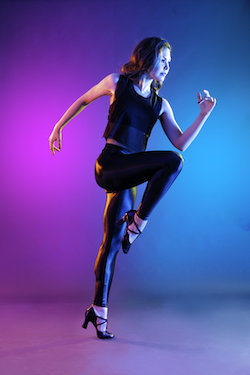 She adds, "Support is the biggest thing for me! I typically do very dance-heavy shows, and it's important to make sure I feel safe and secure. I need to make sure they can last and hold me up safely doing eight shows a week."
Julia Harnett, whose upcoming projects include the In the Heights feature film, Netflix's The Crew and HBO Max's The Flight Attendant, wears the Velma. Her must-haves for a heeled musical theater shoe? "Full support of the ankle; a wide footbed for the toes; a soft, pliable, flexible arch; and a solid, square heel," she says. "This shoe is the perfect transitional shoe from a ballet slipper or oxford, to a character shoe. I love the softness of the leather and how the shoe hugs my foot."
Both Kazzaz and Harnett highly recommend the Broadway Cabaret styles to all dancers – from aspiring professionals to the seasoned veteran looking for a more affordable, high-quality option.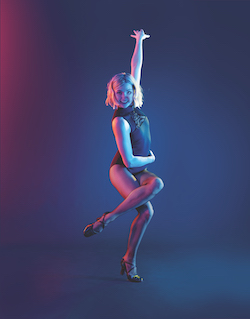 "If you're looking to be a professional dancer, the Só Dança Broadway Cabaret shoe really takes you to the next level!" Kazzaz says. "Having a shoe that bends with your foot and is still supportive is essential for anyone dancing in a heel. Learning to dance in heels is definitely a learning curve, so I recommend getting a pair as soon as you can!"
Harnett agrees. "This shoe is the perfect introduction to heeled dance footwear. Having danced most of my life in a ballet/pointe or jazz oxford, I was nervous about how jumping and turning would feel in a heeled shoe, but this product gives me everything I need."
And to complete your Broadway Cabaret look? Try pairing your Roxy, Lola, Velma or Charity shoe with these Só Dança staples: the Black Halter Bra Top with Diamond Mesh Detail with High Waisted Leggings, or Princess Seam Camisole Leotard with Mesh Insert with High Waisted Shorts.
To get your feet in style with the Broadway Cabaret collection, head to www.sodanca.com.
By Laura Di Orio of Dance Informa.