October 16, 2020.
Online on CLI Studios.
CLI studios (founded by tWitch and Allison Holker) released its first-ever virtual performance this weekend, starring dance icons like Tiler Peck, Lil Buck and Brooklyn Mack, with choreography by the likes of Jennifer Weber, Christopher Wheeldon and Chloe Arnold.
A New Stage is a pursuit undertaken by New York City Ballet principal dancer Tiler Peck. Recognizing the need for new art throughout the pandemic (a need felt by both audiences and artists alike), Peck took advantage of empty stages and available performers to curate a collection of work that feels nothing short of a night at the theater — although we'd never get the chance to see such an eclectic mix of styles at a usual soiree. Peck shares the stage with Sierra Boggess, embodying her rendition of "Unusual Way" from Phantom of the Opera. The Syncopated Ladies perform tap sets set to spoken word, addressing struggles and sisterhood through their movement and out loud. And Weber's reworking of Petrushka may have ruined the original for me, in the absolute best of ways.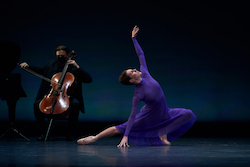 In Unusual Way, Peck and Boggess share a character, Peck embodying the tones and timber of Boggess' voice. But rather than two people trying to tell the same story at once, Wheeldon's choreography casts Peck's movement as a countermelody to the music, or sometimes the inverse, adding details and enriching the story. The camera focuses neither on Peck nor Boggess but instead follows whoever's "speaking" at the time. As Peck weaves in and about the other artists, no one performer is the center of our attention, and the separation between stage and orchestra pit is overcome. Briefly coming back to the simplicity of synchronization, Peck and Boggess reaffirm their shared character through a simple port de bras sequence. And as the subject of their affection appears at the end of the piece, both artists looking longingly toward him. Unusual Way is a beautiful description of the marriage between music and dance, brought into its simplest form.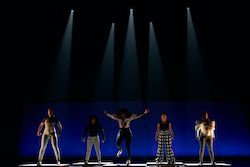 In Amplified, the Syncopated Ladies brought feminine ferocity, as they always do, only fed by the technicality of their movement. They danced on tap squares, but it felt in no way static or stationary. Tapping in time to Shaka Senghor's spoken word, speaking on African American struggles, strengths and sisterhood, each Lady takes a turn adding her beats to the poetry, each solo as intricate as the words. And every so often comes in two taps from the rest of the group, a left right stomp stomp that sounds like a chorus of support. Maud Arnold's section on tapping into joy takes that same signature ferocity and applies it to finding fun. It seems paradoxical, but while watching the Ladies' mastery of their movement, you can't help but see the play, and the intensity of the joy it offers. They move between these modes — landing heavy into the down beats and finding hiccups of lightness in the accents. Ending with a synchronized section and standing with fists raised in the Black Power salute, the Syncopated Ladies stand as a sisterhood. Choreographer Chloe Arnold says, "We dance from our souls, for our souls. We dance for justice, and will always reclaim our glory."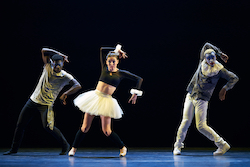 Finally, Petrushka Reimagined, choreographed by Weber in collaboration with the dancers, brought together superstars Peck, Lil Buck and Mack. I never thought I'd see Buck perform the role of Petrushka, but now that I have, I can't believe no one had thought of it sooner. Bourrées and pirouettes in sneakers are my new favorite thing. Petrushka's sad clown character is a shy and awkward ragtag ragdoll, that walks with knocked knees and has a tendency to flop over. The sheer quality and quantity of release that Buck's physical facility and training make available to him makes Petrushka's knocked knees look like a deeply inverted demi plié. Beside Peck and Mack, Buck looks like a different creature altogether, effectively portraying Petrushka as an outcast, as the story says. Peck purposely exaggerates the control of classical ballet into stiffness, very much the music box ballerina, but still manages to attack decidedly unclassical moves in her pointe shoes (like floorwork). Mack's depiction of the Moor character was strong and domineering, despite dancing in socks. Danced in a contemporary style, he mixes the control of ballet with some of Petrushka's release, capturing the fusion that contemporary dance lives in. To see all three move together is a dream. 
As Peck says about the entirety of A New Stage collaboration, it's about "communication between styles and worlds, coming together as artists, people and a country."
A New Stage is available to stream on CLI Studios for $19.99. To watch a trailer and purchase a ticket, visit www.clistudios.com/anewstage.
By Holly LaRoche of Dance Informa.