During these days of social distancing and virtual dance classes, now, more than ever, we are craving any kind of physical connection. To be in the studio together, to feel what it feels like to partner again, to give our friends a hug, to shake the hand of a new neighbor.
These are bizarre times indeed, but our current climate has also inspired many artists with the urge and the need to create and share their art. One such artist is choreographer Heidi Duckler, whose LA-based company, Heidi Duckler Dance (HDD), is celebrating its 35th anniversary with a never-done-before performance event from October 1-10.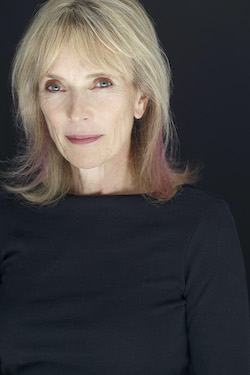 The project, The Quest, will be held over the span of 10 nights at 10 different locations across Los Angeles, and represents HDD's dedication to inclusiveness and justice in dance, arts education and the community.
Duckler is a pioneer of site-specific, place-based contemporary practice, and each performance by her company aims to help educate the audience and bridge the gap between art and awareness.
"As a dance company, I use movement to explore intersectional topics affecting our city, especially its vulnerable populations," Duckler says. "In this 10-day experience, viewers will get a glimpse into the themes our year-round programming dives into. By bearing witness, the audience will help us continue our work with students, veterans, incarcerated and formerly incarcerated individuals, foster youth, and people experiencing homelessness."
She adds, "The idea for The Quest was multi-pronged. On one hand, I considered our current reality – that our lives have been pushed into virtual space because of the pandemic. However, we are all yearning for a physical experience to understand ourselves and bring coherence to the world. We realize creativity is the core to adaptability, and adaptability is key to our survival. No one could have known what the world would look like in the fall of 2019, but…we need physical connection."
So, Duckler proposed a 35th anniversary celebration that would consider adaptability, investigation, beauty, authenticity and social connection.
Some of the locations The Quest will take place at include Martin Luther King Jr. Community Hospital, The Wende Museum, Congregation Kol Ami and the Baldwin Hills Scenic Overlook. Each site was specifically chosen to take the viewer on a journey to help them discover lost histories throughout the city.
"The Quest takes you through Los Angeles, to the undiscovered gems of the city that are very near and dear to my heart," Duckler notes. "These locations are not typical LA landmarks, nor do they tell the traditional story of our city. Instead, they are humble spaces for working, learning, healing, playing, dancing and discovering."
Each site of The Quest will offer a premiere of a new work, and viewers are free to pick and choose their path, while enjoying safely and creatively from a distance.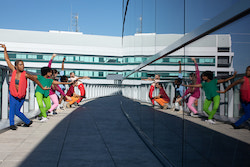 When asked what she hopes audience members will take away from The Quest, Duckler says she hopes they feel engaged and inspired. "Inclusivity, consciousness, vulnerability and connectivity are all part of my daily practice as I look at new paths of communication and the sharing of information between the body, space and the community we inhabit. I find this practice to be valuable, especially when we are confronted with limitations or conditions we never suspected could be so curtailed. Because we live in a world of diminishing public space, with smaller spheres for authentic connection, my goal is to use dance to capture the lost histories of marginalized communities. Dance can be used to reflect on our cultural landscape and amplify the narratives that are embedded in our architecture. I hope audience members are able to experience this through The Quest."
The Quest isn't the first project to be created by Duckler during the months of COVID-19. In April, HDD presented a Zoom-specific work, Illuminating the Chandelier, which was executed in quarantine and performed by filming, composing and layering 15 artists on Zoom. In August, HDD created a three-part series of virtual programs that centered on the histories and experiences of Native Americans in California, focusing on writer Helen Hunt Jackson's novel, Ramona. This coming December 5-6, HDD will present Unsettling Ramona at the Southwest Museum.
"My site-specific, place-based practice employs a methodology that encourages understanding about how dance, born from our experience, can be a tool for expanded awareness," Duckler says. "I invite my fellow humans to reconsider the space we live in, the space we take up, and communicate personal experience to others, to speak up, to inspire, to incorporate hard truths into the vulnerable body and pursue a search for empathetic connectivity."
For more information on Heidi Duckler Dance's The Quest, presented from October 1-10, head to heididuckler.org/event/35th-anniversary-celebration-the-quest.
By Laura Di Orio of Dance Informa.