Weekly TV series SOUTHLAND SESSIONS on KCET provides a unique window into the regional arts and cultural institutions of Los Angeles, at a time when attending in-person events is not an option. Drawing together prominent voices from around southern California, inspiration and conversation are at the forefront of every program. Each episode has been guided by leaders in the arts community, and the latest episode – "Dance Break" – features Tamica Washington-Miller as host, perhaps best known as the Associate Director of Lula Washington Dance Theatre (LWDT). Ahead of the episode premiere, we spoke with Washington-Miller about the project and why the conversations that emerged during filming are so important at this point in history.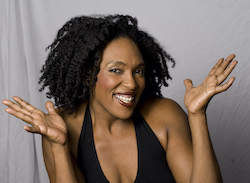 "First, I need to say how grateful and excited I am that our Department of Cultural Affairs made this episode possible," she begins. "Dance tends to be left out in the cold, way at the bottom of the totem pole. Having this platform at a local station is really amazing. Not just for myself, as an opportunity to have some visibility as an artist and as a choreographer and leader, but for the field. The gem of this episode is that it really shows how dance is more than just shaking your butt! You know, of all of the performing art forms, everyday people still want to dance. They've gone to TikTok, they've had to move the grandfather and the kid across the street from each other because they can't touch, but they're still dancing. And it shows how important dance is to us as human beings, while COVID is the thing. Then the second pandemic – of social unrest – has showed us that dance is healing, and dance advances a broad range of expression. So, what's really exciting about this episode is we get to see the range of people and artists and choreographers making work in this time. You'll see young people, you'll see seniors, you'll see the general public, and you'll see dancers and dance companies. I hope that they think about having more episodes about dance!"
Viewers can certainly expect to see a diverse range of dancers and artists featured in the show, and Washington-Miller was excited to explore the LA dance scene from a variety of perspectives. "I was very, very honoured to have the opportunity to interview some of my peers, as well as my mother, Lula Washington, co-founder of The Washington Dance Theatre, and talk about what it's been like to create during this time," she explains. "I get to talk with Chloe Arnold of Syncopated Ladies, an all-female tap company, beautiful work; and Jackie Lopez, of Versa-Style Dance Company, a hip hop dance company here in LA. I also interviewed Kareli Montoya of the Ballet Folklorico de Los Angeles, and it's very, very exciting to see the succession happening, because she has taken over the organization from her extended family."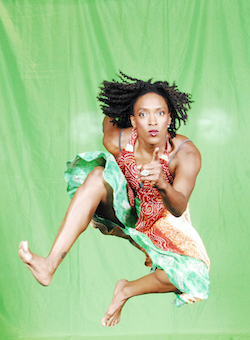 Washington-Miller continues, "We see a lot more throughout the episode. There was a director who engaged with choreographers and dancers to look at how time is moving slower for some people, and how are people connecting to time in different ways right now. You'll see Joel Jacinto's Kayamanan Ng Lahi Philippine Folk Arts showcasing traditional work, and there are even videos of first responders dancing, so there's a full range, from the average person to the professional dancer. A lot of the works that you'll see are done in site-specific locations because of COVID, and Jacob Jonas did a really cool thing at the Santa Monica airport where he had cars parked in a circle with their headlights on to create a performance space. The show is just so dynamic, there's a huge range of different kinds of dance, and dance done with different intentions."
It is certainly a unique time for dancers, not just because of the worldwide pandemic. At a time when the Black Lives Matter movement is so prevalent – and diversity is more important than ever – as a black artist it was important for Washington-Miller to also explore that side of Los Angeles throughout the program.
"We start off with TikTok, and toward the middle of the show, we talk about George Floyd and how that just opened up a whole world," she shares. "We're talking about dance as a protest, dance for healing, dance as a unifier. For Lula and I, our company is celebrating 40 years right now. Lula was a teenager during the 1965 unrest here in Los Angeles, I was in college during the Rodney King civil unrest, and when our company was founded, the epidemic was the war on drugs. For us, dance has always been a medium for teaching and sharing the range of life experiences here in the United States, especially as a black person. We talk about the piece we created for when Rodney King happened, and now Lula has created a new work that will be premiered on the show, addressing social justice but in a different way."
Throughout the United States and the world, there certainly seems to have been a major shift in public attitudes, in support of BIPOC communities. Washington-Miller hopes that black artists will continue to use their platforms to share their experiences.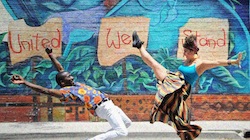 "In my community, the mantra is, it's a movement not a moment," she says. "We have seen over history when moments like this happen, and then people get tired and fatigued, or the government does one little thing, and everybody's satisfied and back to business as usual. The prayer is that this time, we're not going to slip into comfort, and we're going to find ways to keep pushing the envelope for change as artists. We have to keep telling these stories. When you look at someone like my mom, she's been singing the same song since 1965, when she was a teenager getting water hosed. Now, her 50-year-old daughter is still singing the same song. My prayer is that my kids won't be singing that song. Let us inch forward this time. I hope that shows like this open people up to the fact that dance doesn't just have to be about entertainment. It is a real viable art form, that can be a vehicle for change on many levels."
At a time when the global arts community is dealing with huge job losses and business closures daily, Washington-Miller knows that continued visibility for the industry is vital. "We really have to dig deep and work together," she emphasizes, "because even before the pandemic, many funders and philanthropists stopped funding the arts. At least five major funders are no longer available for performing arts in Los Angeles, and on top of that, the tax incentive for wealthy philanthropists was cut, so the incentive isn't as big to give as much as they once did. And then AB5 bill came for the giggers, and said even if you're non-profit, you have to make everybody an employee. Well, in Los Angeles, the dancer is the original gigger, and this is a framework that we've been living under for centuries. Already we've seen some of our dance and arts institutions have had to close their doors forever, because it's unsustainable. Now you compound all of those things with COVID, and then George Floyd. There's a lot on us right now in the performing arts sector, and we must keep pushing the envelope on these issues, because we don't want to go back to the way it was."
Despite the challenges dancers currently face, Washington-Miller is keen to point out that there is an overwhelming sense of positivity among the Los Angeles arts community, perfectly captured in the show. "Everything that you're going to see is colourful, is uplifting, is thought-provoking and emotional," she describes. "It's beautiful. Viewers will be going on a journey, and we do leave it on an upbeat, and hopefully people will be inspired and excited about the future of the arts in LA."
As an educator and community leader, Washington-Miller is truly invested in that future. "I'm always thinking about the young folks," she agrees. "Many of our young artists at LWDT wanted to do their own protest at the very beginning, and we kind of pulled them back and said, 'There are so many things happening, but let us be a part of the long run. Let's not burn ourselves out.' So instead, these young teenage activists are creating content to wrap around our showcases that are coming up and sharing resources."
She continues, "It is very important that we are engaging with our young people and doing our best to develop leadership. Yes, you might have a beautiful leg and you can turn forever, but are you saying something with that leg and all those turns? How do we nurture and prepare the next generation to know that this work right now is critical? It's about seeing art not just for the entertainment factor alone, but for all of the wonderful things that it brings to society and to human beings."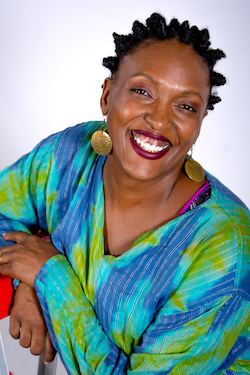 After her experience with SOUTHLAND SESSIONS, Washington-Miller is excited to explore further opportunities for LWDT and for the LA dance scene as a whole. "It's changing the way that we work, and we're learning and exploring," she shares. "For example, at LWDT, typically we work on a proscenium stage, and now we are looking to create specifically for the camera. And we're seeing that there is value to the message that we've been sharing and we need to continue, so there's definitely more to come. I am going to be pitching some ideas to SOUTHLAND SESSIONS because the timing is just right for more of this kind of programming. I was moved, inspired and excited by the other episodes I've seen – they really highlight and enhance the breadth and the range of LA's culture."
Showing your support is as simple as tuning in to the show. SOUTHLAND SESSIONS' "Dance Break" episode, featuring Washington-Miller, airs tonight (Wednesday, August 26) at 8pm PT on KCET, and all episodes of the series are available to stream here once premiered.
"This is really important for us all on many levels, not just the performing arts," says Washington-Miller. "This is a resource, and we need to work with it. Let the station know by your viewership – and donations if you're able to – what kind of work you want to see by continuing to be a supporter."
SOUTHLAND SESSIONS' "Dance Break" airs Wednesday, August 26, at 8pm PT on KCET, with encores on PBS SoCal. Find out more here.