When you look back at how you began to gain interest in a particular activity, there is usually one thing that especially stands out. There is usually that one person or thing that sparked something in you or gave you the extra push needed to show you the true potential deep down. The dance and performance industry is chock full of inspiration for young performers, and Jade Whitney is no stranger to the influences that would prove to impact her career to this day. Born and raised in Toronto, Canada, Whitney's passion to dance and perform started at a very young age.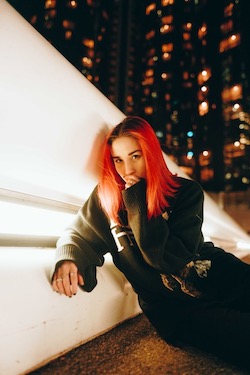 She tells Dance Informa, "I have had a love for dancing and performing for as long as I can remember. I think it started with Disney movies that I watched when I was little. That sparked my interest in dancing. I also had an obsession with Avril Lavigne, which got me into the singing aspect of performing. Rent was also one of my favorite musicals as well, which inspired me to dance even more. That is where my dancing and singing transitioned."
With a newfound love for dance and the hunger to improve her craft, Whitney started training extensively at Vlad's Dance Company. As a part of the competitive company, Whitney gained many accolades for her solo performances, including placing third place for a high scoring solo at the American Dance Awards Nationals in New York that she choreographed herself. But even during her peak time of dancing and competing, Whitney had her moments when she needed to take a step back.
"When I was in grade 11, I had quit dance for a couple of months to focus on school," says Whitney. "I thought that maybe this wasn't for me anymore. I went back to visit the studio one day, and I realized I missed it. A week later, I decided to start back with the competition team. The time away made me realize dance is what I needed in my life."
It was that time of reflection that helped Whitney realize that dancing and performing is what she wanted to do professionally. After high school, Whitney began teaching at Vlad's Dance Company and Canadian Dance Company. As her journey started to take off, Whitney started to come into her own as a choreographer. In 2013, she co-created a contemporary dance show alongside Emma Portner titled Fill Up and Get Out. This show opened up the doors for Whitney even more as she got to choreograph competition dances and get her works out there for a wider audience. The opportunities continued to poor in as Whitney homed in on her craft of performing as well. In 2016, she got to dance for FKA Twig in her Radiant Me concert.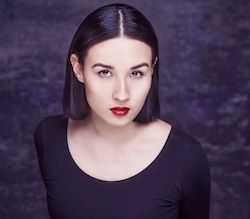 Whitney tells Dance Informa, "FKA Twig is one of my favorite artists of all time. I saw a tweet she posted about an audition for background dancers in Baltimore. I took a bus from Toronto to Baltimore to get to the audition. She was a dream person to dance for."
Performing for FKA Twig was just the beginning of the memorable moments that Whitney would have in her professional dance journey. Disney's Zombies movie was Whitney's first film job, and it proved to be an exciting experience for her. Not only was it her first time working on a huge production with choreographers from L.A., but she also had the chance to build connections outside of Toronto as well. In addition to getting to dive into her first film experience, Whitney has had the chance to enjoy performing in other TV/Film productions including Schitt's Creek, Suicide Squad, the Next Step and Julie and the Phantoms (Kenny Ortega) just to name a few. Although she has been blessed with these and so many other great opportunities throughout her career along with meeting amazing people along the way, it has not come without challenges.
"The biggest challenge for me as I've pursued my dream would definitely have to be mental," says Whitney. "It has been a lot of overcoming insecurities and self-doubt, as well as avoiding making comparisons to others around me. Although I didn't worry about that as much when I was younger, as I got older, I realized that those were the main things to work on in order to be able to pursue my dreams."
In this time of quarantine and social distancing, it is even more important to Whitney to continue to fine tune her craft and to stay active. Although she lived in her apartment at the start of quarantine, one thing that Whitney credits to making things bearable are online dance classes as live classes. Whitney now resides at the Underground Residence, which is a house with two dance studios inside of it.
"I have been filming online classes for The Underground Dance Centre's On-Demand site," Whitney says. "It is kind of a 9-5 job in a sense. The studio is literally right beside my room, which is a great set up. Zoom classes are great as well, especially because I get to see everyone."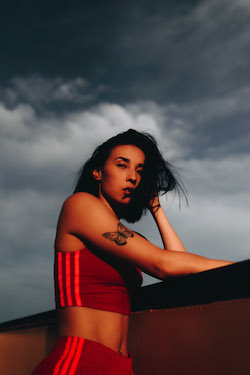 As Whitney navigates teaching online classes, she is setting her sights on her next steps once the quarantine is over. As a settled household name in Toronto, Canada, one of Whitney's main goals is to spread her wings and move to L.A. to further her dance career. Last summer, Whitney signed with Bloc LA, but that is only the beginning of the list of amazing chances of further growth for her dance career moving forward.
"A good friend and mentor of mine, Will Loftis, has offered me a position as his assistant at NUVO," says Whitney. "I have worked with him on a few projects and am extremely excited to work more with him. Teddy Forance has also offered for me to assist at JUMP and CLI Studios, which I am grateful for."
There are so many people who are in Whitney's corner who have poured into her throughout her journey from her earliest stages and in to her professional career. A common denominator for Whitney has been fostering connections with each individual she comes in contact with. For those dancers who want to dive deeper into the industry, Whitney offers some helpful advice relevant to any age.
She says, "The main thing is to be kind. It's super simple. Relationships in this industry are most important. Be kind to yourself and others. Take time to understand yourself and know your worth. In this industry, realizing that there will be rejection will make it easier to deal with when you know your worth. Keep training as well. There is always room for improvement."
You can follow Jade Whitney on Instagram: @jadewh1tney.
By Monique George of Dance Informa.