The Olympics may be postponed until next year due to the ongoing global pandemic, but five teams of creative artists from the United States and Japan continue working together on innovative projects that reflect the themes of the Summer Games: unity, collaboration and the long-time friendship between the U.S. and Japan. The completed projects – supported by grants from the D.C.-based Japan-U.S. Friendship Commission (JUSFC) and the National Endowment for the Arts – were to be showcased in Tokyo at the same time as the Olympic and Paralympic Games in the coming weeks.
"Despite the ongoing challenges of COVID-19, this program continues to be a priority for the Commission and the NEA as we promote the value of cultural and artistic exchange between the U.S. and Japan, and the power of the arts to unite us and foster resilience," says Paige Cottingham-Streater, executive director of JUSFC in Washington, D.C.
The five teams of artists each received a $25,000 fellowship award and up to $2,500 for travel. The projects range across artistic disciplines, from music and dance to creative writing and visual arts, and explore subjects like martial arts (with karate being an Olympic sport for the first time at these Games), the upcoming 10th anniversary of the 2011 Fukushima disaster (known is Japan as 3-11), and sustainability through the lens of food and agriculture.
When Conversation Artists Sue Mark and Bruce Douglas of marksearch and their 11-year-old son left their Oakland, CA home for Tokyo in mid-March, they wondered if they were making the right choice. For months, they had been planning to live in Tokyo, stay through the Summer Olympics and Paralympics and complete their project Journey Itself Home, a U.S.-Japan collaborative poetic exploration honoring survivors of the 2011 Fukushima disaster.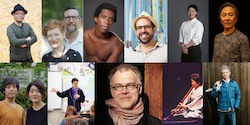 "While having the Olympics cancelled, being under quarantine in a 400 square-foot apartment far from our loved ones, and postponing our project for a year could be setbacks, we actually feel the meaning of our work is really amplified now," Mark notes. "This extra time allows us to research more deeply into Fukushima survivor narratives and how we can tie our work in with the region's 10-year disaster recognition."
She adds, "The Japanese concept of 'shou ga nai' (which translates loosely to being at peace with that which is out of your control) is a theme that is very relevant, and one that we are trying to embrace."
Because it is no longer possible to hold workshops with schools and community groups. Mark, Douglas and their Japanese partners, multimedia artists Hiro Abe and Natsuka Endo, have revised their ideas about a traveling arts studio.
"Instead of a mobile meeting space, we will now incorporate elements such as kinetic sculptures and audio to engage viewers, while still allowing for social distancing," Douglas explains. "We plan to drive it slowly through the streets of Tokyo next summer, after which our work will be exhibited at Tokyo's Setagaya Museum."
At a reception introducing the artists at the U.S. Ambassador's residence in Tokyo in February, New York City dancer Cameron McKinney, founder of Kizuna Dance, performed with the principal dancer from renowned choreographer Toru Shimazaki's Japanese company, with whom he is collaborating on this project. They plan a 10-dancer performance from both companies in Tokyo next summer. The original work will portray the bond of friendship that has developed between the two nations over the last several decades by accentuating the similarities – rather than the differences – between the two cultures.
"The work I do with Kizuna Dance is about sharing my love for Japanese culture," McKinney says. "When I first heard about the JUSFC fellowship, I thought it was the perfect way to promote cultural ambassadorship between our two countries, and to do that through my own artistic medium, rather than the more typical diplomatic route. It is such an exciting way to share a culture."
The other three creative artist grantees and projects include: Ben Volta with Cho Kuwakado and Yasuyuki; Gene Coleman with Adam Vidiksis, Sansuzu Tsuruzawa and Akikazu Nakamura; and Jesse Schlesinger with Masayo Funakoshi.
For a full description of the projects and artist bios, click here.