American dancers and teachers, Can You Dance? (CYD?) is calling for you to join the UK's biggest virtual dance convention, broadcast live from London. The CYD? Super Convention LIVE is on a scale never seen before, and an amazing opportunity for international dancers to experience everything the UK dance scene is about.
As the world continues to grapple with the effects of COVID-19, the many of us are missing masterclasses and conventions like never before. Despite the challenges, the virtual dance world is thriving, and accessing international opportunities like this is one of the benefits. The CYD? Super Convention LIVE offers over 40 masterclasses in various styles and ability levels, filmed professionally from three world-class studios in the heart of London. Twenty-five hand-picked tutors represent the very best of the UK dance industry – offering dancers of all ages and abilities worldwide the chance to shine in class and be scouted for awards, ambassador searches, scholarships and prizes.
The incredible faculty includes Kimberly Wyatt of the Pussycat Dolls, International musical theater star Emma Rogers, West End leading performers, and top commercial dancers and choreographers, plus the CYD? co-directors themselves, Matt Flint and Tom Shilcock.
Shilcock says, "We're so excited to share the UK's best choreographers and educators with dancers in the USA. We love that we can share our love and passion for dance with you."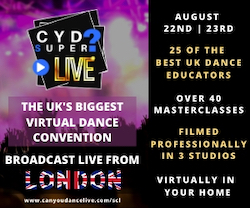 The CYD? Super Convention LIVE will run from August 22-23. Logistically, the time difference between the UK and the USA poses no issue. Where the Super Convention will begin in the morning in the UK, you'll catch up once you're awake as classes continue into the afternoon. Better still, Masterclass REWIND means you can access the classes after the weekend to catch up on whatever you miss or to dance at a time more convenient to you. As classes are streamed simultaneously, you can drop in and out as you wish. Essentially, you have complete control over your own event schedule. Head to 24timezones.com/difference to work out your time zone changes.
Plus, for teachers, getting in touch with CYD? means a special incentive for getting your students involved. If you're a dance teacher or studio owner, email info@canyoudancelive.com to sign your students up to the weekend.
In addition to the masterclasses on offer, CYD? is also hosting a virtual competition across both days. Open globally to all ages and abilities, the event offers solos, duets, trios and groups the chance to perform live in front of thousands of dancers and receive performance critique from a professional panel. Trophies and cash prizes will be awarded across all categories, and dancers will be scouted for dancewear vouchers, scholarships and more. Parents can also access the stream to watch the competition, free of charge.
The UK is one of the biggest dance industries in the world, and what CYD? is offering is truly unique. Without the hassle – and cost – of having to book flights and accommodation, Americans will be able to experience the very best of the UK. An all-access pass for the entire event is just £30 GBP – approximately $37 USD.
Flint says, "We love how dance brings everyone together, and this event is something positive we can all look forward to."
For more information or to buy tickets, visit www.canyoudancelive.com/scl.
By Emily Newton-Smith of Dance Informa.