Dancing en pointe might seem like the pinnacle of a ballet dancer's training, but it has always been a doubled-edged sword. Despite their beauty, pointe shoes have a reputation for causing pain, from minor blisters and bleeding to serious (and career-ending) ankle and foot injuries. Dancers have put up with this pain for years, prioritizing their craft, but this is 2020, and technology is finally starting to catch up.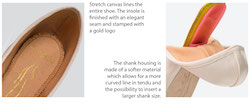 Enter Elektra Tech. Well-loved dancewear brand Só Dança has developed a range of pointe shoes with dancers in mind – this is where technology and tradition meet. A combination of durable, flexible thermoplastic (Elektra shoes have two main thermoplastic components, the box/shank housing and the shanks), unique striations on the shank housing and a reinforced box offer unparalleled stability and foot articulation through demi-pointe.
"I never thought I would use the word comfortable to describe my pointe shoes," reveals dancer Laura Moradillos.

This game-changing composition means durability that simply cannot be achieved with a traditional shoe. There's no need to hammer these shoes to "break them in" before wear. Elektra Tech shoes are ready to dance in immediately, and that special feeling when your shoes are just right – Só Dança refers to it as the peak of pointe perfection ­– lasts from the moment you put the shoes on to when the shiny satin wears out and you want a new pair. Even at that stage, you will still be supported in your shoes.
What's more, Elektra Tech shoes are vegan. With microfiber suede soles and synthetic insoles and glue, no animal products are required for construction. Stretch canvas lines the inside of the shoe, covering a shank housing made of a super-soft material that caters for a more curved line in tendu. Comfortable and ethical, these truly are shoes for the dancers of today.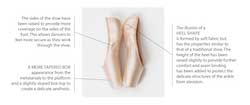 "Guys! These are seriously amazing!" exclaims Bianca Bulle, professional dancer at Miami City Ballet and Só Dança Ambassador.
The use of thermoplastics and a choice of 15 shank options means Elektra Tech shoes are fully customisable. Different densities of thermoplastic can be heated and cooled multiple times to achieve the right curve for the dancer's feet and needs. The new Joy II and Alegria models also feature elastic drawstrings that are secured at the back of the shoe to reduce pressure on the Achilles tendon.
The Joy II
The new Joy II is wider through the metatarsals and tapered through the toes. Soft wings provide support through the metatarsals and create a beautifully smooth look through the toes. While the box is cut down, the satin comes up high, offering dancers the flexibility of a low vamp with the aesthetic of a higher vamp. This allows for effortless demi-pointe.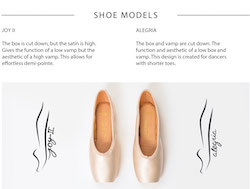 Alegria
Alegria offers a similar profile to Joy II with a lower vamp. If you have shorter toes, you can expect the same features as Joy II with the ability to roll-through demi-pointe properly and get completely over on the box.
"The new Elektra Joy II pointe shoes are so comfy I wear them without toe pads! And they can support any type of feet with the interchangeable shanks… love them!" shares Brianna Guagliardo, So Dancer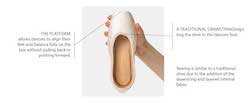 Só Dança is so passionate about the Elektra Tech range and ensuring the perfect fit that a dedicated "Elektra Army" has crossed the country to train retailers to work specifically with the shoes. In a bid to reduce pointe-related injuries and maintain a pure fit, the Elektra Tech shoes are not available online.
"These shoes amaze me and are bound to inspire the world. The values the design embodies are the modern epitome of where technology meets tradition. No other shoe promises such functionality and sustainability. Unprecedented customization available is one of the most exciting ideas yet," says dancer Annelise Eileraas-Liu.
If you'd like to learn more about Elektra Tech, click here.
To speak to the Só Dança team, click here.
By Emily Newton-Smith of Dance Informa.