Since its first event in 2012, Groove Dance Competition and Convention has been renowned on the competition circuit for its high-energy, high-production-value events. CEO Daniel DeFranco is passionate about creating an incredible end-to-end experience for dancers, parents and studio owners, and nine years later, he's still just as inspired by the work that he does. We spoke to DeFranco about Groove's success and where he hopes the company will go in the future.
"When I started Groove, I was a teacher myself, and I would go to a lot of competitions, and the quality just wasn't always there," he explains. "I thought it would be a really good opportunity to make competitions a really great experience for dancers, a little more technical, a little more exciting, with a little more on the production end. I've always loved production and crafting a vibe or an experience, so this seemed like a really cool way to combine that with the dance industry, which is so close to my heart."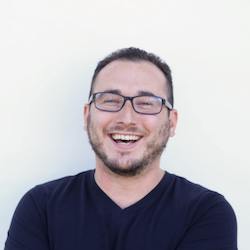 Although starting a competition from scratch might sound difficult, DeFranco is unfazed. "It certainly wasn't easy, but I also wouldn't say it was hard," he muses. "I think it requires an acute attention to detail, hard work and a willingness to figure out things you don't know. During our first year, we did nine regional events; this year, we will do just shy of 75 events in total. We have a team of 15 or 16 people here full time, and then the road crew including judges is about 110-115 people. So it's definitely different from year one to year nine!"
DeFranco's aim is to create an atmosphere that inspires performers to feel their best. "A lot of young dancers have only ever stepped on the recital stage at the end of the year," he says, "so our goal is to get them to that next level. We want cool lighting, great production value, and we live stream all of our events so their families can follow from anywhere in the world. We want the dancers to feel – for the couple of minutes they are on stage – like they are professional dancers at Radio City Music Hall. Each city is different, and we will adjust for that, but everything about their experience should feel heightened. Hopefully that gets them inspired to move into dance professionally if they choose to go down that road as a career."
In order to achieve this level of slick production value, DeFranco remains hands-on. "My primary role is probably more strategic than anything," he notes, "but not being at the events would make it hard to do my job. I just came back from an event this past weekend. I usually do two or three myself, and another three to four events where I am training or overseeing directors who are out on the road for the first time. During the rest of the season, I'll do random spot checks of an event, where I'll just show up unannounced and see how everything is going and make sure we are running at the level we should be at."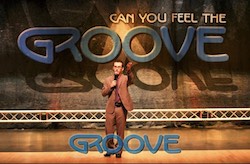 Being present at as many events as possible also allows DeFranco to reap the rewards. "Honestly, I'm probably not needed to produce the events," he laughs. "We have a really good team who can do a better job than I can, but I like it. I enjoy seeing the dancers come off stage and be congratulated by a teacher or parent, and watching them supporting their fellow dancers. It's why I got into the industry and I would never want to get too far away from that."
Indeed, many Groove competitors have gone on to great success within the industry. "They're all over the place," says DeFranco. "Broadway, commercials, So You Think You Can Dance, you name it. Most of the competitors at our events will not go on to dance professionally, and that's okay, too. We want it to be a great experience for everybody. But 10-15 percent of the dancers who come across our stage go on to dance professionally, and to have them at our events along the way is really rewarding. Just the other day, my fiancé and I were watching Netflix, and I said, 'Pause it, pause it, pause it!', and one of our competitors was there in the back. Seeing them as young dancers transform into industry professionals is very cool."
If you've never been to a Groove event, you can expect a very specific vibe on entry. "Industrial, professional and inspiring," describes DeFranco. "We definitely have a modern industrial look and feel to our branding, but I also would say we have a vibe that's a few steps up from what most dancers have experienced on other stages in their life. I love watching the dancers walk in and go, 'Wow, I can't wait to get up on that stage.'"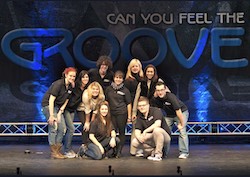 Adding to the slick production value are some extra perks. "We have completely free media for all our competitors," notes DeFranco, "so free photos and videos for everyone that competes, which is really great. We live stream as many of our events as we can, which is most of them. We even have a VIP directors lounge for studio directors where we have coffee, snacks, phone chargers; it's just a place where they can go and chill out and get away for a moment. We run a very efficient and organized event, and we try and make it as stress-free as possible, so we make sure the dancers have a lot of things to do off stage. They can interact with our social media team, enjoy our photobooth and choose merchandise. I think we've done a good job at crafting the events from beginning to end, so they feel like they've been a part of it both on and off stage with their fellow dancers."
With such obvious passion for what he does, it's no surprise that DeFranco has big plans for the future. "We would love for Groove to keep growing in the U.S.," he says, "and we would also like to get involved with other projects. Right now, we're working on Global Dance Championships, which is a multi-competition invite-only event taking place in Las Vegas, and all the proceeds are going to charity. I'm really excited to get involved with new projects and have us grow in other directions, and keep Groove involved and attached to that."
Find out more about Groove competitions here.
By Emily Newton-Smith of Dance Informa.