For most of us, all of this time at home is a new sensation. No studio or office to go to, all the meals at home, and finding creative ways to make your living room into your home dance studio and also still a place to relax when the day is done. But there are some creatures who may feel their home is being suddenly invaded, who may be giving you the side-eye when you're doing grand battements in their personal space. The pets!
We spoke with some Só Dança ambassadors and loving pet owners about what it's been like spending their quarantine with their furry friends 24/7, and what those pups, kittens and bunnies think of their dancing at home!
Who's your pet?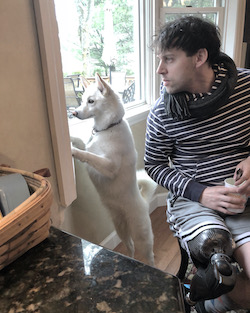 Evan Ruggiero, actor, singer, one-legged tap dancer
"I have a Pomsky. She's a cross between a husky and a Pomeranian, and her name is Penny Rigate (named after the pasta, penne rigate). I have had her for two years this May."
Carolynn Rowland Shada, business development and marketing analyst with Só Dança and former dancer with Los Angeles Ballet
"My husband and I have two Cavachon puppies. Their names are Finn and Jake Shada, and we named them after the characters on a show my husband was on. We brought these little guys into our family on April 5. So it has been a couple days over three weeks!"
Brianna Guagliardo, pre-professional ballerina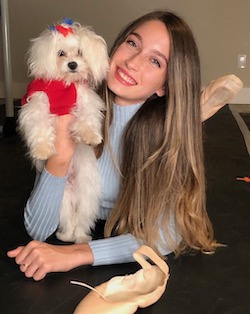 "Chanel is a nine-month-old, three-and-a-half pound Maltese who was given to me as a present for my 16th birthday. She is a very beautiful, tiny puppy full of energy and with a very sassy personality."
Brittany Cavaco, @TheBallerina, professional ballerina
"I have a bunny! Her name is Rawrry, @TheFatFluffyBunny on Instagram, and she is a lion head bunny. I have had her for two years, and she is free roam, meaning she doesn't live in a cage."
What do you love most about having a pet?
Guagliardo
"Everything! It is amazing; I always have a great time with my pets️. They never fail to make me laugh. By the way, we have six family dogs, so we don't have time to get bored with them!"
Ruggiero
"I love the joy and laughter dogs bring. They're very smart animals and understand a lot more than we think. They're all individual in their personalities."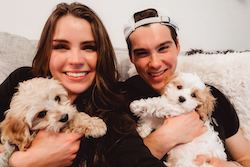 Rowland Shada
"First and foremost, they make home homier, and their cuddles are the sweetest. I never realized how I could fall so deeply in love with two little fluff balls and enjoy saying 'potty time.' On a daily basis, they give me a whole mixture of emotions! Both Finn and Jake provide me with the following feelings: joy, amusement, panic and frustration. Joy because they brighten up our home. Amusement because watching them play with each other is the cutest and most entertaining thing ever. Panic because when they play too hard they sometimes bonk their head, and it freaks me out! Frustration because we are still in the potty training phase, and Finn is one stubborn puppy. I kid you not, he will squat, stare at me, smirk (I swear!) and dart away. That little stinker knows he did something bad! With all of that being said, I cannot image my life without them. They are the best additions to our little family."
Cavaco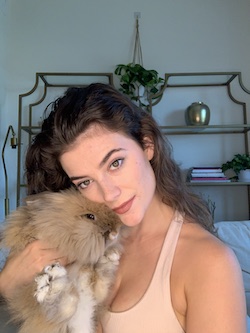 "I love the bond I have with my bunny. She is a lot like a dog (she just doesn't bark!) and has such a personality. I love her company and being able to snuggle up with her."
What do you think your pet thinks about having you home all the time during these times of isolation? Any new or unusual behavior your pet has picked up since quarantine started?
Rowland Shada
"Our pups have not experienced life without us being home all the time. I guarantee after this quarantine craziness is over, we will have some pampered pups! Any unusual behavior…? Neediness! Transitioning out of quarantine will be quite the learning curve for them."
Ruggiero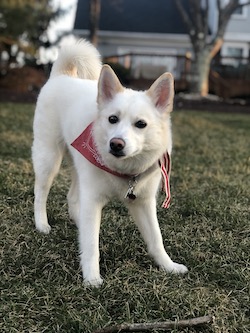 "Dogs are winning this pandemic right now. At least mine are. I've been staying with my parents, and they also have a dog, so there's so much outdoor play time and walks and human attention. I can tell my dog is loving this. I wonder what she'll do when we all have to go back to work in the fall?"
Guagliardo
"Chanel is very happy that I am at home all day every day. She loves playing with me, and she is getting very sassy! Since quarantine started and the weather is hotter, Chanel likes to swim in our pond, which is always a mess because she comes out all dirty from it, and we have to bath her all the time."
Cavaco
"I think Rawrry is really excited to have me home. After the first few days, she seemed really confused, and I think I startled her during her afternoon naps a couple times because she wasn't expecting me to be home! When rabbits are excited, they do a thing called a 'bank', which is when they jump and run around really fast due to them being really happy. She has been doing that a lot since I have been home, and it has made me really happy. She definitely is being more social and asking for more treats!"
You're probably dancing at home now. What's it like dancing with your pet around at home? And how does your pet seem to react to it all?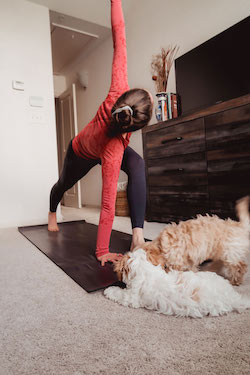 Rowland Shada
"It is so challenging! They both love being right at my feet, and I am so scared I am going to crush them when I do any sort of movement. They are like little ninjas! You cannot even hear them walk on the floor because they are so small (Finn and Jake are less than four pounds). All of a sudden, I will be moving about and almost trip over them. Also, if I am doing various yoga postures or stretches on the ground, they love to lick and nibble my ears. Dancing and working out is incredibly amusing to them. Honestly, it is such a blessing having a pet during quarantine. I'm thankful these little guys are in our lives."
Ruggiero
"I've danced around my pet since she was a puppy, so she's used to it. Most of the time, she falls asleep when I'm having any sort of artistic moment, whether it's singing, playing my guitar or dancing."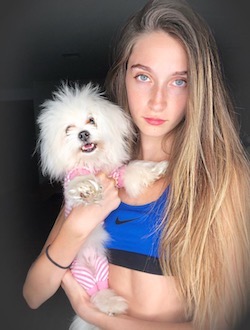 Guagliardo
"It's almost impossible to take ballet classes with her. Someone has to take her outside or she will be trying to play with my feet, and if I don't pay attention to her, she will bark and bite my shoes!"
Cavaco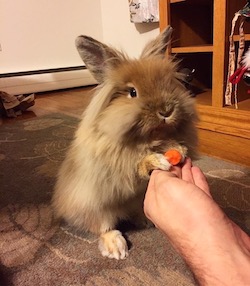 "At first, Rawrry had to investigate why all the furniture was rearranged, and she had to sniff my ballet shoes. For the first couple of days, she would chase around my feet during tendus and rond de jambes, but now she just lays down and watches me. She also loves to hop on me while I'm stretching on the ground. It's really cute. We definitely have bonded a lot! I am going to miss her a lot when I have to go back to the studio. Who knows, maybe I could bring her!"
By Laura Di Orio of Dance Informa.