The social distancing of this current world has made it necessary for everyone to make changes to their daily life. "Everyone" includes dancers, who often depend on gathering together to get things done — to take class, to rehearse, to teach and to learn, to inspire and be inspired. Broadway Dance Center (BDC) teachers have truly met this moment by offering dance classes through Instagram Live and other online platforms. BDC inspires the world to dance, and that doesn't have to stop with drastic changes to how we interact and go about our daily work (and play). These efforts demonstrate the resourcefulness and resiliency of the BDC community, and dancers more broadly. Tracie Stanfield, Teddy Tedholm, Emily Bufferd and KC Castellano are BDC teachers who've offered online class content or are planning to do so. BDC can keep on dancing, and so will we!
Tracie Stanfield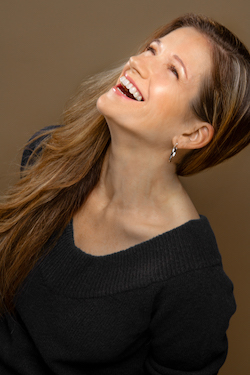 Tracie Stanfield (contemporary, lyrical jazz) is planning to soon post up online class content, when it might feel right for her — "online dance challenges, tips, et cetera," she says. She might repost progression and turn videos in the coming days as well. In the meantime, she's acknowledging a "pause to honor needs of rest, goal setting, journaling, reading, reaching out to others who might feel alone at this time" and more. Stanfield wants to set an example for other dancers to take this time to "pause", to give them "'permission' to feed their souls, be still and develop inner patience and acceptance."
"Sometimes the best way is to honor a moment of rest and listening," Stanfield says. She will publicize when her class content is ready, and mentions the numerous online class content offerings available to guide dancers on their technique and style. "I am so happy to see our community stepping up with online classes and virtual competitions," she says. "It is inspiring!"
Follow Tracie Stanfield: @traciestanfield.
Emily Bufferd
Emily Bufferd (jazz, lyrical jazz, contemporary and more) has posted her warm-up on Vimeo. She reached out to her social media networks, asking for email addresses for anyone who would be interested in taking her online warm-up. "For me, living in a small NYC apartment, dancing full/big phrases isn't always something that is possible, but I can always do a warm-up or barre, and so that is what I offered," she shares. Quick thinking allowed Bufferd to gather three dancers available for an hour on a Saturday, and record a warm-up in a studio — before all studios were closed and no space was available.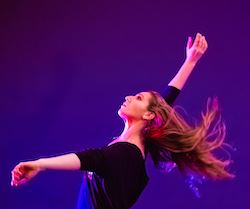 "Since I don't usually film my class content in this regard, it was a learning process for me, but I enjoyed it and would be inclined to do more content like this," she says. She edited the warm-up on Sunday down to three minutes to post on YouTube — and then discovered the file was too large for that platform, so she shifted to Vimeo. She's glad to have had this learning experience and "to be able to contribute something to the community that all levels of dancers could benefit from during this period of uncertainty, and to help studio owners and other educators who were finding themselves in a moment of panic over having to shift to online materials."
Bufferd is "overwhelmed by the generosity that the dance community is showing at this time" and hopes to see it stay around. She hopes that students feel valued and inspired by teachers who are offering class content free of cost or at as low a cost as they're able. "The dance community is always generous, but in moments like these, it is truly showcased so beautifully!" she affirms. Bufferd's teaching blends dedication to anatomy and technique, creative ingenuity, and a pinch of tough love for her students — in a wonderful way; she won't let you give less than your all.
Follow Emily Bufferd: @ebufferd.
Teddy Tedholm
Teddy Tedholm (contemporary) was at the airport, on his way to a teaching gig, when he learned that it was canceled. "I felt a sudden urge to reach out to our community," he recalls. "I had a feeling we would all be without class soon and wanted to make sure we were still staying connected." Without too much thought, he posted on Instagram that he'd be teaching online the next day, and the word spread. "I have been dabbling in live streaming and online performance for a few years now, so I felt pretty prepared to set this up," he says. Yet he hasn't used Instagram Live much, so that "has been a learning curve," Tedholm shares. He says that his home is even becoming more like a dance studio with each class!
Tedholm shares that the most meaningful part of these classes is when participating dancers "go live" with him, dancing the combo with him. "This is when the moment of connectivity is the most palpable," he believes. He acknowledges that an in-person dance class is irreplaceable. His goals with his streaming classes is "to challenge people, move with them, breathe with them and give them an hour to escape." Tedholm teaches with warmth and evident caring for each of his students. For instance, he kept coming back to dancers' comments and acknowledging their requests (such as to face the other way or to go over a certain part again). His movement has a lovely pinch of quirkiness and a blissful sense of freedom.
Follow Teddy Tedholm: @teddytedholm.
KC Castellano
When KC Castellano (contemporary) realized that all of her classes were canceled, she had a "moment of panic", she says. At first, she asked herself what would happen for her, but then her thoughts went to what would happen with her students. "Dance is so much more than something we do," she says. "It is our passion, our drive, a real piece of us. It's a craft that we attach ourselves day in and day out, and in this crisis, we will need dance more than ever." Castellano has never taught virtually, she says, because she prefers "being in the room and feeling the energy of the dancers" — yet she, and all of us, have had to adapt, she recognizes. "I will not be disconnected from my students," she asserts. "We share so much more than counts."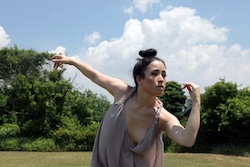 Castellano has found Instagram Live to work best for larger classes, but Zoom for smaller classes and private lessons. "Zoom allows me to see the students, where with Instagram Live, they can only see me," she explains. She hopes that these online classes "will allow dancers to experience the same amount of knowledge, inspiration and physical/emotional challenge that they would experience in a regular studio class." She's seen that some dancers find it freeing to not feel like other students are watching them dance, while others aren't as motivated without teachers making them give more.
She encourages students to find inner motivation. "Be an advocate for your own training," she advises. "If you want to better yourself, then identify the weak spots and work on them thoroughly." This fierce spirit of individuality is evident in her teaching. Her movement reaches big and accents hard, going that last little bit that can make all the difference. Her passion is clear, like a fire burning right in front of you.
She applauds how "the dance world has shown an outpouring of love, support and an unbridled desire to learn" and is "in awe of the displays of love and kindness" that she's seen. She also thinks that this current challenge can help to remind us why we love to dance, to remember what's truly important, "rather than getting caught up on our progression, our placement, our worth, our bookings, our lack of bookings, our bodies, our status, our following, the list goes on and on," she says. "You continue your journey with joy, and not fear or stress about the outcome, you will thrive further than you could possibly imagine," Castellano says. "Fear restricts, love propels. Choose wisely."
Follow KC Castellano: @kc_castellano.
By Kathryn Boland of Dance Informa.