Dancers are all too aware of how time sensitive their performance career can be. As aches and pains grow stronger and as the long hours of rehearsals become more draining, many dancers may find themselves wondering if it's time to retire. Others may be in peak physical condition only to lose their spot on stage because of a sudden injury or company layoffs. Such circumstances can evoke a range of emotions from fear, to loss, to confusion over what comes next. However, while transitioning to a new career certainly presents unique challenges for dancers, the journey with all of its twists and turns can lead to exciting and unexpected opportunities.
To navigate the transition to a new career, Dance Informa connected with Sophia Kozak, counselor for Career Transitions for Dancers (CTFD); Francisco Graciano, former Paul Taylor Dance Company member; and Annali Rose Clevenger, a former principal with Ballet San Jose and dancer with Trey McIntyre Projects.
Beginning the journey
According to Kozak, there are many reasons dancers chose to begin a new career. "For some, it's an issue of interest or age. For others, it's illness or injury," she explains.
For Graciano, the decision ultimately stemmed from a desire to develop his creative voice. "I had a three-month break about a year-and-a-half before I left Taylor for a back injury," he says. "During that time, I did a lot of PT and worked with different somatic techniques. When I started dancing again, my body and the way I approached movement had changed. I felt like there was something new in the way I was speaking. I needed to move on. I needed to discover what this voice was for myself."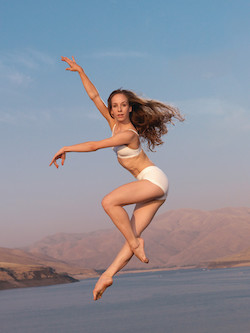 Clevenger found the decision to retire extremely challenging and considered it for 10 years. "When I felt like my time [at Ballet San Jose] was wrapping up, I wasn't thinking I was going to audition or join Trey's company," she reveals. "I was thinking maybe it was time for me to move on because it just didn't feel right anymore. But I kept hanging on." In fact, it was not until the Ballet San Jose folded that she finally decided it was time to transition to a new career.
Obstacles along the way
Dancers beginning a new phase in their professional lives encounter many obstacles related to financial stability, health insurance and the cost of education, according to Kozak. To support dancers as they face those challenges, CTFD offers a wide variety of programs, including grants for their housing, assistance finding insurance, and scholarships for certification, undergraduate and graduate programs.
However, the significance of the transition extends beyond these logistical considerations. Kozak explains, "Dancers who are transitioning are going through a major identity shift. For many of us, it's not just what we do; it's who we are. So there's a lot of grief and loss."
"I felt really ambiguous about who I was," shares Clevenger. "[Dance is] something that is such a huge piece in the fabric of who [I am], that has been woven into my identity on so many levels."
Even Graciano, who chose to embark on a new career path to discover the multiple facets of his creative voice, experienced "an identity crisis." After leaving Taylor's company and working on photography and choreography projects, he found himself asking, "Who am I as a photographer? Am I a photographer? Who am I as a choreographer? Am I a choreographer? Do I still want to continue to dance?"
For these reasons, Kozak explains, "CTFD really tries either through career counseling, workshops or therapy referrals to help dancers work through some of that."
Deciding on a direction
Along with the search for identity comes questions of what's next and the steps needed to get there. There is no one answer to these questions, and tackling them can feel overwhelming to say the least, so CTFD offers career counseling services. The program allows transitioning dancers in any stage of their performance career to work one-on-one with counselors like Kozak for nine to 12 sessions spread out over the course of a year or longer.
"During the first half, we generally start with identifying the career goal," explains Kozak. "Some dancers come knowing what they want to do, and some don't. So for those who don't, we spend multiple sessions getting clarity and assessing what that might look like for them. The second half is helping them develop the skills to look for that work — for example, writing a resume, talking through job search strategies or networking."
In the case of Graciano and Clevenger, the next phase of their professional life led them to graduate school to pursue an MFA in dance — a place neither one expected to end up.
"I imagined I would be going into another field entirely," Clevenger muses. Reflecting on her decision, she cites teaching an introductory ballet class at a college in the Bay Area as the experience that led her in this direction. "I realized I still really wanted to be working with dancers," she shares. "And in terms of identity, I felt like a dancer again even though I was teaching."
Graciano did not feel the pull of grad school until a faculty member explained it was "a place where he could bring all his interests together, a place where he could help the transition from being a professional dancer to whatever comes next." Now with only one more semester to go, he jokes, "Grad school became a place for me to figure out what I want to be when I grow up."
The end of the road?
Kozak says even clients who go on to have successful careers often return to explore a new path. "Our careers aren't static," she says. "It's not like we get to the end of the road and that's it." Her advice for dancers? "Remember your power to change and guide your career at every point. It's really both a challenge and an opportunity."
For more information on Career Transition for Dancers, visit actorsfund.org/services-and-programs/career-transition-dancers.
By Carlee Sachs-Kroof of Dance Informa.