I was born with less than 20/20 vision. In fact, I was born legally blind in one eye, but it wasn't until I was about six years old that this became clear (pun intended). I didn't actually know the severity of this condition because my "good" eye would overcompensate for my "bad" eye. Thanks to a wonderful doctor and not so early detection, I am writing this article without glasses or contacts. I went through extensive vision therapy, wearing glasses and an eye patch to make the "bad" eye work. While my vision will never be 20/20 in either eye, my vision is restored, and I often forget how difficult it was for me when I was younger.
So why am I bringing this to your attention? As I reflected on the irony of moving into the new decade, I realized that through movement, I have been able to bring a sense of clarity, focus and vision to my life outside of my eyesight. I also find it exciting that we are entering a new decade, one in which the metaphor for 20/20 vision is not lost. I think this is a great time to focus (again, pun intended) on how we can bring vision and clarity to our lives at the start of the New Year.
Rather than create resolutions, I'd like to encourage everyone to incorporate movement practices that will instill clarity, focus, vision and direction. Whether we need these or want to maintain what we have already established in prior years, here are five ways to connect movement to achieving and reaching our greatest potential in "20/20".
#1. Slow it down.
It is easy to get caught up in the hustle and bustle of life, schedules and routines. One way to enhance our awareness and prioritize our time is to slow down. Daily movement practices that encourage us to slow down can actually increase our ability to focus. Notice what forms of movement and dance you are drawn to, and make sure to change up the pace in order to create space for clarity. When we allow ourselves the space to slow down, it can bring awareness to emotions and feelings that can be less than desirable. Pay attention to these and find outlets for these feelings.
Movement Rx: Practice moving quickly and then slowing down the same movement. Play with the spectrum, and find your natural pace.
#2. Simplify your movement.
As movers and dancers, we are often encouraged to try on intricate choreography. The more movement we can do and more body parts we can engage, the better. However, focusing on one part of the body at a time can help us slow down as mentioned above. In order to create clarity, we can quiet the body and simplify our movements. Go back to the basics — walking, gesturing, posturing. Giving ourselves the opportunity to breakdown our movements also allows for less distraction so we can focus on one element at a time.
Movement Rx: Choose a favorite dance move, and break it down into all the different elements.
#3. Be intentional with your movement.
Find the opportunity to make deliberate movement choices. We get so caught up in choreography or skills that we may forget to focus on our own natural movement. Also, when we practice being intentional in our movement, we increase our ability to set intentions in life, both professional and personal.
Movement Rx: Take a stroll around your house or apartment. Pay attention to the placement of your feet on the floor. Notice the feelings and sensations, and be present to how your feet make contact with the floor.
#4. Breathe for capacity.
We take our breath for granted. Reconnecting to our breath not only allows us to be present to the moment but also to slow things down and center ourselves. It also increases space in the body, which psychologically allows us space in our lives and environment. This also correlates to us managing our emotions as we take on more, increasing our window of tolerance.
Movement Rx: Focus on your breath. Notice where you feel it, how deep or shallow it may be, and imagine that with each breath there is more space in your torso.
#5. Challenge your movement habits.
Changing how we move on a daily basis can recharge and renew our creativity, drive and direction. We often stick to certain movements because it is comfortable and familiar. By challenging those engrained patterns, we tap into the brain's ability to change and our ability to create habits for the new year.
Movement Rx: Use your non-dominant hand. (Brush your teeth/hair with the opposite hand.)
Mindset is not the end all be all when it comes to making changes and creating new habits. We all know the age old saying, "Actions speak louder than words." Truthfully, we need to embody the change we want to see in ourselves. These five actions will pave the way for a mindset intended for clarity and vision in the New Year.
Happy New Year!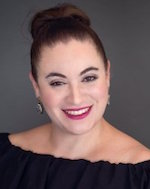 By Erica Hornthal, LCPC, BC-DMT, Dance/Movement Therapist.
Erica Hornthal is a licensed professional clinical counselor and board certified dance/movement therapist based in Chicago, IL. She received her MA in Dance/Movement Therapy and Counseling from Columbia College Chicago and her BS in Psychology from the University of Illinois Champaign-Urbana. Erica is the founder and CEO of Chicago Dance Therapy, the premier dance therapy and counseling practice in Chicago, IL. As a body-centered psychotherapist, Erica assists clients of all ages and abilities in harnessing the power of the mind-body connection to create greater awareness and understanding of emotional and mental health. For more, visit www.ericahornthal.com.