The holidays can be a magical time, but it is not "the most wonderful time of the year" for everyone. Many people suffer from anxiety, feel immense guilt or shame, and lack the ability to set boundaries, which leads to over commitment and holiday burnout. It's not necessarily about learning to embrace the holidays but rather to manage the feelings and emotions that come up around the holiday season so we can be aware and present to our needs and not just the needs of others. We can learn to make this a magical time for ourselves, where we focus on mental health and emotional wellbeing.
So rather than hibernate, avoid the family obligations or over commit yourself to every invitation you receive, let's look at ways we can manage the stress that comes with this time of year.
#1. Keep moving.
Movement is the core component of dance. The holidays are often a time when we take a break from activities and daily exercise routines. This is actually the time that we should maintain those healthy habits and find ways to keep moving. While we don't want to reinforce the stress cycle through only high intensity workouts, moving on a daily basis does reduce the build-up of tension and can be a fantastic way to manage the body's response to stressful situations, circumstances or environments. Examples include taking a walk outside, cleaning or organizing your environment, even baking or cooking; they are all ways to engage in movement throughout the day.
#2. Keep dancing to reduce tension.
We often take a break from physical activity around the holidays. Studios may be closed, instructors may be on vacation or our performances may be coming to an end. Now is the time to find ways to keep dancing to reduce the build-up of stress and to have a natural way to express our feelings and emotions. This time of year can come with its moments, and dance is one amazing way to release those raw emotions. Look for one-day workshops or even try a new type of dance. Stepping outside your comfort zone can actually help introduce new movement patterns. This encourages resilience and enhances emotional capacity.
#3. Go see a show.
Did you know that watching dance can evoke the same emotions as it does when you participate in it? If dancing isn't something that you can actively pursue around the holidays, then perhaps you can go watch dance. Buy tickets to a local performance, theater show or dance recital. A holiday favorite is the Radio City Rockettes Christmas Spectacular. Not near Radio City? That's okay. They may have a show in your area.
#4. Dance together.
When we move with others, especially in similar ways, it builds empathy and connection, and who couldn't use more of that over the holiday season? Can't go out to dance? Host a family dance party right in the comfort of your own living room or kitchen. I find that playing music around the house, especially around this time of year, puts me in a better mood, and dance or movement just happens naturally. Host impromptu dance sessions with your kids or friends. This can be a very social time of year, so take advantage of the times when you can bring others into dance with you.
#5. Bring dance to others.
This is traditionally the season to give. Why not give the gift of dance to others? Put together an informal show or performance or bring therapeutic dance to a local nursing home, shelter or community center. The joy that comes from performing will spill over to those watching; plus, it will bring a sense of service, meaning and purpose to those performing.
It is important to know that while the holidays are a time to give, they are also a time to receive. Giving ourselves permission to practice self-care and meet our own needs is not selfish; it is necessary. We may find ourselves consumed by buying the perfect present, giving the most thoughtful gift or hosting the most unforgettable holiday party. While that may be appreciated, it is not what the holiday season is about. Take this time to connect to yourself, others and your environment. This is the time to slow down and be present, especially before the New Year begins. Lastly, know that whatever you are feeling this holiday season is valid. As always, there is no shame in reaching out to talk to someone if this time of year is particularly difficult. Better yet, want to incorporate dance and movement into your therapy? There is a place for that!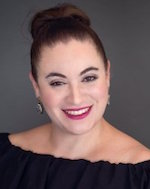 By Erica Hornthal, LCPC, BC-DMT, Dance/Movement Therapist, Chicago Dance Therapy.
Erica Hornthal is a licensed professional clinical counselor and board certified dance/movement therapist based in Chicago, IL. She received her MA in Dance/Movement Therapy and Counseling from Columbia College Chicago and her BS in Psychology from the University of Illinois Champaign-Urbana. Erica is the founder and CEO of Chicago Dance Therapy, the premier dance therapy and counseling practice in Chicago, IL. As a body-centered psychotherapist, Erica assists clients of all ages and abilities in harnessing the power of the mind-body connection to create greater awareness and understanding of emotional and mental health. For more, visit www.chicagodancetherapy.com.