In the heart of New York City, not far from the bright lights of Broadway, in the bustle of downtown Manhattan, Peridance Capezio Center has created its own community. Dancers from all over New York (and the world) come here to take class, make friends, network and, of course, train hard. With over 250 open classes – and an extensive summer program of extra workshops and seminars – there is truly something for everyone.
Dance Informa spoke with Yarden Ronen-van Heerden, development director at Peridance; and Isabel Eisen, international student advisor and programs coordinator, about what Peridance offers its drop-in students, and why, in many ways, it's not merely a drop-in program after all.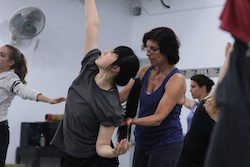 The class list at Peridance is endless. From salsa, to contemporary, to hip hop, every dance style is covered. "We have a full schedule of drop-in classes for all levels and for all ages," describes Ronen-van Heerden. "Our classes cater to anyone. Our mission is to make dance accessible, teach people and really create a sense of community here. A lot of our students will sit before or after class with faculty, with other peers or with people they have just met in a class, and they will help one another and talk to one another, and I think that's a big part of the experience here. It's not just the class, it's the vibe, and the community."
Peridance is best known for its contemporary dance and ballet classes. The studio is also lauded for the in-house Peridance Contemporary Dance Company, born out of the success of the contemporary class program. "Although we are known for contemporary and ballet, we have just about every style here, explains Ronen van-Heerden. "We put a lot of emphasis on promoting modern techniques." Whether it's Limón, Taylor, Graham or Horton, Peridance's contemporary classes are an integral part of the open class schedule, which allows them to offer serious training to the community. Many of the teachers imbue different elements of dance in their classes, which creates originality that you might not find elsewhere.
Eisen agrees that the sheer variety among the faculty is Peridance's strength. "There are many different types of contemporary dance classes here, with each teacher bringing something new," she adds. "When you step into a class you know you will get the teacher's personal attention with their own unique voice."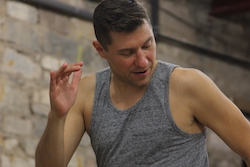 Peridance promotes a mix of training across different styles to make their students stronger, more rounded dancers. "It is important that students know, for example with ballet, which is more contained and structured, that you can actually use that for hip hop or something freer," notes Eisen. "It makes you a better, more effective and efficient dancer."
"We see it happening here a lot," Ronen van-Heerden agrees. "There's a bridge between the disciplines. We see people who come here for contemporary and then all of a sudden they're taking a hip hop class, or we might see some of our professional dancers taking salsa, which is fantastic."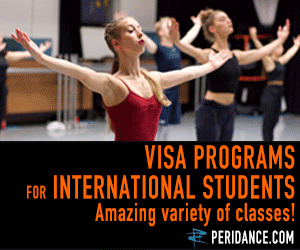 Although commercial classes might not be what Peridance is famous for, Ronen van-Heerden is excited about the boom the studio has experienced in recent years. "We have a whole schedule of commercial classes divided into two focus areas," he describes. "One is the fundamentals – we have quite a lot of teachers here who teach the fundamentals of street dance, from hip hop and house to popping and locking. Then we have more choreographic classes, where students can come and explore what's happening now in the industry."
And then, of course, there is ballet. Peridance believe firmly that ballet is a vital part of training for any dancer, so it's incorporated into every training programs and offered across the open class schedule at all levels. The faculty boasts many of New York City's premier teachers, starting with Peridance's esteemed director, Igal Perry. Others include Jae Man Joo from Complexions Contemporary Ballet, Martha Chapman, Kat Wildish and Laura Rae Bernasconi – who have taught for companies such as the Nederlands Dans Theater and Alonzo King LINES Ballet – and Antonia Franceschi, who danced with Makarova and Company and New York City Ballet. And, the ballet classes at Peridance are very much geared for contemporary and commercial dancers, not just traditional ballet dancers.
Although it seems like a drop-in dancer might go under the radar at a studio of this nature, for many dancers one class becomes two, and two becomes five, and suddenly they find themselves immersed in one of several curated training programs. This is where Peridance's real strength lies. In particular, the Dance Studies Program and Intensive Semester offer students expert guidance and mentorship. And, there's a natural cohesion between the open schedule and the more curated training programs. There's much more to these classes than simply dropping in.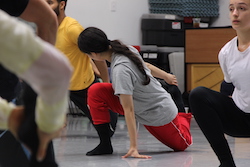 Come summertime, everything is taken up a notch. New York takes on a new, energetic persona, and the dancers come running. "There's something about a period of time when people are on vacation," muses Eisen. "People might go to a spa or a yoga retreat, so our summer intensives attract a different kind of dance enthusiast. This is also when we offer adult workshops for absolute beginners. It's very important in New York, because there are so many students who need and want that kind of basic training, concentrating on the essentials."
Under Igal Perry's leadership, Peridance is keen for students to explore the range of extra classes on offer during these warmer months. The Sessions – which are week-long workshops with companies such as Complexions Contemporary Ballet, Hubbard Street Dance Chicago, and Peridance Contemporary Dance Company themselves – are always very popular. "We also have a new summer study option," says Ronen van-Heerden, "where students can come for a few months to take classes continuously. We have subsidised rehearsal space for artists, and of course we have our own intensives here in the summer — the Teen Intensive, Children's Summer Programs, and for the very first time, our Ballet Intensive." And, while the colleges and universities in the United States are on a break, students from across the country come to explore what Peridance have to offer. The season culminates with the Blueprint Summer Intensive, which is a two-week course for pre-professionals. This gives dancers a whole gamut of dance experiences, at the highest level. With so many training options available, it's no surprise that New York is an amazing place to be in the summer for artists.
Of course, Peridance is clearly the place to be all year round.
For 2020, all the details of the summer offerings will be available in one place on the Peridance website. For those who wish to learn more about Peridance Capezio Center's regular open class schedule, click here.
By Emily Newton-Smith of Dance Informa.