Só Dança has released a new line of vegan dance shoes for styles ranging from ballet and contemporary to jazz and tap. You might be familiar with the term "vegan" as it relates to one's diet — a vegan chooses not to consume animal products such as meat, fish, dairy and eggs usually for ethical, health and/or environmental reasons. According to Animal Equity, in terms of fashion, "vegans do not wear or use clothing or shoes made with the skin, hair or feathers of other animals, including fur, leather, wool, feathers and silk. They can wear and use plant fabrics such as cotton, linen or hemp, and man-made materials such as polyester, acrylic or nylon."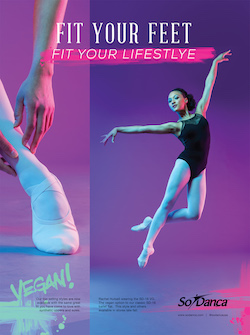 New York City Ballet dancer Rachel Hutsell recently became vegan for health reasons but has kindled a desire to implement veganism in more aspects of her life. "I became vegan four months ago and feel so inexplicably better on a plant-based diet," she explains. "I also feel very spiritually and ethically motivated to live my life in this way. As of now, I haven't fully transitioned into a complete vegan lifestyle. There are still some products that I use that are unfortunately not vegan. My goal in the future is to have completely switched over to a lifestyle of ethical living. Knowing that Só Dança is producing dance shoes that support this is so comforting and inspiring."
Jenni Poole, a swing on the national tour of Pippin, has also transitioned into a vegan lifestyle for health reasons. Since she had to wear leather character heels as part of her job each night, she needed an alternative.
"Since making the decision to go vegan, I have purged all leather, wool, silk, down and other animal products from my closet and from my life," Poole explains.
Not only is the vegan movement growing, but consumers are making more conscious purchases — organic food, local shops, hydrogen-powered cars and ethically-sourced apparel. While Só Dança continues to sell a plethora of leather shoes, the dancewear brand does now carry a vegan line for those who live in this fashion.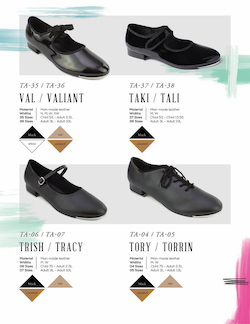 "The decision to make vegan shoes was made because we had received numerous requests over the last few years for such styles," says Só Dança's North American Sales and Marketing Director Kelly McCaughey. "Since synthetic soles are common in basic level tap shoes, we had always offered options is this genre. However, if you wanted a vegan shoe for ballet, jazz or contemporary, there simply wasn't a choice. That is why we decided to take three of our best-selling styles that have a stretch canvas upper and change the suede soles to a microfiber pad. Essentially, dancers are getting the same shoe, only the turning and heel pads have changed. Microfiber pads provide a good turning surface without compromising the dancer's lifestyle choice."
While leather typically has a longer "dance life" in terms of wear and tear, Só Dança's stretch canvas is exceptionally durable and long-lasting. And since the new vegan styles are so similar to the original ones, dancers will be pleased to know that the cost will be quite comparable.
Here is a comprehensive list of Só Dança's vegan shoes:
New vegan styles:
BA45VG (Vernon)
Stretch canvas turner with single ankle elastic and foot-forming design.
SD16VG (Verdi)
Stretch canvas split sole ballet shoe with elastic casing that replaces the drawstring.
JZ75VG (Vega/Vesper)
Stretch canvas split sole jazz shoe.
Other vegan styles:
TA35 (Val) and TA36 (Valiant)
Tyette tap shoe with riveted taps.
TA37 (Taki) and TA38 (Tali)
Velcro strap tap shoe with riveted taps.
TA06 (Trish) and TA07 (Tracy)
Mary Jane tap shoe with riveted taps.

TA04 (Tory) and TA05 (Torrin)
Oxford tap shoe with riveted taps.
For more information and to find the shoes at a dance store near you, visit www.sodanca.com.

If you are thinking of becoming vegan or committing to a more ethically and environmentally-conscious lifestyle, make sure to do your research and to consult your doctor about changing your diet.
By Mary Callahan of Dance Informa.