We're coming up on the end of the school year, and countless graduating dancers are coming into the industry. Whether they're coming from conservatories, university BFA programs or studios, a lot of concert dancers enter the working world with the same idea: graduate, join a company, have a career. 
And company life can be great. You're paid to train, rehearse and perform with a group of handpicked artists all working toward one artistic vision. It provides a clear sense of purpose, community and a consistent paycheck. It's a stable way to make a living out of doing what you love…but it's not the only way.
No one knows the industry better than a freelance dancer. Without the confines (or safety net) of a company, freelancers make their living by constantly keeping tabs on what's new and upcoming in the dance community in their city, country and even globally. They live in the gig economy, which makes the work they take much more varied than that of a company dancer.
Dance is a lot more common than we tend to realize. It touches industries outside of our own, and dance jobs pop up in places we sometimes don't think to look. And dancers are much more versatile than we give ourselves credit for. Here are some things you, as a dancer, are good at, and gigs that need your specialized set of skills.
Film and TV
When was the last time you saw an ad on tv with a dancer/mover promoting a car? Or toothpaste? Was it yesterday? This morning? And did you think, "I could do that!" Well you're right, you can. They got paid for that advertisement, and so could you. You could choreograph it, even. The same applies to that series you binged last week, and that movie you've been meaning to see. Everybody loves a good dance-break.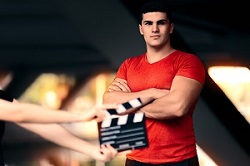 Movement directing
Dancers are also finding work as movement directors for things like music videos and fashion shoots. Your expertise is in making bodies move, and that's a much larger category than you might realize. Take a look at your favorite horror flick and study how the monster moves. Someone coached the actor on how to do that!
Motion capture
Filmmakers and video game designers need subjects for CGI work. When someone understands how to physically embody characters and creatures, their choreographed movements help lay the digital pathways that help create a cut-scene or blockbuster. You're a master copycat, taking a choreographer's movement and making it work on your own body. Why not apply those same translation skills while wearing a motion capture suit? You're already used to unitards.
Life of the party
As performers, we know how to work a room. Dancers often get hired to work events, from premieres, to galas, to after-parties. Sometimes, you're there to perform a set dance as the climax of the night, sometimes you're there as a hype-guy to draw other people out onto the dance floor.
Living art
Other times, it's art-installation-esque, using bodies in space to add to the ambiance of the room throughout the evening. Bonuses usually include extravagant costumes, leftover hors d'oeuvres and being a fly on the wall in a room full of fancy, well-connected people.
Fitness guru
You make it your job to be physically fit. Why not flaunt it? The nature of your lifestyle makes it a natural option. Dancers all like to moan and groan about "getting in shape." But compared to the general population, your strength and flexibility are through the roof. What better reward for taking care of your body than getting paid to show off the results? Bonuses can include free product of whatever you're advertising. Yoga mats, water bottles, foam rollers. Complementary swag!
Tourist attraction
In large cities like New York, the tourism industry is always looking for a new way to entertain its tourists. Did you know there are companies that will pay you to be a street performer? Attract a crowd and be the center of the city's attention. Not only are you on payroll, but you can make tips, too. AND work on your tan.
Short-term contracts
There are also plenty of opportunities to perform on stage. Connecting with local choreographers and auditioning for upcoming shows can give you the in-depth rehearsals and more traditional stage time you crave. Not only that, but you get to work with choreographers of any style, not just whichever ones fit your company's artistic vision. If you've got the travel bug, go in for touring shows or cruise ships. Get paid to see the world!
Choreographer 
If you're more interested in researching in the studio than performing on stage, maybe you're a choreographer. While it takes time, money and a whole lot of effort to establish yourself, you don't need to be attached to one specific company to create dance. Start by setting pieces on your friends, presenting them at a school showcase or local festival, and use the credits and film footage from those performances to apply to bigger and better opportunities.
Creatures of habit beware, there's no steady schedule to be found here. But if you're looking for adventure and new experiences, freelancing can be a rewarding way to expand your horizons, and your network. Try some of everything, and maybe you'll find something you want to dig deeper into.
Keep an eye out for more as we dig deeper into each of these types of gigs, with insight and stories from dancers who've been working them. From recent graduates to established artists, you might be surprised who you find where.
By Holly LaRoche of Dance Informa.