It's America's historic artform. It is one that comes from various cultural backgrounds and that blends rhythms and beats to ultimately make a symphony with your feet. Tap dancing has been a staple in the dance world and has shone a light on great talents from Fred Astaire and Ginger Rogers to Savion Glover and Gregory Hines. Although tap has gone through an evolution over time and is taught throughout the country, there is no denying how important it is for teachers and choreographers alike to keep its relevance flowing through to the next generation.
As someone who loved tap from the time she was a little girl, Andrea LaMaina is one of many teachers striving to keep the tap community tightly knit, in South Florida more specifically. While South Florida has studios that teach the basics such as ballet, jazz and tap, LaMaina still felt like there was something missing outside of the studio setting. So, she had the idea to create the So Flo Tap Fest.
"I felt like the tap community needed to be brought together, and it was time to make this happen in South Florida," LaMaina tells Dance Informa. "I realized there was nothing here for tap. You would go to competition and watch the other studios, and the talent was spectacular in tap, but no one knew or talked to one another. I had to do something about it. After much-needed encouragement from Nicole Hockenberry, whom I had taken class with, I took the leap of faith and launched the first season of So Flo Tap Fest."
This big leap launched what would not only become an amazing movement for tap as an artform but also a community where dancers from all over could come together and share a common interest in one arena. As a studio owner, LaMaina already had a home for this great event, so it was just a matter of reaching out to different studios and teachers to attend. So Flo Tap Fest is a place to share with those from different studios to essentially become one big tap family.  Although it attracts crowds from Miami and the surrounding Florida area, this festival has attracted many crowds from out of state and even international students over the years. In addition to a variety of people, LaMaina has seen a wide range of ages come through the tap festival every season as well.
"There's no age limit for those who can participate," she explains. "Although it is ideal to have some tap experience and interest when attending, we have had some as young as seven or eight years old participate and some in their 50s and 60s."
Along with a great community to back it from its beginning stages, So Flo Tap Fest had some extra support from popular dancewear brand Só Dança, which agreed to sponsor the festival. As a fully supportive company for the arts in Florida, Só Dança's support has continued to grow as the festival has grown, and the company is 100 percent on board with its sponsorship of the festival. As So Flo Tap Fest enters its fifth season, LaMaina focused on a future-forward approach to advertising the festival. The "save the date" was in video form, and Só Dança provided tap shoes for the video to support the brand. This brand of social media sharing has had a great outcome and is LaMaina's main source for advertising So Flo Tap Fest and sparking even greater interest.
Along with a catchy way to invite tappers from all over the globe, this tap festival is offering some of the top names in the tap industry under one roof. Aaron Tolson, one of Só Dança's ambassadors, is one of many great talents on the faculty for So Flo Tap Fest. As a fifth-year faculty member at the festival, it is a very special season for Tolson for various reasons. He shares his past experiences and what will make this season even better.
"Being able to come back to a festival is really fun," Tolson says. "When you come back, you get to see the growth in the students. I've also built some really strong friendships over the years there. The faculty has changed every year, making every event feel different. Andrea and Nicole do a great job of matching personalities to their event."
To add to Tolson's excitement of being back for another year, So Flo Tap Fest is adding a third day to its program, along with a show. The So Flo Youth Tap Ensemble will be debuting its inaugural performance in the show, along with other pre-professional tap companies, including Tampa Bay Tap Company and Thomas Armour Youth Tap Ensemble.
The faculty will also be included in the performance, which has generated a lot of excitement as well. LaMaina has formulated a perfect balance of faculty and caliber of talent that would usually be found in New York or LA. Along with Tolson, the faculty for So Flo Tap Fest this season will include tap legends Barbara Duffy and Brenda Bufalino, Claudia Rahardjanoto, Christopher Broughton (Só Dança ambassador) and Derick Grant (Só Dança ambassador). The icing on the cake is a bonus class for anyone pre-registered, which will be taught by So Dancer Sydney Burtis.
"So Flo Tap Fest is not just beneficial for the kids but also great for tap teachers as well because we have to take class, too," says LaMaina. "It's great for relationship building, networking, and I have an awesome team of staff to make it all possible. It's a labor of love and a big project that I am passionate about."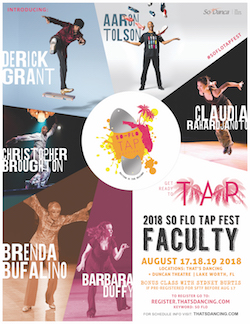 The fifth annual So Flo Tap Fest will be a rewarding experience for those in attendance and one of great memories. Of the many opportunities that students will have to look forward to, LaMaina gives three key expectations and takeaways for students. Those who attend So Flo Tap Fest can expect to be inspired while participating. This festival is one where you're surrounded by tap dancers with the knowledge and enthusiasm about the art. Friendship is the second takeaway from So Flo Tap Fest, especially from taking classes with a small community who have one thing in common — a love and passion for tap. Lastly, but certainly not least, those attending can expect to learn a lot. The most fulfilling outcome, though, is the newfound respect for those who may be from different studios but share in the same drive for this American artform.
"At competitions, it is most rewarding to watch kids from different studios who have attended So Flo Tap Fest cheering each other on backstage," LaMaina says. "We are one big tap fam supporting and cheering each other on at the end of the day. It is great to be surrounded by so much support."
So Flo Tap Fest with be August 17-19. To register, head to register.thatsdancing.com.
By Monique George of Dance Informa.