In an exciting collaboration, American Ballet Theatre (ABT) Principal James Whiteside and Capezio have created a new ballet shoe especially for men, the MR (Mister). 
The cutting-edge, patent-pending professional shoe, designed to be worn for up to 15 hours, officially launched at a brunch event on March 4, at Capezio's flagship store in NYC. The event also featured a Q&A, appearances by Whiteside and fellow ABT Principal Stella Abrera, partnering tips, photos with fans, autograph signings and ticket giveaways. Dance Informa caught up with Whiteside for details on the MR and why it's a great option for hard-working feet like his own. 
Why did you want to design a new ballet shoe for men?
"I designed the shoe with men in mind, but the shoe is for everyone. I desperately wanted a ballet shoe that felt as comfortable and supportive as a jazz shoe."
What are the features of the MR ballet shoe?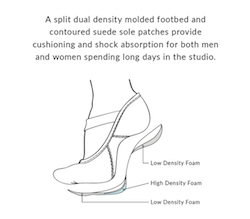 "There are supportive, shock-absorbing pads in the ball and heel of the shoe. It's as if a ballet shoe and a jazz shoe had a very comfy baby."
Why did you want to collaborate with Capezio for this shoe?
"I knew Capezio would have the chops to make this shoe the way I envisioned it. They're an old company with a rich family history. There's a reason they're still around."
Why are you happy with the MR? And why do you think other dancers would love it, too?
"I dance for up to nine hours a day. My feet can get pretty beat up, and I wanted a shoe that had the ability to alleviate some of the discomfort that I feel toward the end of a rehearsal day. I know that dancers, students and professionals alike will rejoice at the comfort of this shoe. I believe this shoe to be perfect for barre method exercise class takers as well."
Tell us about the Launch Event
"The launch event was fantastic! There were so many young dancers there. It was nice to speak to them with fellow principal dancer Stella Abrera. She's a portrait of kindness and generosity. A truly dignified ballerina."
Why should dancers try the MR?
"This shoe has changed the way I feel after a long day's work. Does your ballet shoe do that for you? Maybe it's time for you to get a pair of MRs. *wink wink*"
The Capezio MR James Whiteside Ballet Shoe is now available on Capezio's website and at your local dance retailer. 
By Laura Di Orio of Dance Informa.