The curtain was officially lifted for Alexandra Costumes in August when its parent company, Just For Kix, unveiled its new Costume Catalog and website. The new brand offers sophisticated, one-of-a-kind costume designs exclusively to dance teachers, coaches, studio owners and theater directors at competitive wholesale prices. The stunning performance wear has already become known for its comfortable fabrics, vibrant colors, unique designs and trendy styles.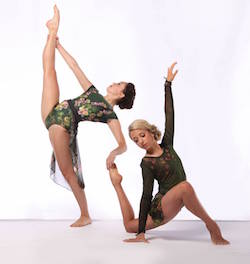 The new costume line is named after professional dancer, choreographer and instructor Alexandra Clough, who has been working with Just For Kix's national network of over 21,000 dancers since middle school.
"Yes, Alexandra was named after me," she says. "We actually started it as a line in our Just For Kix catalog back while I was still in middle/high school. It has grown bigger over the years, and after we had started to get more and more performance items in our Just For Kix catalog, we decided it was time to launch a full costume catalog."
Alexandra, who has enjoyed a dance career that's included dancing with the Black Eyed Peas and Beyoncé at Super Bowls, says that the costume designs have been a collaborative effort between her and numerous Just For Kix designers.
"It is definitely all about teamwork. We tend to meet and discuss ideas and build off of each other. It is definitely not a one-man show!" she emphasizes. "Everyone has different ideas and opinions, and we try to be ahead of the game with what will be popular and come out with new trends before they happen! It is so helpful that so many people in our company are dancers and teachers themselves, so I think that helps us know what people are looking for."
Dana Clough, a family member of Alexandra's, also helps design the costumes. She's been with Just For Kix for more than 12 years and assists with product development and catalog layout. She believes what sets Alexandra Costumes apart from other costume companies is its "unique, eye-catching designs and styles."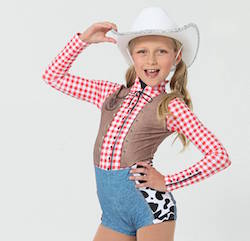 Dana says, "We aren't afraid to step outside the box and be different."
Pattern Maker and Designer Jordynn Beckman shares that the inspirations for the various costume designs often come about through research into the latest trends in fabric, color and silhouette through retail, runway and future forecasting sources. The product development team considers what's happening in pop culture through multiple social media channels. They look at what's trending in music, movies and new styles of dance in the industry.
Speaking of the creative process, Jordynn explains, "We design by category, then break the designs down into collections and different styles. We try to offer a wide range of costumes that could potentially cater to each style and pathos of dance."
She adds, "Since I also manage the pattern making of the costumes, I know that the fabric and the fit of the garment are the first things I look to perfect, and then from there we apply our artwork and create beautiful, one-of-a-kind, dye-sublimated costumes."
The dye sublimation process is an undeniably unique feature of Alexandra Costumes. It allows the costumes to show extreme detailing while still being comfortable.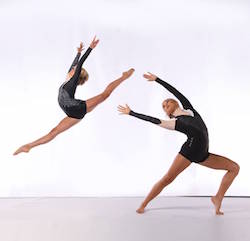 Alexandra notes, "Being able to move freely while performing is obviously so important. So, I think dye-sublimation has changed the game in that regard. There is no bulkiness or layers, so you are able to move better, and everything on the costume stays in place!"
Jordynn chimes in, "Yes, exactly. As a pattern maker, you still have to be aware not only of the presentation of the costume but also the functionality of the costume. We start with a functional fabric that is also comfortable against the skin, then we perfect the fit of the silhouette and make the seams comfortable so there is no irritation during a performance."
For context, a traditional costume can have up to 10 pattern pieces just on its front. Jordynn says that's what makes dye-sublimation so wonderful – that Alexandra Costumes can start with a basic biketard pattern, add detailed artwork and still make it look exactly like the 10 piece-front biketard. "It truly is equal or more realistic than the traditional sewing of 10 pieces," Jordynn says. "Especially when you may want to add multiple layers of fabrics and trims."
She emphasizes that this allows designers to be very creative, with anything and everything being capable of being customized. This also helps Alexandra Costumes have the means to continue to add new styles throughout the year.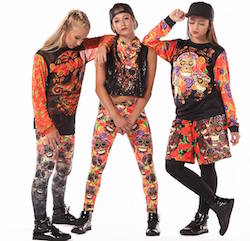 Alexandra says, "We know that everyone is looking for costumes for different shows at different times of the year, so we want them to have new options. We also don't want to wait the full year to bring out awesome new designs if they are ready to go!"
Offering new designs all year means that models must always be on call. That's why so many of Alexandra Costumes' models are from local high school dance teams. For this inaugural catalog, the company brought in 10 models and completed three different days of shooting.
Dana notes that because so many of these models are familiar with Just For Kix, the photo shoots are "super fun and laid back" when they take place at the manufacturing headquarters in Baxter, MN. That fun, friendly environment is something that Just For Kix, and now Alexandra Costumes, is known for.
"We will continue to do everything we can to have outstanding customer service and quality products," Dana says. "Those are both our number one concerns with Just For Kix and will continue to be extremely important with Alexandra Costumes."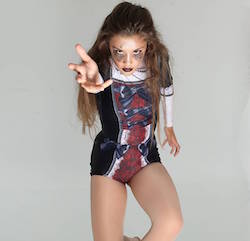 Jordynn encourages all studio owners, dance teachers and coaches to really consider Alexandra Costumes for their performance needs this year. Some of her personal favorites from this inaugural Costume Catalog are the "2 Legit" Hip-Hop Collection, the Matrix Biketard, the Reign Leotard and the detailed themed costumes, like the Queen of Hearts Biketard.
"We may be new to the dance costume industry, but our company has many years of experience," Jordynn says. "We strive to provide excellent customer service, fast delivery and quality product. You can expect unique, one-of-a-kind designed costumes that fit and feel amazing at a competitive price that will make you stand out from your competitors on stage."
Shop Alexandra Costumes' 2017-2018 Collection now at www.alexandracostumes.com.
By Chelsea Thomas of Dance Informa.