This June, Broadway Dance Center (BDC) will unveil a new studio location at 65th Street in NYC, in the heart of Lincoln Center. The location, which will feature four state-of-the-art studios, will serve as the expanded home of BDC's Children and Teens Program (CTP).
"BDC extended its premiere training to youth under our Children and Teens Program in 1998, offering the highest quality dance instruction in a wide variety of styles and levels," explains Katie Stewart, director of Children and Teens at 65th Street. "Children and teens travel from all over the tri-state area to train with this program. As the program has continued to grow with success, we have started to outgrow the space allotted for us at Broadway Dance Center's beautiful 45th Street location."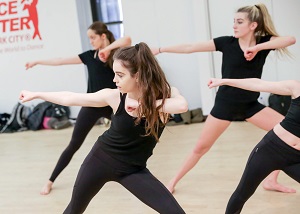 In addition to BDC's current Children and Teens offerings, the 65th Street location will also include prenatal yoga, Baby and Me classes, Pouch Baby Fitness, 16-week semester classes for ages two to 18, and additional classes expanding upon the established 32-week CTP Season at 45th Street. Many of BDC's current CTP faculty will teach at the 65th Street location, as well as some new faces.
Stewart says that this new location will allow BDC to not only expand the CTP program but also add new classes, camps and special events for dancers of all ages, levels and interests.
"At Broadway Dance Center, we are dedicated to inspiring our youth through dance," she adds. "Dance classes, to us, are so much more than the steps. We like to leave the dancers with a feeling of accomplishment and create a fun, family-based environment for them. We're excited for the opportunity to expand our programming and further extend our roots in the New York dance community."
BDC's CTP will kick off its summer season with an open house on Tuesday, June 13, when families can tour the new facility, meet instructors and sample classes. Stewart hopes all those interested in the 65th Street location will attend.
For its summer debut, BDC's 65th Street location will offer one-week summer camps for students ages three through 14, in a variety of dance styles, as well as summer classes for dancers ages six months to 13 years old.
For more information on BDC's Children and Teens Program, visit www.broadwaydancecenter.com/children-teens.
By Laura Di Orio of Dance Informa.