Australian Josh Horner has done it all – from stage work in ballet and Broadway, to choreographing for Disney Performing Arts program, and to teaching masterclasses around the world. And now he's taking on his latest project, Oh My Josh, an original comedic digital series on Freeform and Hulu.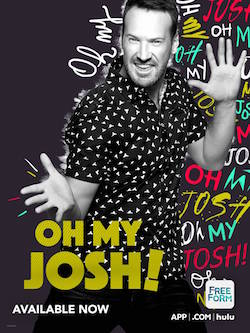 He has so far released five episodes, most filmed in LA, where he now lives, and all of which are short, fun and free to watch, and feature him in a variety of everyday activities. In one episode, we watch him attempt to lose weight by running around with an inner tube around his waist, laughing his way through a hip hop class and trying out a gay kickball team (also in the hopes of scoring a date). In another episode, Horner teaches scientists to dance by choreographing a routine by using words like "hedgehog" and "yogurt" as steps. And each day, he checks in with his adorable mom via Skype.
Horner is full of energy, humor and enthusiasm. And while each episode is about his little life adventures, he says he hopes Oh My Josh serves a bigger purpose: "to inspire younger dancers to enjoy the hustle and bustle of surviving in this industry".
Tune in to Oh My Josh on Freeform or Hulu, and get to know a little more about him here.
What can viewers expect from Oh My Josh?
"The show focuses on the daily events of my life in Los Angeles with my sassy assistant, Jayme Foxx, who keeps me in line! I work with a variety of clients, from YouTube stars to everyday people wanting to learn how to dance for special events in their lives, and the show even delves into my own personal life, like me getting a little chubby, to dating, breaking down while reliving my old 'ballet days' and traveling back home to open up a brand new theater in my home town of Wyong in Australia. Oh, and my mum is in the show, too."
What are you most looking forward to in this new project? 
"I think I'm looking forward mostly to introducing myself to a new audience in America. It's been a long process waiting for the show to come out. No one really knows, but it was like a three- to four-year process. I shot two pilot episodes before Oh My Josh came to life, so it's a much longer process than one thinks. I'm just excited to finally share the end product with everyone. I just need to sell the show to an Australian network now so Australia audiences can see it."
How do you like being in LA?
"I do like living in LA. I feel like there is a good balance between the excitement of opportunity each day, and then there are days when you can be very chill and enjoy hiking or nature and the constant sunshine."
How does the dance scene compare to that in Australia? 
"The dance scene here is very commercial-heavy. But definitely more work opportunities for dancers here than back in Australia. I think Australian dancers have awesome dynamics. We are really powerful dancers. I know that we get a lot of style and influence from USA dancers, but you can really pick an Aussie dancer. Well, I can. Not many older technical dancers here, and ballet and musical theatre performers are few and far between, but we are all still lurking around. You can hear us coming because our hips and ankles squeak. It's funny, as I get older I feel myself slowly removing myself from being a true 'dancer' in the sense and learning more about TV. I am an Executive Producer on my show, so that was a new set of exciting skills to learn about!"
You've done such a wide variety of projects in your career – classical work with the Australian Ballet, stage work in musicals, judging on Dancing with the Stars Australia. How do you think this broad range has set you up for where you are now in your life?
"I always knew this would be my career path. I actually have to thank my mentors, David Atkins and Sheree Da Costa, because when I was about 14, they really explained to me that I could do it all but that ballet would have to come first, just because it is so technically demanding, and then I could move into musical theatre as I got older. It really was the best advice, and I pass it along to any 'all-rounder' dancer wanting a career as a professional dancer.
I planned my whole American journey from my early days at the Australian Ballet School, making sure I was a stand-out in all my performances and that people were noticing me. I feel sometimes dancers can be insular and not willing to promote themselves. That's probably why I only lasted five years at the Australian Ballet. They weren't big in those days (pre-social media) with promoting stars in the company and also the fact that I used to be naughty and talk on stage. No wonder I ended up in musical theater. 
Anyone who knows me, knows I'm a tick-the-box type of guy. I knew I wanted to dance on Broadway and the West End, so I just chased and chased until all of it happened. Dancing with the Stars was not expected at all. I was happily choreographing the Disneyland Parade when all that happened. I was dabbling in TV, hosting classes in LA, and before I knew it I was on Dancing with the Stars as a judge. That opened up the door for me in the USA to get noticed by executive producers and, well, the rest is now history having my own show in the USA. 
I am very proud that I have a wide range of experience in this industry. It makes me a better mentor and inspiration to younger dancers and performers. I have a lot of knowledge to pass on."
What have you learned throughout your journey?
"I think my biggest lesson to myself (or to any young performer) is managing your brand and career. See, back in the day we never had Instagram to help us get noticed. We were barely allowed any professional photos from the shows we were in due to copyright. How things have changed! Kids these days can get their parents to buy them a few followers, and before their 13th birthday they have a dancewear line out. I'm so grateful it was true blood, sweat and real tears for my dance performance journey. It made me the man I am today, and every time I had a career break or got into a new show, the excitement was so intense that I fell in love with the industry all over again. I actually remember talking to myself, saying, 'Okay, Josh, you're going to be a fabulous dancer, and I won't be happy until you've done it all, like ballet, Broadway and TV.' Making clear goals and sticking to them and having a small amount of patience is key in this business."
What has been one of the most memorable moments of your career so far? 
"In 1988, getting $25 for winning the Junior Classical Championship at Goondiwindi Apex Eisteddfod and then going and blowing it on McDonald's! No, I'm kidding. I have a few. Movin' Out on London's West End and having Twyla Tharp come out and direct me and throw me a few compliments was very rewarding. Performing in the opening number of the Tony Awards with Elton John when Billy Elliot took home 10 Tonys is also a favorite. I also adored working with Baayork Lee on A Chorus Line. Playing Zach really did play an instrumental part in my life. It made me fall in love with performing again."
Why are dance and the arts so important to you, and why do you think they're a vital part of our communities? 
"Firstly, dance saved my life, growing up as a very bad asthmatic. It physically built my lung strength up and helped me become healthier. I'm sure many other dancers share a similar story. Dancing allowed me to play different characters and develop a fun personality. The confidence boost performing gives you also teaches you how to manage stress and anxiety, including bullying and judgment. They are all key developing tools needed in anyone's life. Plus, the great benefits of physical strength and flexibility and coordination.
I think what I love most about the arts is the confidence it brings out in people. There are no wrong answers with art because it's all about expression. You can dislike some of it, or you can find yourself being inspired by a show you see or feel someone's energy by being captivated by their dancing. It's all exciting. 
I love watching the younger generation be so fearless with their creativity, like dancers creating small dance films or posting videos of their work. There are so many platforms now where young artists can present their talent on a global platform. It's just wonderful. I kind of wished I was young again."
When you were a younger, aspiring dancer, what three words would you have used to describe yourself? And how about now – how would you describe yourself today? 
"Well, when I was younger, I would associate 'bullied', 'determined', 'respectful', and now I would say 'cheeky', 'confident' and 'hustler'! This business is about hustling your way and surviving! It keeps you on your toes and stimulated for reinvention! Looking back, I was always respectful (and slightly terrified) of my teachers, and now that I am the teacher, I find I give pure comfort to my students and bring out their best personality and qualities through their dancing. I'm a very different teacher to what I was brought up on. I am also good in pitch meetings. It's weird, when I'm super nervous I get really confident. It's weird!"
What's one of your biggest pieces of advice for aspiring professional dancers? 
"Save your money! Don't burn bridges! Learn every role in the show! Show people what you really can do; push yourself! Follow me on Instagram? Okay, I'm being cheeky.
No, I think the best advice for any aspiring professional dancer is know exactly where you want to go. Don't expect a career to be handed to you. There are so many avenues dancers can go now with their career. Know exactly what type of dancer you are and chase it until it happens, and be passionate about other things aside from dance because it's such a fabulous, short career that you need to have other passions. Or just find someone rich to marry."
What's next for you? 
"I am currently planning a massive USA teaching tour with my masterclass, and I am hoping to do that in Australia, too, this year. I also run Dance Upon a Dream and the WEB AWARDS, finding the the most outstanding, talented dancers online from around the world. And my manager is working with me, putting me up for a variety of projects, so that is a constant hustle."
Any plans to go back to Australia? What's 'home' for you now? 
"I always want to be in Australia twice a year if it permits. I will never not be an Aussie, but for now, the USA is where I am based and professionally stimulated."
To view Oh My Josh, head to Freeform or Hulu. To book Josh Horner's upcoming masterclass across the U.S., visit www.danceuponadream.com/teaching-tour.html.
By Laura Di Orio of Dance Informa.