Have you ever rehearsed a dance work to a certain piece of music and wished you could create your own music for the movement? Whether or not you're a trained musician, with or without instruments and vocal chops, that will soon be possible. And also even for your wheelchair-bound grandmother, or a child with a neurological movement disorder. Point Motion isn't the first technology to create rhythm and sound from human movement, in real-time. But it has many characteristics that make it truly ground-breaking.
The first unique aspect of Point Motion is its origin from a place of true caring and giving back. Kevin Clark, CEO and founder of Golden Wish, LLC (Point Motion developer, based in Boston, MA), describes how tragedy first inspired him to create the platform. As a Jazz Composition major at the iconic Berklee College of Music, his cousin – and music mentor – got into a devastating, although not fatal, motorcycle crash. Clark longed to offer his cousin a way to make music once again, as he once had before the accident. Rather than wait for that technology to be publicly accessible, with a realistic price tag, he and a few friends set out to create it themselves.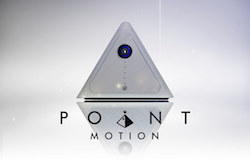 Also unique about Point Motion is how closely Golden Wish has worked with local and relevant professionals through several product development stages. Those include dance/movement and music therapists, with therapeutic applications for varied populations in mind. Clark describes how Point Motion can offer much creative empowerment, to any individual at any movement capacity, because of how it allows anyone to create music simply from moving their body in any way. The technology could also be game-changing for expressive and alternative therapies as sectors because it offers a means to record and recite the beneficial effects of music and movement for various types of patients – to doctors, researchers and third-party payers such as insurance companies (in-person or remotely). 
Point Motion developers have also worked with dancers from Boston-based Urbanity Dance and the Boston Conservatory. "Several (dancers) have broken into tears when trying out this technology," Clark says. Emotions aside, working with professional dancers and choreographers has led the developers to include features that will make the product conducive to creative exploration and performance. With a certain application, for instance, a certain pre-set sequence of movements can set off a pre-determined musical phrase. That way, rather than a lone leap cue a certain note, a leap with a raise of an arm and a roll to the ground will cue a certain few bars of music. 
"At the end of the day, [local professionals] are the ones who have a vocabulary, who've perfected it," says Clark. "That's what other companies who've created this type of platform before don't really get."
With this kind of targeted, informed approach, it seems like the sky is the limit with Point Motion. Dance educators could help their students develop greater musicality in an experiential, embodied manner. Yoga instructors could guide students in safer, more effective movement patterns through sonic input. Contemporary dance artists and musicians could engage music and movement materials in ways that become valuable artistic inquiry. Parkinson's Disease patients could have a secondary input, the sounds they create through their own movements, to re-train and hone lost movement capacities. Anyone, at any age and physical condition, can feel the empowerment of unbounded creativity. 
Even with all of these possibilities, the question of access is always a relevant one. Point Motion developers are doing all that they can to make it as widely accessible as possible. For instance, the technology will be available through a cell-phone download, as an app. They are also creating an ASL (American Sign-Language) converter, so that even those with hearing impairment can experience the music that they make. Rather than out to make a profit, everyone at Golden Wish is passionate about making this technology as widely accessible as possible, says Clark. 
Even with this broad outlook, Golden Wish focuses locally. Describing the local support Golden Wish has received, Clark asserts that "there's so much to offer in Boston, just as much as in Silicon Valley". Thinking globally, but acting locally, Golden Wish will soon release a product to empower and engage many people across the globe, with their body and the music that they themselves can create. In a fractured world, with many of us feeling unseen and unheard, that could be truly revolutionary. 
To learn more about Point Motion, click here, and to see Point Motion in action, check out the video below. 
By Kathryn Boland of Dance Informa.
Photo (top): A dancer using Point Motion. Photo courtesy of Golden Wish.