Over 1,000 dancers applied for this year's Model Search, in partnership with Australian dancewear brand Energetiks and Dance Informa. The winner, 19-year-old Rachelle di Stasio, is not only cover-worthy but is also a stunning dancer, already with much professional experience under her belt. The towering 5'10" dancer (with feet to dream of), who grew up in Nashville, Tennessee, and moved to New York City at age 14, has danced with the prestigious American Ballet Theatre and is currently taking this season to freelance. She is also signed to Wilhelmina Model and Talent Agency.  
Di Stasio says she's thrilled about the prizes involved with the Model Search, including being named the Energetiks U.S. Ambassador and appearing on the cover of Dance Informa. "It feels so wonderful and humbling to have been selected the winner of the Energetiks Model Search," she says. "I'm truly grateful, excited and honored."
Here, Dance Informa speaks more with di Stasio. Keep your eyes out for this young star-to-be!
When and where did you begin your dance training? 
"I began my dance training at School of Nashville Ballet with a creative dance class at age five years. I started my formal training at age eight in ballet, contemporary and character. My favorite styles were ballet and contemporary."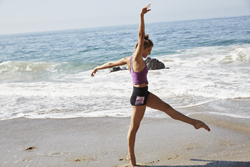 When and why did you know you wanted to become a professional dancer?
"I've always loved moving to music…any kind of music. Even before I could walk, my mom tells me that I would be moving my arms in time to whatever music was playing, and not stop until the music was done. You could say the reason to want to be a dancer was always in me. But I believe my decision to become a professional dancer was made when I was cast in the role of Clara in Nashville Ballet's Nutcracker at age 13. Having all those wonderful performances dancing on stage with the company members was what did it for me."
You spent some time at ABT. What was that experience like?
"I had the wonderful opportunity of dancing with ABT Studio Company for one year, 2014-15, then was promoted to the company as an Apprentice in fall of 2015. I danced in the Met season 2016 as an Apprentice and then moved up to the Corps for ballets Sleeping Beauty and Romeo and Juliet."
What are you up to now — auditioning, performing?
"Currently, I'm collaborating with a fellow professional dancer, working on original choreography, for upcoming guesting and gala performance opportunities, as well as attending castings for other cool projects."
Why did you want to apply for the Energetiks Model Search?  
"The reason I applied for the model search was because I was thrilled about the opportunity to be an Energetiks U.S. Ambassador, as I really love their dance and active wear, and I was excited about the awesome opportunity to be on the cover of Dance Informa!"
Have you been a reader of Dance Informa before? Why do you like the publication?
"Yes. The information that is offered is so great – the stories on dancers and companies, including great photos, as well as great information about dance jobs and auditions. I really enjoy reading the tips and advice that are offered under Dance Health especially because I enjoy good food, fitness and health."
How about Energetiks — what do you like about the brand and its products?
"I really love what Energetiks stands for and their philosophy — that through their creative designs they want to inspire and empower the dancer's way of life. They understand and care about the demands on a dancer's body as an athlete, so their fabrics and designs used in their clothing feel really good on the body. I loved the athletic wear I wore on the photo shoot. I loved the style and colors, I thought it was a great fit. It felt really comfortable and easy to move around in, which was great!"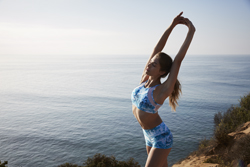 What was the photo shoot experience like? 
"The photo shoot was a blast! We did have a very early call time of ‪5:30am, but the location made up for it! We shot in Malibu, California, at the beach, and the photographer, Chris Bagot, and his team were fantastic. The setting was gorgeous, and the weather perfect. I wore Energetiks athletic wear for their new line coming out called 'Crystal Tide'."
What is your favorite part about being a dancer? And for you, what's the hardest part?
"My favorite part about being a dancer is being able to express emotion and feelings with my whole body through movement. The hardest part is making it look easy."
What are some of your dance dreams and goals? 
"I'm very blessed that I was able to fulfill one of my biggest dance dreams and goals of dancing with both ABT Studio Company and American Ballet Theatre in two of my favorite theaters — The Met Stage and David Koch Theatre at Lincoln Center — and working with incredible choreographers while in the company. Other dance dreams and goals are to dance in TV and film projects."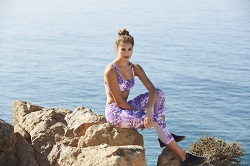 What are three qualities that you think have gotten you to where you are today?
"Discipline, confidence and belief in myself."
For younger, aspiring dancers, what are some words of advice?
"Dance because you love to; believe in yourself, be patient with yourself and be kind with yourself. Keep a good attitude and don't give up when something is hard or you've experienced a set-back. Be inspired by other dancers, but don't compare yourself to other dancers. Listen to and be grateful for those people in your life who you know love you, want the best for you and want to see you succeed and reach your dreams."
When you're not dancing, how do you like to spend your time?
"I enjoy good food, so sharing a delicious meal with family or friends is one of my favorite things. I also enjoy going on castings and modeling jobs — especially photo shoots — going for long walks, shopping and watching movies."
No doubt we'll be seeing more of gorgeous Rachelle. Look out for her in Energetiks' new eye-catching ad campaigns!
Energetiks' new Crystal Tide collection will be available on Amazon next week! Click here to view Energetiks on Amazon. 
By Laura Di Orio of Dance Informa.
Photography by Chris Bagôt.