The Dance Center of Columbia College Chicago concludes its 2015–16 season on March 31–April 2, with the choreographer-performer duo of Rennie Harris and Michael Sakamoto, performing their dance-theatre duet, Flash.
Written, choreographed and performed by Harris and Sakamoto, Flash is conceived as a "conversation" between the artists' respective aesthetics (hip-hop and butoh), cultural backgrounds (African-American and Japanese-American) and personalities. Both hip-hop and butoh were born from marginalized, postwar urban subcultures, and each embodies a philosophical approach to the creation of cultural identity through dance.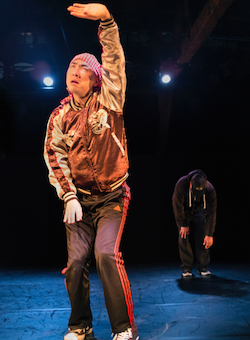 In this work, Sakamoto and Harris combine their respective approaches to manifesting a body in crisis. Flash is an interdisciplinary performance project incorporating butoh and hip-hop dance, multimedia and other theatrical elements to address the intersection of urban and environmental crisis, social resistance and corporeal identity.
Get To Know Rennie Harris
Rennie Harris is the founder and artistic director of Rennie Harris Puremovement, a hip-hop dance company dedicated to preserving and disseminating hip-hop culture through workshops, classes, hip-hop history lecture demonstrations, long-term residencies, mentoring programs and public performances.
Harris founded his company in 1992 based on the belief that hip-hop is the most important original expression of a new generation. With its roots in the inner-city African-American and Latino communities, hip-hop can be characterized as a "contemporary indigenous form, one that expresses universal themes that extend beyond racial, religious and economic boundaries and, because of its pan-racial and transnational popularity, can help bridge these divisions."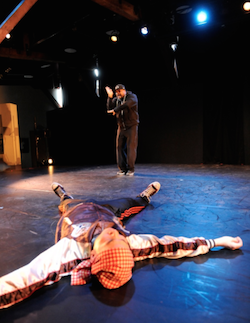 Get To Know Michael Sakamoto
Michael Sakamoto is an interdisciplinary artist and scholar active in dance, theatre, performance, media and photography. His solo, ensemble and visual works have been presented in 14 countries throughout Asia, Europe and North America.
His research and performance interests include contemporary imaginings of the butoh-based "body in crisis," corporeal and mediated embodiments of self-reflection and social resistance and performing the cultural commons and cultural sustainability.
Special Residency Activities
A post-performance conversation with the artists takes place Thursday, March 31, free to ticket holders. Additional residency activities with community partners and Columbia College Chicago students take place throughout the week leading up to the performance weekend. 
For more information on Rennie Harris, Michael Sakamoto or Flash, visit colum.edu/dancecenterpresents.
Photos: Michael Sakamoto and Rennie Harris in Flash. Photos by Janelle Weatherford.