It may not feel like it now, but summer will be here much sooner than we think. Along with many other dance schools and studios across the country, Broadway Dance Center (BDC) in New York City is preparing to offer an exciting line-up of summer sessions for dancers.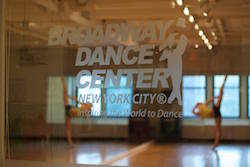 As they plan for summertime, dancers are invited to learn more about BDC's training programs:
#1. The CTP Summer Session.
The celebrated Children & Teen Program offers young dancers elite training in BDC's state-of-the art studios. The four-week session—meant for ages 3-7—runs July 9-31, with classes meeting weekly on Saturdays or Sundays.
#2. The Summer Workshop Series.
These workshops are designed specifically for serious, advanced dancers aged 10-25 who are ready to be challenged. With limited class sizes, each dancer will enjoy individualized attention. These run July 7-10 and July 21-24 this year.
#3. The Summer Intensive.
Suitable for well-rounded intermediate-advanced level dancers, this intensive boasts more than 20 hours of dance classes taught by in-demand BDC faculty and guest instructors. Styles include jazz technique, ballet, theater, contemporary, improvisation, hip-hop and more. The intensive is set for July 14-17 and it's only for those ages 10-25.
#4. The Junior Training Program.
For teen dancers ages 13-17, this course represents a powerful opportunity for them to immerse themselves in BDC's legendary training full-time. Students can choose from three weeks or six weeks, with the application deadline set for June 15. The program lasts from June 27 to August 5.
#5. The Contemporary Intensive with Tracie Stanfield.
Created for advanced dancers aged 16 and older who are interested in focused and intense contemporary training in various styles, this intensive is scheduled for August 2-5. Dancers will experience all forms of contemporary dance under the direction of Stanfield and additional guest artists. 
For more information on these programs and BDC, which is located in the heart of Broadway's Theater District, visit www.broadwaydancecenter.com. Celebrate the end of the school year with classes in the Big Apple!
Photo (top): Students participating in a Bloch Dance USA Masterclass with Tony Award-winning choreographer Warren Carlyle at Broadway Dance Center. Photo courtesy of BDC.