Fox Theatre, Atlanta.
Sunday, January 10, 2016.
On a windy, cold afternoon in downtown Atlanta, the State Ballet Theatre of Russia recently returned to the historic Fox Theatre with its two-Act Romeo and Juliet choreographed by Mikhail Lavrovsky. Perhaps my expectations were too high, but I left this production feeling more disappointed than elated – and no, it wasn't because of Shakespeare's tragic storyline.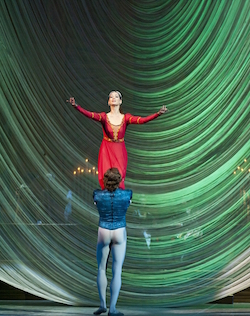 When I received the news that a smaller Russian ballet company was touring and would be stopping in town for a one-off performance, I was immediately intrigued. Why would they tour to Atlanta? Upon researching, it became clear they had visited the city before on previous national tours. Why had I never heard of them? Unfortunately, the reason became clearer after the performance. The show was neither stunning nor appalling – it was just unmemorable.
The show opened with a less-than-exciting introduction in which the audience got its first glimpse of the feuding clans – the Montagues and Capulets – in folky dances and a slow motion sword duel. The piece, which was poorly arranged, looked like it was wearing on the cast, who didn't keep time or bother to move in sync. Nevertheless, the medieval costumes and colorful set, along with the timeless score by composer Sergei Prokofiev (which was taped, not live), brought the scene to life.
After awhile, the ballet's pace picked up, and the dancers seemed to better fall into their roles. The loveliest dancers were undoubtedly Juliet, performed by Irina Borysova, and Juliet's friend, performed by Polina Tokareva. Borysova was airy and quite delicate, with large, cat-like eyes that strongly communicated her emotions. Tokareva, who unfortunately did not get much stage time, stole the show with her quick-footed solo in Act I, making viewers wishful that they'd see her in another corps role. Her charisma brought a new energy to the cast, and her technique immediately left an impression.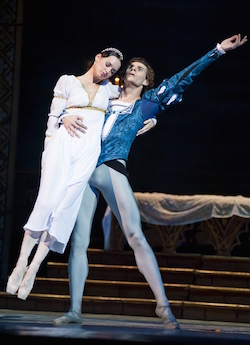 Romeo, danced by Evgeny Kuchvar, matched Juliet's dramatic sentiments and convinced us of his affections with intense, full-out movements. While his extension and ligne left something to be desired at certain moments, his ballon and elevation were quite appealing. His natural movement quality made me wonder if his dancing career mirrored cinematic idol Gene Kelly's, who came to dance after first being a successful athlete as a schoolboy.
All in all, when reflecting on what made this production of Romeo and Juliet still feel somewhat hokey and insincere, what resounded was the choreography. While the corps dancers definitely didn't live up to the Russian namesake with their technique, the real issue was the choreography by Lavrovsky. As a former principal dancer with the Bolshoi Ballet, one would expect more from him, yet his movement was sometimes fragmented or stiff. The transitions between scenes were choppy and sometimes awkward, in part due to the music tracks that were not synced.
One scene, however, that Lavrovsky did choreograph exceedingly well was the balcony pas de deux between Romeo and Juliet. And I guess if there's one moment you want to get right, it's that one.
Full Disclosure: The poor theatre etiquette displayed during this performance may have affected my final opinion of this show. The constant interruptions during Act I by latecomers, the use of recording devices to take pictures throughout, and the cell phones being lit up to read programs were not only distracting but quite frustrating. It's a wonder there weren't more complaints during and after intermission. I hope the Fox Theatre and its volunteers will work harder in the future to guarantee their shows are more enjoyable for all attendees.
By Chelsea Thomas of Dance Informa.
Photos courtesy of the Fox Theatre.