Lois Greenfield is one of the most iconic dance photographers of our time. Her innovative style has resulted in images that capture dancers in mid-air, and these photographs have graced the covers of performance programs and company posters. She has collaborated with Australian Dance Theatre in the company's work, HELD, during which Greenfield photographs dancers live on stage throughout the performance. This fall, she will release her latest book of images, Lois Greenfield: Moving Still.

It's great to be speaking to you about your upcoming book, Lois Greenfield: Moving Still. Firstly, simply tell me about yourself – the Lois at work and away from work.
"Lois at work is really Lois in a sandbox. I never go into a shoot with a fixed conception of how the photos should look. My shoots are always in the spirit of play. If I could visualize the result I wouldn't bother to take the picture. What has kept my interest over all these years is that the photos I take end up going beyond my imagination."
I've read your Artist Statement, and I'm really fascinated about how you talk about 'time' and how the camera captures moments the normal eye cannot see. What drew you to explore this, and why use dancers?
"I started as a photojournalist in the 1970's. As a newspaper photographer, I was assigned to photograph dance performances, which was in some ways more challenging than covering life's dramas. Soon, however, I realized that I didn't want to document someone else's art form, but to create unique moments that could only be seen in a photograph. During this exploration I experimented, shooting with electronic strobes to capture moments that are invisible to the human eye.
Not being interested in photographing choreographed moments, I asked the dancers to improvise, and to create often high-risk movements that could not be performed as part of a regular dance. The results were startling, a departure from what people expected from dance photography. The images looked surreal, as the dancers seemed to float, defying gravity, and be caught in seemingly impossible moments.
I had inadvertently created a new way to photograph dance and dancers that was radical at the time."
I guess the epitome of capturing time, dancers and performance would have been your collaboration with Australian Dance Theatre and HELD. This show was incredibly successful. Tell us about that experience.
"My collaboration with Garry Stewart in the creation, performance and tours of HELD was certainly an experience of a lifetime.
Among the many things I loved about the show was the concept that I was plucking a split second out of the flux of choreography, giving that moment the solidity of a photograph by screening it for 10 seconds, and then it was gone. It was like catching a fish, then throwing it back in the water….
HELD started with a photo shoot in Adelaide. Working in my usual way, I created photos based on Garry's signature style. Those moments were then embedded into the choreography so that I, standing on the stage shooting the dance, could pluck them out. There were two banks of my strobe lights on each side of the stage, firing every time I took a shot. All 300 or so photos that I took each evening were projected within seconds – unedited – on two large screens on the stage.
We premiered the show at the Sydney Opera House in 2004, and toured it though Europe until 2007.
I was proud of the fact that I took a big risk. Every photo I took during the show was projected unedited on two big screens on the stage. There was no room for error, as the show's premise was the live capture and instantaneous projection of moments from the show. Even though the dancers and I created the moments that I would be shooting, it was still quite a challenge to capture the daring, complex maneuvers of those incredible dancers. It was like being a photojournalist again, with just one chance to get the shot, and in a war zone!"
And now your newest book will be released this year. Congratulations! Tell us about it.
"Lois Greenfield: Moving Still is my first book in 17 years. It will be released in the American fall/Australian spring.
My first book, Breaking Bounds (1992), was the debut of my photographic style. In Airborne (1998), I incorporated different elements into the scenarios: scarves, powder, feathers, tubes, mirrors and other elements.
Lois Greenfield: Moving Still features new themes, as well as my work in color. Many of the 150 photos incorporate reflective surfaces and enigmatic scenarios. My working method hasn't changed. It's just that now I look for a different moment, with a different kind of dancer, with radically different lighting. It stemmed from a desire to work in a completely different paradigm. I set myself various constraints: a defined vertical composition; one overhead light, which was set up so that part of the picture was obscured in darkness; and each shot a solo, in which we see the dancer in a private moment, seemingly unaware of the camera. When I look at this series of photos, I feel that time is not stopped but is passing before my eyes."
What moments of your career are you most proud of so far?
"I am very proud of the artistic risk I took many years ago, when, on assignments, I decided not to photograph dance in the traditional way, but to experiment with my own approach, mentioned before. I gave up the surety of photographing a conventional image for the uncertainty of taking artistic risks. Luckily, it paid off!
I am also proud of the risk I took in my participation in HELD. I hadn't shot dance performances on the stage in 20 years, as I had transitioned to being a studio photographer, with my camera locked down on a tripod, and a fixed spot for the dancers to make their 'moments'. It was nerve-wracking to be shooting live action, in front of an audience who would see every shot I took!"
Who is a dancer (or dancers!) whom you are still wanting to shoot?
"I have never had a wish list of dancers to shoot. I am always looking for dancers with a unique way of moving, and who, from the flow of their movement, can create miraculous split seconds .
I have continued to shoot Paul Zivkovich , who was in the original cast of HELD. His photo, along with that of fellow cast member Craig Bary, grace the cover of Lois Greenfield: Moving Still. Paul has been a muse since we met in Adelaide in 2003, and there are 12 photos of him in the book, some taken as part of HELD and the rest in my studio in New York.
In my newest series of photographs, which I have titled One to One since the images are exhibited virtually life-size, I worked with exceptionally talented and expressive dancers from Taiwan. They are members of dance companies with very different styles. PeiJu Chien-Pott is a principal dancer with the Martha Graham Dance Company. I-Ling Liu dances with the Bill T.Jones/Arnie Zane Dance Company, and Jye-Hwei Lin performed with LeeSaar The Company, inspired by Gaga movement style.
None of the work we did together refers to the choreography or movement styles of these three companies. Each one of them brought their own poetic and expressive personality to my latest body of work. This new imagery comprises one third of the 150 photographs in Lois Greenfield: Moving Still."
Your tips for aspiring dance photographers are…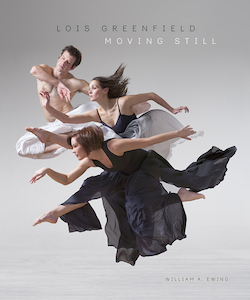 "Dance photographers can't wait to see a moment and then decide to shoot it; they have to anticipate it. If they rely on the continuous shooting function on their camera, there is a good chance they will actually miss a great shot! In the workshops I give in my studio, the participants use my camera, which has no continuous shooting function. If the dancer jumps, or goes through a phrase of movement, we only take one image of that move. This process is repeated countless times, with of course direction from the photographers."
And your tips for dancers who are the subject are…
"I always ask the dancers to look relaxed and make sure that their gestures are flowing. Sometimes dancers are so concerned with the perfection of their form that the photo becomes stiff. For me, feeling is at least as important as form."
Lois Greenfield's new book, Lois Greenfield: Moving Still, is available for purchase on Amazon.com.
By Elle Evangelista of Dance Informa.
Photo (top): Paul Zivkovich, Sarah-Jayne Howard, Antony Hamilton and Lina Limosani from Australian Dance Theatre in 'HELD'. Photo by Lois Greenfield.