Saturday, July 25, 2015.
Long Beach Convention Center Theatre, Long Beach, CA.
Los Angeles-based contemporary dance company Shaping Sound recently performed at the teen summer dance extravaganza DancerPalooza in Long Beach. Set in an intimate theater with a black-box feel, the larger-than-life dancers presented their beloved, and more recently reworked, show that has toured North America twice.
In this new version, the fabulous Fantastic Four of dance—So You Think You Can Dance's choreographer/mentor Travis Wall, Season One winner Nick Lazzarini, commercial dancer/choreographer Teddy Forance, and Julliard School alum Kyle Robinson—team up with a group of exquisite dancers, including their female star Jaimie Goodwin. The gorgeous dancers filled the stage with energy and life, utilizing every inch of space for their movement, occasionally even pouring over into the crowd.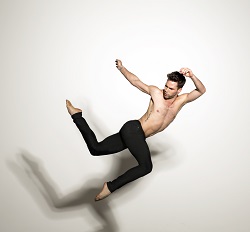 The show's context was certainly more developed in this new version, revealing more of the thoughts, desires and worries of the lead girl danced by Goodwin as we were swept away in her dream-like journey for love. In the first version, the story was still quite fuzzy in some areas, but since then it's been reassessed, and for the better. Choreographer Mandy Moore served as a creative consultant in the revamping process, and her influence is definitely felt.
One addition to the work that particularly stood out was a grounded pas de deux between stunning dancers Chelsea Thedinga and Daniel Gaymon. Their long limbs looped and intertwined in fascinating ways, with a luscious push and pull sequence that melted into a cozy embrace. Their contemporary dance training shone and their audible gulps for air reverberated in the small space.
Another change to this version was the emotional undertones, which were more developed throughout the entire show. Certain scenes that originally felt disconnected in mood from the story line now felt joined. For example, the former red-tinted burlesque chair scene was shortened, much to my delight (and surely the parents in the audience's as well.) Although successfully sexy and intoxicating, this scene felt disjointed and inappropriately matched in the inaugural version.
You must go see Shaping Sound on their upcoming national tour, launching October 22 at California Center for the Arts in Escondido. The show is a powerful, real and uplifting story of liberation told through mesmerizing contemporary dance by some of the best in the industry.
In addition to this fabulous set of dancers, there will also be recent SYTYCD competitor Kate Harpootlian, Ben Susak (former Wicked and Cirque du Soleil performer), Matthew Peacock (Odyssey Dance Theatre, SoulEscape Dance Company and chuthis dance group) and Dallas native Skylar Boykin on tour. Harpootlian, Peacock, Susak and Thedinga also contributed choreography in the most recent rendition of the show.
For more information, visit www.shapingsoundco.com/tour.
By Chelsea Thomas of Dance Informa.