These days, dance jobs abound on cruise ships, in movies and in Las Vegas shows, but sometimes the skills called for are more than just dance steps. Meet Decker LaDouceur, a career circus and aerial coach at Toronto School of Circus Arts. LaDouceur, not a dancer himself, also travels to Tampa, Florida, several times a year to train dancers for Norwegian Cruise Line's onboard shows. The aerial and acro skills that LaDouceur teaches these dancers and those who visit his Toronto school increase their versatility as employable performers.
"You have to be marketable," says LaDouceur, who has been working with Norwegian Cruise Line for six years. "People need to expand their CV as best they can."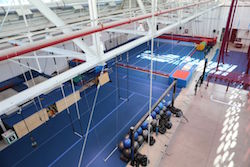 LaDouceur trained at a circus school in France before touring as a performer for many years. He also choreographed and coached the aerial work and bungee scene in the hit movie Chicago, starring Catherine Zeta-Jones.
When he noticed that the dancers working on that film really took to learning a whole new skill set like aerial and bungee, LaDouceur realized he wanted to create a program that allowed performers to study that more intensively. He also knew that many performers couldn't afford an expensive weekend workshop, so he wanted to make a program that would be more worth their while.
Now, LaDouceur offers the month-long Circus Intensive for the Performance Industry four times a year at his Toronto school. It is attended by people as far away as Australia and England.
"It's five days a week, six hours a day, aerial and acro, for dancers who want to pursue circus," he explains. "We can put you in the bungee. We have an indoor flying trapeze. When people walk in, they say, 'This is not a normal circus school!' We put a lot of effort into it. It's beautiful, comfortable, super clean and very friendly."
The entire month-long intensive costs $800 (Canadian dollars), which is very reasonable for performing artists, especially after comparing it to other weekend workshops available.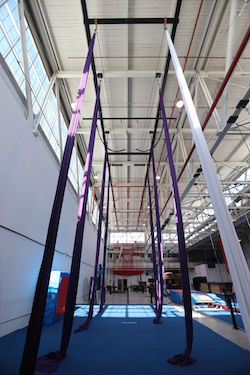 "I don't need to make money," he adds. "I just want to cover my costs, make sure my coaches are paid for, and that's it."
Another aspect of the program, and his school in general, that LaDouceur prides himself in is having a staff of career coaches who are solely dedicated to teaching their students.
"I'm a career coach," he says. "I'm not a performer who comes and goes and comes and goes. To me, that's really important because it's hard to do both. And all of our coaches are career coaches. They do little performances, but they're not going to go out on tour for six weeks where you lose them."
Aside from the month-long intensives, Toronto School of Circus Arts maintains itself as a year-long school. The school is the largest privately-owned circus school in North America, with 18 coaches and 400 students, both recreational and professional.
Many of LaDouceur's students have gone on to perform professionally on cruise ships, with Cirque du Soleil and in Las Vegas shows. Other students learn simply for fun.
"I have some students who are so strong, so unbelievably strong physically, that they can out-perform a professional performer," LaDouceur says. "One girl is a forensic scientist who does aerial strictly recreational. Another girl is a financial adviser, and these women are just jacked. They love the conditioning side of it. You can go take dance. That doesn't mean you want to be a dancer. It's just that you like it!"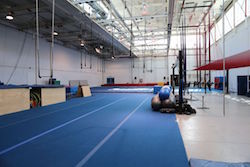 This past year is the first for LaDouceur to go down to the expansive Tampa studios to work with the dancers of Norwegian Cruise Line. Prior to that, performers would travel to Toronto to train. LaDouceur, along with choreographer and director Patricia Wilcox, choreograph the aerial scenes of the ships' shows. His work with the cruise line is growing, and he now has other coaches who know the shows and oversee things when he's not around.
He says the dancers and the Norwegian Cruise Line's shows are very exciting. "You should see the live version and go out on a ship!" he adds.
For more information on LaDouceur and the Toronto School of Circus Arts, visit torontocircus.com. To find out more on Norwegian Cruise Line, head to www.ncl.com.
By Laura Di Orio of Dance Informa.
Photos courtesy of the Toronto School of Circus Arts.