In 2013, New York City Ballet (NYCB) principal Ashley Bouder traveled to Cleveland to teach a series of Balanchine technique master classes through Ballet in Cleveland. The nonprofit's founding director, Jessica Wallis, says Bouder left a strong impression on the young pupils and the Midwestern city. She invited her back for the following year — this time to present an evening of repertoire.
"We had such a positive response when Ashley visited the first time," Wallis says. "I knew that bringing her back would not only be well received, but that it would build on the excitement that was established during her first visit."
Boulder worked with long-time friend and collaborator Phil Chan to program an evening of classical and neo-classical works. They returned to Cleveland in 2014 and brought with them six dancers from NYCB. They wanted to curate something for "both people who knew a lot about ballet… and the next generation coming up who may not necessarily have exposure to anything other than what they've seen on TV," Chan says.
This was the genesis for the Ashley Bouder Project.
Not a one-time thing
Cleveland once boasted a professional ballet company – the Cleveland San Jose Ballet. But, in 2000, budget turmoil cause the organization to shut its Cleveland doors. As the ballet company struggles to rebrand itself exclusively in San Jose, California, Cleveland is left with limited access to professional classical dance.
This gap in Cleveland's cultural identity left Bouder and Chan wondering how they could spark larger conversations around the future of ballet. Chan says the response they got to the evening's program – a mix of pas de deuxs and videos that provided historical context to each dance – they realized this project "had legs" beyond Cleveland.
"We started thinking, how many kids [can we reach] that are like Ashley from these small towns across America, who just don't have the access to great ballet?" Chan says. He adds that Bouder, who grew up in a small Pennsylvania town, is committed to exposing people in smaller communities to high-quality dance. "You never know, the future Baryshnikov could be there," he says.
For Bouder, it goes even deeper. She says she and Chan gained a lot from ballet as children: opportunities to do bigger things, discipline, an outlet for expression, inner strength. "We're trying to get people doing more than just watching great dance," Bouder says. "It's about engaging with it and learning about it."
It's also about cultivating new audiences and creating a foundation for ballet's future.
"Ballet is the basis of many dances styles," Bouder says. "But audiences are getting older and ballet is becoming a dying art form. To potentially lose something so beautiful is a shame."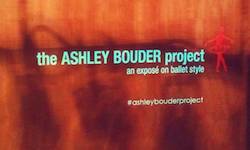 Taking note from the past to build ballet's future
"There's so many examples throughout history that this works," Bouder says. She's referencing the famed touring troupe the Ballets Russes – a presenting and production model she is using to shape the Ashley Bouder Project.
The Ballets Russes first came to the United States at the beginning of the 20th Century, bringing its distinct style of classical dance and giving many small towns their first exposure to ballet. She and Chan decided to become advocates and ambassadors for ballet in the same vain, and take the Ashley Bouder Project on the road, bringing performances and workshops to various communities.
Bouder believes this is just the first step though. She says they have so many ideas beyond these initial tours. But the company currently relies on private donations. She and Chan have to pace themselves and make sure the proper funding is secured before taking the next step.
The collaborators
Juggling dancers' and freelancers' schedules also has its challenges, Bouder says. Yet she's managed to assemble a group of eager dancers from the ranks of NYCB as well as young choreographers – both emerging and established of the latter.
Joshua Beamish, who founded New York-based troupe MOVE: the company in 2005, says he was surprised when Bouder first approached him about creating a piece for her ensemble.
"I was excited about the prospect of revealing new depths of Ashley's remarkable artistry," Beamish says. "In a bigger picture sense, this was the most collaborative that I have ever been with my design and producing teams."
Bouder also wants to give more opportunities to what she says is a highly underrepresented demographic in the choreographic world – women. One of the female voices making her mark on the Ashley Bouder Project is Andrea Schermoly.
"I think this is a worthy and much needed opportunity for female choreographers," Schermoly says.
Schermoly is working with the project on In Passing, a short dance flick the ensemble filmed in Los Angeles in March. She adds that collaborating with the Ashley Bouder Project, despite its limited rehearsal schedule, feels "adventurous and risk taking."
"It's a creator's dream to work with such immense talent and then be, ostensibly, rule free," Schermoly says.
For the dancers involved, such as NYCB corps de ballet member Indiana Woodward, its an opportunity to explore their artistry outside of the rigors of a large ballet company.
"I have learned so much about myself as a dancer from this project," Woodward says of both the repertoire she's gotten to perform and being coached by Bouder.
Chan says having a strong roster of dance professionals in the same room helps fuels the project's ultimate mission.
"We wanted to see if we could get these people with diverse artistic visions to sort of look in the same direction and create something beautiful together," Chan says. "And it would get this next generation to put down their phones for a second and engage in this beautiful art form."
Bouder agrees.
"I'm trying to preserve this art form I love by showing its innovation and never forgetting where it came from," she says.
The Ashley Bouder Project will perform at the Joyce Theater in New York City in August as part of the venue's 'Ballet Festival'. For more information about the company and any upcoming performances, visit www.facebook.com/AshleyBouderProject.
By Stephanie Wolf of Dance Informa.
Photo (top): Ashley Bouder and Amar Ramasar in 'Rouge et Noir'. Photo by Alexis Ziemski.