By Mary Callahan of Dance Informa.
We need more Lori Ann Ferreri's in show business.  She's the kind of dancer choreographers hope to work with, the kind of performer that always strives to be better, and the kind of triple threat you love to watch on stage.  If you don't know Lori Ann, you'll want to.  She has been working professionally since she was just sixteen years old and will keep working, I believe, for her entire life.  What's more, she's humble, down-to-earth, and wise beyond her years.
Last week I had the pleasure of sitting down with Lori Ann to discuss her latest project, the Broadway revival of On the Town. I watched Lori Ann walk up 51st Street to our little café table.  Dressed in a short black romper with a fedora on her brown bobbed head, she had typical Lori Ann pep in her step and twinkle in her eye.
Lori Ann began dancing at age three in Clifton, New Jersey—just twenty minutes outside of New York City.  As a teenager, she would finish her high school studies by noon and then take the train to class at Broadway Dance Center and Steps on Broadway.  Her brother, JP, soon started dancing as well and also pursued a professional career (Hairspray film, Broadway's Newsies).  While her teachers continuously pressured her to pursue ballet, after seeing The Will Roger's Follies on Broadway Lori Ann's heart belonged to musical theater.
At just sixteen AC Ciulla cast Lori Ann in the ensemble of the first national tour of Footloose.  Still in high school, Lori Ann had to finish her academics on the road and took a short vacation from the tour to walk at her graduation.
After Footloose came the first national tour of Aida and three years in Wicked on Broadway.
"They called me crazy for leaving [Wicked,] but sometimes you need to find yourself again, autonomous from the show you're in."  Lori Ann not only took a break from "the business," she moved to Barcelona.
"I had my student visa, took dance class here and there, and worked at a bar," she remembers.  But after almost two years, Lori Ann missed performing and came back to New York to audition for the first national tour of West Side Story.  While Lori Ann was originally being considered as a Shark/Jet girl swing, she nailed her Spanish lines and even conversed with the reader in Spanish.  Just like that, the director cast her as the Anita cover.
Since moving back to New York, Lori Ann has kept working—whether or not she's actually cast in a show.
"As dancers," she explains, "we work the hardest when we're not actually 'working.'  Those in-between times are the most important to train, to grow, and to try new things."
Along with performing both in New York and across the country (Cassie in A Chorus Line at CT Rep., Secondhand Lions world premiere at 5th Avenue Theatre in Seattle, and NYC workshops of Can-Can and Top Hat), Lori Ann is finishing up her liberal arts degree through the LEAP College Program and teaches yoga at Modo Yoga in Manhattan.
But now let's get to Lori Ann's current project: the highly-anticipated Broadway revival of On the Town.
On the Town premiered on Broadway in 1944—seventy years ago!  "On the Town tells the story of three wide-eyed sailors on a whirlwind musical tour of the city that never sleeps. With just 24 hours of shore leave, they're eager to experience all that New York City has to offer… including a chance to discover love with the girl of their dreams."1  The beloved musical soon became a beloved film (starring Gene Kelly and Frank Sinatra) in 1949.  While two stage revivals have returned to Broadway (in 1971 and 1998), sadly neither was very successful.
"This revival is different," says Lori Ann.  "Even though it is a 'revival,' it's still the On the Town everyone knows and loves with only slight revisions to the book.  We are also incorporating all the music that has ever been written for On the Town, played by the largest orchestra on Broadway—That's over one and a half hours of pure song and dance! In this revival, dance tells the story—it's all about the dancing."
And Broadway is abuzz with excitement over Josh Bergasse's Broadway debut as choreographer for On the Town.  Bergasse is a veteran Broadway performer (Hairspray, The Life), teacher at Broadway Dance Center, and Jerome Robbins Foundation-sanctioned instructor to restage Robbins' choreography.  But Bergasse's big break came with NBC's SMASH, for which he won the Emmy for Outstanding Choreography in 2012.  Since SMASH, Bergasse has been working non-stop, choreographing around the country for shows such as Secondhand Lions (in which Lori Ann performed) and the rave-reviewed production of On the Town last summer at Barrington Stage Company.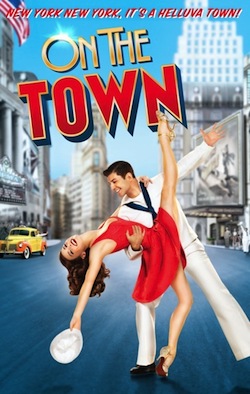 "Josh is hugely influenced by Robbins," says Lori Ann.  "His choreography is athletic, technical, and above all, story-driven."
Lori Ann auditioned for the show back in October.
"It was one of the hardest auditions I've ever attended," she remembers.  "It really separated the dancers from the dancers."
Lori Ann took part in the reading for the show in November and then the dance lab in December.  Official rehearsals started on August 18th with previews coming up on September 20th and opening night planned for October 16th.
"It's incredible—everyone in the cast is a first class dancer," Lori Ann says with admiration.  "On the Town originated as Jerome Robbins' ballet, 'Fancy Free,' so the dancing is inherent to the show.  In a musical, song and dance come about when emotion takes over.  On the Town is true to that—everything comes from an honest place."
The thirty-person cast boasts some of the most talented dancers on Broadway.

"There are no 'stars'…Well, they will be soon!" says Lori Ann with a smile.  "In this show, the dancing is the star, the story is the star."
Another exciting element of this revival is the prospective Broadway contract awarded to the winner of this season's So You Think You Can Dance.  This 'pop culture' element really adds a whole new audience to the show.  From SYTYCD fans, ballet lovers (New York City Ballet's Megan Fairchild takes one of the leads as Ivy Smith), tourists, and true New Yorkers, this revival seems like a Broadway show everyone will love.
"On the Town is a love letter to New York," explains Lori Ann.  "I can't wait to sing and dance and celebrate this amazing city."
On the Town begins previews at the Lyric Theatre on September 20th and opens on October 16th.  Tickets are available on ticketmaster.com. Visit www.onthetownbroadway.com for more information.
1. www.onthetownbroadway.com
Photo (top): courtesy of Lori Ann Ferreri.