By Christine Dion of Mode Dion.
HEAT
Just because it's cold out doesn't mean that sun damage can't occur. These tips will help you when exposed for a long period in the sunlight.
Avoid highly fragranced formulations and perfumes, as heat can increase the potential for irritation. Sun combined with fragrance, can cause skin discoloration. Use products that contain mint, which has a long lasting cooling effect on the skin.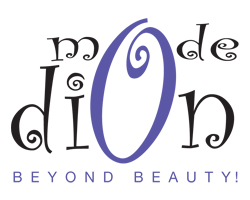 When performing out in the sun always use an oil-free sunscreen, at least SPF 25, under make-up for protection. If you become red or inflamed, either from heat rash or sun exposure, use products that contain aloe vera to soothe. Be sure to use a lip balm under lipstick with SPF protection, as lips are first to burn.
Use oil-free products
That means anything that goes on your facial skin from cleansing/moisturizing (a must to hold make-up) to foundations/powders, even if your skin is a bit dry. Excess oils will only breakdown your make-up and take away the staying power. If skin is on the oily side, look for products that say "oil-control."
Use products with rich pigments
Skip any product that says sheer or light. Stay away from shadows and cheek colors with shimmer, as they will only make you look oily. Use products that can be used wet or dry – a sure sign of rich pigments.
Set make-up
Use a lipstick sealer to hold lip color and eyeliner sealer to make eyeliner waterproof.  Set lids before eye color with an eye shadow base or powder and avoid oily concealers.
WATER
Waterproof lashes
Use fake lashes with waterproof glue if it looks as though you will be exposed to moisture, wind, extreme heat or cold. Apply a very light coat of mascara to weave your lashes into the fake to look natural. Heat and perspiration requires a non-waterproof mascara as the skins oils will easily break the mascara down and cause smudging. If it looks like rain and you will be getting wet, waterproof mascara will be your best bet.
COLD WEATHER
When weather begins to cool, skin can easily become stressed. Cold, wind and heating units can take a toll on your looks. Hydrate facial and body skin daily, even if you're under layers of sweaters. Use a facial moisturizer that has anti-oxidants to help repair damage. For more great winter skincare tips click here.
Eating healthy and drinking plenty of water can help keep your skin and your body in top condition.
Eat breakfast
A healthy breakfast every morning is essential to preventing unwanted stress on the skin and body.  
The Beauty Breakfast:
On the stovetop (avoid the microwave) cook Steel Cut Irish Oatmeal. When done, stir in one teaspoon of flax seed oil, top with sliced apples and almonds, sprinkled with a little cinnamon and finish with coconut milk. For a change, try rice milk. All these ingredients will insure better health, beautiful skin and a perfect start to your day. 
The Celebrity Beauty Shake:
Blend a ½ cup organic plain yogurt, 1 cup of frozen berries, 1 cup of coconut milk, pure water as needed, 1 tablespoon of chia seeds, 1 teaspoon of black strap molasses, 1 scoop of whey protein powder, 1 banana, 1 teaspoon of flax seed oil and a small scoop spirulina. Try bee pollen to improve allergies, but it must be purchased from bees in your area to be affective. Use 1 teaspoon.
[Note: Black strap molasses is filled with minerals like iron, copper, calcium, manganese and potassium. It tastes sweet without the calories of sugar.]
Avoid chemicals
Chemicals are everywhere and they stress our system, causing skin irritation and disease. Watch for plastics and Teflon. Skip the microwave when you can. Studies have shown that the plastics and metals used in microwave food containers leak into the food during the cooking processes. Remove foods from their containers into glass or ceramic dishes before cooking in the microwave. Of course, it's always best to eat fresh foods whenever possible.
Be sure to visit modedion.com for more great beauty tips, how to videos and products. Sign up at modedion.com for more tips and updates on Mode Dion Cosmetics & Training Facebook, Newsletter and Twitter.
Photo (top): © Amir Kaljikovic | Dreamstime.com