By Christine Dion of Mode Dion.
Winter months keep your skin working overtime, from indoor heaters blasting out dry air and irritants to cold winds that blow away your natural moisture barrier. Holiday stresses and rich foods, along with those extra trips for hot caffeinated and often sugary beverages, dehydrates the skin from within.
Kick the winter blues and enjoy radiant, glowing skin by flowing these three tips:
1) Exfoliate
Dead skin begins to build up from wind, outside cold and indoor heaters making your skin look dull.  Exfoliation (the removal of dead surface skin cells) is the trick to add life to dull skin.  Use a clean wash cloth with a gentle facial cleanser at least a few times a week to massage dead skin away. For even better results, use a facial wash with salicylic acid to help melt away dull lifeless skin cells. Gentle facial grains can be helpful to smooth skin, but should be used no more than three times a week as skin is more sensitive in the winter months.  A retinol cream applied at night for those over the age of 30 really helps with keeping skin youthful and glowing.   For the body try a salt scrub. These are made from natural sea , and not only remove dead skin but also help to detox. Sugar can be used as a scrub as well as wash cloths, loofas and body mits. Body skin that has been regularly exfoliated will absorb moisture far better.  Remember that wash cloths, loofas and body mits can easily get a bacterial build up, wash them after use.
2) Nourish
Skin needs moisture and nutrition. Hydrate facial and body skin daily, even if you're under layers of sweaters. Use a facial moisturizer that has anti-oxidants to help repair damage. For oily, acne-prone skin try an oil-free moisturizer, as even oily skin needs moisture.  Drink a lot of water and eat fruits and vegetables whenever possible. Beware of foods that tax your body like hydrogenated oils, corn syrup, white sugar, fried foods and caffeine.
3) Protect
Sunscreen is not just for summer. Use a sunscreen even if the sun doesn't shine that day to protect your skin from damage. If your skin is very dry apply a rich facial moisturizer first to help keep skin stay moist and radiant then apply the sunscreen on top.  Be careful when exposed to sun and cold (like on the ski slopes) where broken capillaries, chapping and sun spots can easily appear. If you are exposed to extreme conditions an anti-oxidant serum worn under your moisturizer can help add extra protection.
Keep away the blues by turning your bathroom into a wonderful spa!
What you need: Candles, music, relaxing tea to drink, deep conditioning hair treatment, olive or coconut oil, facial scrub, body scrub (wash cloth is fine in a pinch) and a shower cap.
– Massage your scalp well with the balls of your fingers and step into the shower. Massaging the scalp loosens dead skin, stimulates circulation and helps make hair shiny.
– Wash your hair and then apply the deep conditioner or oils, massaging them into the scalp and down to the ends of your hair.
– Put on a shower cap.
– With body scrub or a wash cloth, massage your legs and arms in a circular motion towards your heart to increase circulation and remove dead skin. After skin is smooth this is the best time to remove body hair, so lather up and give yourself a clean shave. TIP: Except with lower leg calves, always shave in the direction the hair grows to prevent ingrown hairs and irritation.
– If you have a tub, this is the perfect time for a good soak in your favorite bath oil or essential oils.
– Turn on relaxing music, light a few candles, place your relaxing tea close by and soak away stresses and the cold. Be sure to add bath oils while you're in the tub, not before, so oil can seal moisture into already wet skin.
– Turn off the lights and breath in the steam and scents to help clear the body.
– Soak for 10-20 minutes, then get back to the shower to rinse out the conditioner. If you used oils, wash your hair again and use a light conditioning rinse.
– This is a great time to remove dead skin on your feet with a pumice stone or foot file, as the skin is easy to remove after a long soak.
– When finished, pat your body dry lightly so it is still moist and apply body oil or a rich body cream all over.
– Rest! Rest is one of the best skin care treatments. Wrap yourself in a warm cozy robe or blanket. Apply rich cream or oil all over your feet and then put on thick socks. Lavender can help keep you calm by placing fresh lavender at your bed side or by spraying your pillow with lavender scented spray mist.
Of course you can never kick the blues completely until you smile!  Have a good laugh. Laughing increases anti-oxidants in the body making you healthier. Happy people look more radiant and warm. Learn a few jokes and spread a little sunshine anytime of the year.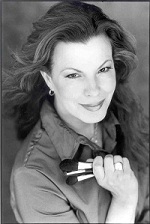 Who is Christine Dion?
Christine Dion brings with her more than 30 years of experience in the beauty business. She has worked as a make-up artist internationally for fashion magazines, commercials, television, fashion shows and dance theater. She is a published author, beauty columnist and educator for dancers and performers, touring the country speaking at conferences and in dance studios. Check out her website modedion.com where you can see her training and beauty products or call Mode Dion on 760.837.9433. For lots of great beauty and stage tips become a FAN of Mode Dion on Facebook.
Top photo: © Dolgachov | Dreamstime.com