By Chelsea Thomas of Dance Informa.
One of the country's most popular dance events, Celebrity Dance Competitions has announced its plans to expand in 2014, adding another regional dance competition to its previous 13-city roster in the spring and hosting five new dance conventions this fall for the first time in various locations across the country.
Releasing the locations for the first time to Dance Informa, the fall dance conventions are set to be held in: Phoenix, Arizona; Dallas, Texas; Denver, Colorado; Seattle, Washington; and Atlanta, Georgia.
In addition to hosting regional dance competitions across the U.S. every year, Celebrity Dance Competitions also offer Celebrity Nationals at Sea, one-of-a-kind national competition experiences that are hosted on board beautiful cruise ships. Celebrity has announced that the 2014 Nationals that leave from port in Los Angeles will be held on a brand new, state-of-the-art ship.
Celebrity Dance Competitions, which began in 2001, aim to make all participants feel like a celebrity, regardless of age, placement or ability. Throughout all events, the Celebrity staff and faculty work tirelessly to provide a positive environment. They offer personal service and special attention and give all dancers trophies and an equal chance to win scholarships and cash prizes.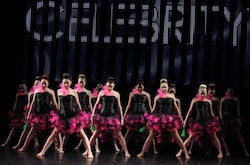 "We strive to provide the best customer service and fun-filled, family atmosphere to our competitors and their supporters," explained Drew Phillip, director of Celebrity Dance Competitions. "At Celebrity, our participants get the top celebrity treatment every weekend, with the best industry professionals teaching and judging to provide exceptional guidance. From beginning to end, from the registration process all the way down to the last event at the competition weekend, we try to provide the Celebrity experience. We aim to provide perfection so dancers are excited to come to their next event."
For spring competitions, Celebrity brings in top-notch judges. Unlike many other competitions that bring in just three judges per event, Celebrity always has at least four. Judges include: L.A.-based dancer and wardrobe stylist Tony Elliott; New York University's Tisch School for the Arts graduate and Broadway Dance Center faculty member Sarah Brinson; Shaping Sound Dance Company member Chelsea Thedinga; Edge Performing Arts Center teacher Chelsea Michener; musical theatre and Broadway performer Robin Levine; Premiere Dance Center instructor Melissa Farrar; So You Think You Can Dance finalist Daniel Baker; SoleVita Dance Company member, TV dancer and performer Kara Hess; and Capezio Athlete Adam Di Loreto.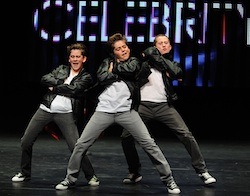 Philip said, "At Celebrity, dancers receive working dance professionals' opinions and insights to help them do better now and in the future."
At each regional competition, dancers can win prizes from sponsors like Capezio through Celebrity DanceDowns, master classes that double as auditions. Hosted at each competition, participants are taught a routine and then perform it for Celebrity judges, in the process gaining valuable auditioning experience and individual exposure. Judges then choose the brightest stars, narrowing the dancers down to three junior and three senior winners.
Another opportunity Celebrity offers dancers is through their newer project Celebrity CREATE, a choreography competition co-produced by Capezio. Dancers, choreographers and studio owners can pre-submit dances meeting the necessary criteria to be chosen and then present them at a fall convention for the chance to win cash prizes.
"The pieces that are selected will dance on the Saturday night at the specific convention in a showcase that also features our faculty," explained Philip. "For the evening this past fall in Phoenix at our first convention, we had our faculty present the opening and closing numbers, as well as solos throughout, and the chosen routines were performed."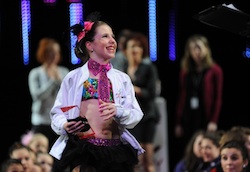 The top dance that is selected wins the choreographer $2,500 in cash, plus a gift allowance for shopping at Capezio. "This gives choreographers special time in the spotlight instead of just the dancers, who typically are in the limelight. So that is really neat," Philip said.
A Celebrity CREATE event will be held at each of the five conventions this coming fall, one for each Saturday night. Choreographers can apply online to be selected.
With all these events, including the new fall dance conventions, Philip said Celebrity staff can now see dancers numerous times each year. "We get to see them at regionals in the spring, nationals in the summer and conventions in the fall. We are so excited that we've been able to plan and provide basically an entire year worth of events," he said.
He said the biggest thing that's differentiates Celebrity from all another dance competitions is that while its jam-packed with dancing and unique performance opportunities, events won't "leave you exhausted afterward." Philip said, "Celebrity is designed to be a fun weekend for everybody. So we really try to give attention and focus to all aspects, whether its being on time so parents can really plan out their weekend, or the DanceDown, or giving great customer service to studio owners. We really try to focus on all aspects of the competition weekend – the dancers, the parents and the studio owners."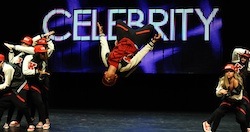 When reflecting on Celebrity's first 12 years and looking toward 2014, Philip summarized, "We want to be the competition that everyone wants us to be. So if there is something a dancer, parent or studio owner notices that could be improved, we are always open to their suggestions because we want them to have fun and enjoy!"
For more information on Celebrity Dance Competitions and upcoming regional or national events, visit www.dancecelebrity.com. 
Photos courtesy of Celebrity Dance Competitions.