By Paul Henderson with Tiffany Henderson.
It's possible to devastate an entire dance classes' season at the end-of-the-year dance recital, resulting in a sharp drop in the next season's enrollment. We've all seen it, right? Dancers running around on stage, bumping into each other, looking at one another to see what the next step is. It's embarrassing for the dancer, the parents, the audience, the instructor and the studio owner.
At our studios, our instructors know that the dance recital is their "final exam." Failing the exam, or even getting a "C" on the exam, is completely unacceptable.  
By far, the most important, but oftentimes most overlooked, age group at a dance studio's recital are what Tiffany calls "the babies" – the 2-6 year old recreational dancers. These dancers are critical to the long-term success of any dance studio. In the past 10 years, we have seen more than 24 dance studios come and go near our eight studios because they all lost track of how important their 2-6 year old recreational dancers truly are to the health of their business. Instead, they focused 80 percent of their time, energy and faculty on their "performing company" dancers – those "advanced" dancers between 10 and 17 years old that take 20 hours of "unlimited" dance per week (at a reduced tuition rate) and attend conventions and competitions throughout the season. And guess what? Those dancers don't refer friends, they pay a drastically lower hourly tuition rate and their teachers are likely the highest paid on a dance studio's staff. Furthermore, they make the recreational dancers' moms feel alienated and unimportant.
Do you know what happens when you focus 50-80 percent of your attention on the "performing company"? Disaster. They grow up and move on in life and you, the studio owner, run out of students and eventually you will run out of enough money to sustain your business. I've seen it so often that I can literally predict when a studio will go out of business by examining their schedule of classes. If the schedule is lacking significant recreational dancer classes and is chock full of performing company classes and solos, the studio is not going to last long in this world.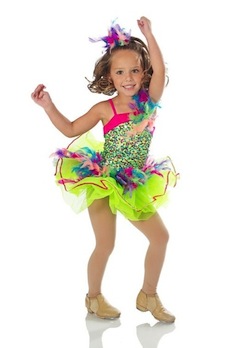 "I understood from the very beginning that having a great baby program was the absolute key to success," says Tiffany Henderson, owner of eight Tiffany's Dance Academy locations and the founder of Twinkle Star Dance™.  
"Our Twinkle Star Dance program is the foundation of everything we do. It keeps our classes full. It keeps our instructors happy by giving them full-time jobs. It is the best marketing program I've ever heard of because of the 'Word of Mouth' factor.
"Plus, it feeds our award-winning performing company, which is now over 300 dancers strong. It has created a family of dancers that love each other and don't compete with one another."
The Twinkle Star curriculum Tiffany uses in these classes is also incredibly important, but it will all go unnoticed if, at the end of the year, the dancers don't know what they're doing on stage.
Tiffany says, "Here are my tips to a successful 'final exam' performance at your end-of-the-year dance recital."
Click tip title to view actual recital and choreography footage video
1. Keep it simple – Seems obvious, I know, but it's important to say. Using easy, simple steps that young dancers can execute is your main objective.
2. Phrasing in 8's – Choreography should be done is phrasing of eight counts or more before changing to the next step. Sometimes it takes them eight counts to realize what is going on and if the choreography changes too quickly they will always be behind the music. Give them enough time to catch up to the dance. The only time a phrasing of two or four works is if the music tells them what do with cues in the lyrics.
3. Repeat after me…USE repeat – Repeat is your best friend specifically for the chorus. You can make your chorus a little more challenging for your dancers as they will repeat that chorus three times in the dance and will eventually master the steps.
4. Use themes for choreography that are appropriate for the cognitive development of the dancer – Can the child relate to the lyrics in the song? Most 2-3 year olds don't really know what it is like to be a princess yet, but they know how to make animal sounds. Most 2-3 and 3-4 year olds do very well with movement that is more like pantomime and gestures that emulate the music. If the music says "Bunny Ears" then remembering to make bunny ears is natural for the youngest dancers.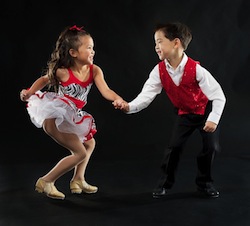 5. Make the most of the musical accents and changes – This is so important. Even the youngest dancers can hear the big accent changes (the quiet parts, etc.) in music. Make sure your choreography matches the music. This will make learning and retaining the dance much easier for the young dancer because it makes sense to them musically.
6. Keep staging changes and formations to a minimum – Remember, parents want to see their child happy and dancing onstage, not running around bumping into other kids seeming confused. They don't care about exciting line changes or formations.
Choosing music for baby dances: When choosing music for baby recital dances ask yourself these questions. Does is have a beginning, middle and end? Is it too fast or too slow? Is the arrangement too complicated? Is it age appropriate? Is it too long? Can the dancers relate to the lyrics?
Tiffany's tips for music:
• Tempo should allow for going slow or fast – so music with a middle tempo is the best.
• It needs to build and have a strong ending – no fades for babies.
• If it is a pop song or even Disney I can tell you it is too complicated for ages 2-3 and 3-4…sometimes 4-5 can handle those songs and the 5-6's are fine as long as it is age appropriate. The 2-3 and 3-4's need simple melodies that don't distract them.
• No baby dance should be longer than two minutes.
• Editing is your friend. Sometimes I have to edit parts of the music from the start of the songs into the end to create a more exciting song for the audience and dancers.
• On the use of props: They need to be child size. No umbrellas for 2-3 and 3-4's. Make sure you are using the prop each day in class.
About Twinkle Star Dance
Founded by Tiffany Henderson, owner of eight Tiffany's Dance Academy locations in California, Twinkle Star Dance is a complete toolkit for studio owners that enables them to "plug" a recreational dance program into their existing studio without increasing their workload. Our mission is to help dance studio owners re-focus their efforts on the backbone of their studio – the recreational 2-6 year old dancers and the tricky 6-11 year old beginners. For more information, visit www.twinklestardance.com. 
All photos courtesy of Tiffany's Dance Academy.