By Laura Di Orio.
Open Call, a new dance competition run by PTC Productions, the group that also organizes The Pulse, is one that prides itself on providing dancers with opportunities post-competition. Open Call is not only an outlet for performance, but it also introduces participants to its judges' panel, made up of today's top dancers, talent agents, directors and choreographers – all connections who can help dancers transition from student to professional.
This year, during the very first Open Call Nationals, young dancers Kendal Snyder and Corey VanSice, both from the Seaside Dance Academy in Maryland, were announced the winners of the Choreography Battle. As winners, Snyder and VanSice will get to perform at the Pushing Progress Showcase in New York City.
Snyder and VanSice, the youngest contestants at Open Call (ages 12 and 13), performed their duet You Really Got a Hold on Me, choreographed by their teacher Meagen Walsh. It was clearly a hit with the judges.
"They were so connected and really danced as a unit," says Open Call Judge Jim Keith, President at the Movement Talent Agency. "They told such a great story through the choreography and what they were conveying as a couple. It was one of my favorites of the night."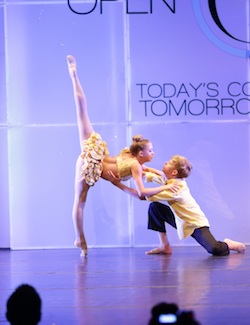 "They danced their hearts out," adds Heather Adzima, Open Call Director. "The dedication and emotion they brought to the stage was overwhelming. They lived through each movement and made their transitions seamless. Their captivating presence took over the entire audience."
Snyder and VanSice both agree it felt amazing to win, and they are proud of their accomplishment. The young dancers, who collectively study contemporary, lyrical, jazz and hip-hop, have danced together for more than six years. This type of dance chemistry seems rare in such young dancers, but it seems to be the driving force of their many duets together. Plus, it's also what caught the judges' eyes.
"Corey is a good friend," Snyder says. "He is a good worker in dance, and he listens to me. I feel fortunate to have a male partner to work with since there are not many boys in dance."
Likewise, VanSice says, "Kendal is a good friend, too. She really takes dance seriously, like me."
For their preparation for Open Call, Snyder and VanSice say they had a half-hour private lesson once a week since early September, when Walsh, who has choreographed all of their duets in the past, would set the piece on the two dancers. Snyder's mother searched for her daughter's costume online, and VanSice's costume was chosen to match, with approval from Walsh.
Both dancers agree that their hard work in the studio is what translates into a solid performance. "You should give 100 percent effort at each practice like you're on stage," Snyder says, "so when you get on stage it's even better."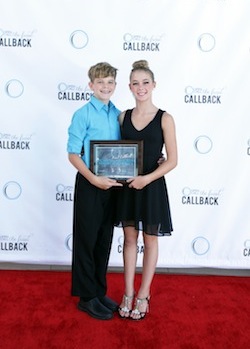 "Never give up," VanSice advises. "Keep practicing. It takes a lot of time and commitment."
Although the dancers have done competitions in the past, Snyder and VanSice say Open Call is unique because it offers different scholarships and allows the dancers to talk with the judges.
"Open Call Nationals was exciting because we got to learn an opening number and take workshop classes with the judges. Plus, we had a question and answer session with the judges, which helped us learn about having dance as a career," Snyder says. "And the red carpet and the awards were cool."
Snyder and VanSice are already looking forward to competing in next year's Open Call. Similarly, Adzima is already anticipating next year's event, planning for it now and looking at the future of the competition as a whole.
"We will continue to raise the bar and bring dance education to the next level," she says. "Open Call is the next level of performance, competition and awards for dancers of all ages. Just this year we paved the pathway of 30 dancers being signed by talent agents, awarded 75 scholarships to training programs and 'fast-tracked' dancers directly to the producers of America's Got Talent Season 8."
Keith adds, "I have been a competition judge for almost 15 years now and have judged for over 30 competitions over the years. Open Call is truly turning into one of my favorites to attend. They are first class all the way, from how they treat their staff and judges to the type of talent they bring in and showcase. I am always blown away by the talent and know for a fact I will find someone who I would want to offer an agency contract to. They never disappoint."
For more information on Open Call, head to opencallcompetition.com.
Photos: Dancers Kendal Snyder and Corey VanSice at Open Call Nationals. Photos courtesy of Open Call.