By Stephanie Wolf.
Over the last 20 years, Community Supported Agriculture (CSA) has grown like gangbusters throughout the country. People want to support local efforts and businesses and are adopting this sort of local and direct buyer mentality—it instills a sense of ownership and pride in their local establishments. So, why can't this model work for community artists as well?
That's the exact question several forward-thinking individuals at Minnesota's Springboard for the Arts and mnartists.org asked themselves back in 2010. Hence, a new model for broadening art's reach and increasing its financial capabilities was born—CSA became CSA, Community Supported Art. A tweak on the agricultural model, CSA offers up artwork instead of fruit and vegetables.
The birth of a new way to share art
"It's the same idea of buying something directly from the people that produce it, and putting you in a position where you get to know those people in a direct way," says Andy Sturdevant, the Artist Resource Director at Springboard for the Arts. Sturdevant is in charge of the day-to-day tasks in the organization's Resource Center, which includes assisting artists with funding, professional development, writing statements, as well as a variety of other tasks to help them build a stable career.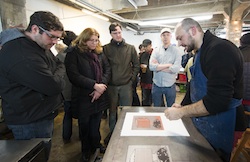 Sturdevant was involved in the initial conception of CSA, and continues to co-manage the daily operations with his colleague Jehra Patrick from mnartists.org. As the program currently exists, there is none other of its kind in the nation—though there are similar alternative models of art distribution, like Brooklyn's Sunday Soup and Art in the Box in Oakland, CA.
The two organizations learned a lot during the initial year of getting the program up and running. "After four years and five seasons, we've finally hit a good balance for the artists, administrators and shareholders," says Sturdevant. This balance includes a more streamlined and methodical system for selling and managing shares.
How it works
First, there is a call for proposals. Artists respond with projects they can create 50 shares of in just a few months—these artists span multiple disciplines like painters, sculptors, writers, musicians and performers. After considering the quality, originality and feasibility of each proposal, nine artists are selected by a panel of jurors. The chosen artists receive a stipend of $1,000 – $2,000 to create their work.
The artists' names are then released on the website and 50 shares of their work go on sale—prices of the shares can range from $250 to $450. Those who purchased the shares then get to pick up their artwork at a special event in which they get to meet the artists, making the whole process engaging for both the artists and the shareholders.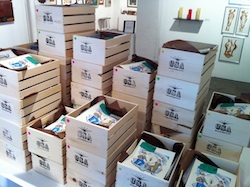 CSA for communities near and far
After great success in the Twin Cities area, the two organizations realized other communities might want in on the action. Therefore, they created a CSA toolkit, a 25-page document filled with a template, sample budgets and all the information needed to launch a CSA program.
"It's basically everything we've learned about running the program, covering everything from selecting jurors to ideas for partner organizations in your community," explains Sturdevant.
With a $45 donation to Springboard for the Arts, a community can download a PDF of the toolkit. For a $100 donation, communities can download the booklet and receive up to two hours of phone or video consultation with a staff member. "It's been fun talking to people all over the country about CSA, and seeing what tweaks they make for their own communities," says Sturdevant.
Can it work for dancers, directors and choreographers?
While dancers or choreographers have yet to participate in the program, CSA has been successful in the performing arts realm. In the past, two Twin Cities actors used the CSA model; they asked shareholders to come to rehearsals, inviting them to take part in the creative process and ask questions. Earlier in 2013, The New Hazlett Theater in Pittsburgh, PA launched a performance-oriented CSA.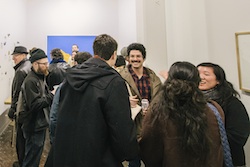 Maybe it's time for the dance industry to take note. Sturdevant sees this type of model working well in the profession. "The idea is to create direct relationships between people interested in experiencing art, and the people that make art, regardless of what type of art that is," he says. "Dance, like any kind of art, can be intimidating to people not already involved in the dance community."
Sturdevant believes a CSA model could help break down some of the crucial components of a dance work, demystifying the art form for patrons. He'd love to see dance groups try a dance-focused CSA.
"Anytime you can reward people's curiosity with a well-selected, smart selection of art – whether visual or performing – you're going to make for some great relationships that strengthen people's understanding of art," he explains further.
So, can this type of model break down the barriers between dance, often considered an elite art form, and the local community? Can CSA be as successful for dancers and choreographers as it has been for other artists? Is the dance profession ready to let the outside world in and expose its inner workings? And will this help the art form progress in new and exciting ways?
Photos: Community Supported Art (CSA) events and materials. All photos courtesy of Springboard for the Arts.