Now available for download and DVD purchase, Movement One is a new, exciting dance documentary that follows producer and composer Jon Arpino and Emmy-nominated choreographer Teddy Forance as they create an original dance production for film.
In just eight days, 20 dancers collaborated to choreograph and perform a 30-minute dance production set to an original score. The film takes viewers into the studio to witness the entire creative process—from choreography to music composition—concluding with a performance that pushes the boundaries of dance on film.
When Artistic Director Teddy Forance was faced with the challenge of choreographing this dance production within such a short timeframe, he opened up the creative process to be a fully collaborative effort. This film is a celebration of Forance's ability to create diverse, visually compelling movement, and a testament to all of the dancers' collaborative process.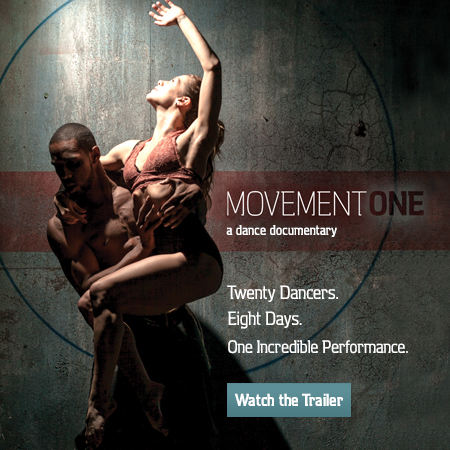 Movement One features well-known dancers such as Teddy Forance (All the Right Moves), Stephen "Twitch" Boss (Step Up), Jaimie Goodwin and Allison Holker (So You Think You Can Dance), Kathryn McCormick (Step Up Revolution) and Michael Keefe (Rasta Thomas' Bad Boys of Dance). The dancers have performed with singers such as Taylor Swift and Chris Brown, and have toured internationally in Broadway shows and Cirque du Soleil productions. 
Composed by Jon Arpino, Movement One features 40 minutes of original music, all of which was created during the eight day project.
"Choreographing and composing in eight days pushed us as artists!" says Arpino.
Arpino worked closely with all of the dancers to create music that both developed the theme of the performance and was customized to the dancers movement. Additional music for the performance was provided by Jonny Forance.
"Jon and I were so inspired to create Movement One," says Forance. "Having the opportunity to have all these incredible dancers in the same space was epic. Jon created the music on the spot which was unique and fun to shift the energy quickly in the rehearsal process."
"Composing music for the film was really a dream come true for me," adds Arpino.  "I took up composing and music production as a hobby when I was 16, but I never really had an outlet for my music. When Teddy and I decided to produce Movement One, we figured this would be a great opportunity to combine our strengths and create a unique collaboration of music and dance."
"Producing the film posed a whole new set of challenges, which proved to be just as enjoyable as working on the music," explains Arpino. "Raising money and pitching your concept to investors is an exciting process – and getting the green light on producing your film is a great feeling. From there, the process of working with producers, directors, editors and the film crew allowed Teddy and me to collaborate on every part of the creative process. Overall, producing the show spanned a total of about 12 months, in stark contrast with the eight days we had to choreograph and compose Movement One."
Movement One was produced by CLI Films in association with Collaboration Factory. Founded to create innovative performances that capture dance, music and artistic collaboration on film, CLI's mission is to showcase artistic talent in an honest way, paying homage to the dancers' genius and telling real stories void of scripts and staging.  
"Teddy and I are extremely proud of Movement One," says Arpino. "We set out to make a film that captures dance, music, and real artistic collaboration on film, and I think we achieved those goals. We didn't have a script, we didn't re-stage scenes for the cameras, and I think this honesty translated into a more relatable final product. Dancers, and artists in general, will appreciate what their seeing on film because it's a very relatable creative process." 
"Dancers should see this film because it will really open your mind to movement. It's packed with so many powerful visual and emotional moments that I think many artists can connect with," adds Forance.
Click here to watch the trailer, download the documentary or buy the DVD. The original soundtrack is also available for download.
Photo (top): Jon Arpino and Teddy Forrance