By Laura Di Orio.
This year, the Royal Academy of Dance (RAD) USA will offer two different summer programs: a two-week Performance Course and a six-day Vocational Graded Syllabus Intensive. Both programs have been gaining popularity, and RAD USA expects there to be a larger international student body this year.
The Performance Course, held from July 8-20, is a specially-designed program that gives students insight into how it feels to be part of the creative process, while also allowing them to develop their skills as dancers and performers. Students will work with professional dancers and teachers to be a part of original pieces of choreography in preparation for a public performance.
RAD USA's second program, the Vocational Graded Syllabus Intensive, is an intensive coaching session for RAD students who are preparing for Vocational Graded Examinations. This program, which will take place from July 22-27, is open only to RAD students.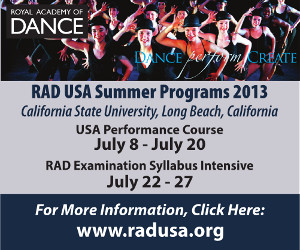 For both RAD USA summer programs, auditions are not required. However, participants in the Performance Course must be between the ages of 12 and 22, and students in the Intensive must be between the ages of 11 and 22, with at least five years of ballet training. RAD USA will accept up to 80 students, with no more than 25 students per class. The Performance Course will be divided into two levels; the Intensive into four levels.
A culminating performance opportunity will be offered to students enrolled in the Performance Course, as its focus is primarily on choreography and performing.
"The [Performance Course] students work extremely hard over the two-week period learning new choreography in ballet, modern and musical theater to perform for a public audience on the last day of the program," says RAD USA's Special Projects Coordinator Ferrell Alexander. "The performance is an important aspect of the summer program, as it gives the students an immediate and tangible goal to work toward."
Students in either summer program have the option to reserve accommodations on campus at California State University Long Beach. They will be closely chaperoned by parents and teachers, with a ratio of one chaperone to 10 students.
In addition to studio time, participants will also have the chance to venture on a field trip each week. Performance Course students will attend a performance of American Ballet Theatre and will also visit the Long Beach Aquarium. Intensive students will attend a musical theatre performance.
"Each year, we hope that the students come away from the program with a greater sense of self – confidence not only as dancers and performers but also as young people moving through the world," Alexander says.
For more information on RAD USA's summer programs, visit www.radusa.org/courses.php.
Photo (top): A RAD teacher corrects a student during last year's Vocational Graded Syllabus Intensive. Photo by Colleen Dishy.