By Tara Sheena.
Kelli Berglund is a modern-day triple threat – an actor, singer, and of course, dancer. As one of the stars of Disney XD's Lab Rats, Kelli showcases her performance pizzazz with clear star quality weekly on the hit show.
Kelli's entertainment career began as a dancer in her hometown of Moorpark, California. She has studied all types of dance, from tap and jazz to ballet, but coins contemporary as her preferred style, even citing contemporary queen Stacey Tookey as one of her favorite choreographers. As a 17-year-old with a full shooting schedule, she somehow still finds time to take dance class regularly. And, undoubtedly, does it all with her signature smile. Dance Informa spoke to Kelli in a rare spare moment.
How did you first start dancing?
I started dancing when I was about four years old. It started out as a hobby that my parents decided to enroll me in. I grew to really love it and it became a passion of mine throughout the years. Even though I was always the tiniest one in the class, I put all my effort into what I was doing. I picked things up really quickly and I just really understood choreography and the memorization of it, and that really stayed with me.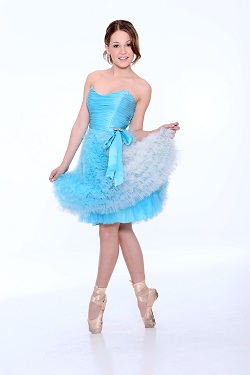 Did you have a moment where you remember thinking, "Wow, I really love to dance"?
I think that would probably be the first time I ever got on stage. That is such an overwhelming but exciting experience. I still remember it even though I was so little. I got onstage in front of this huge audience and I couldn't see any of them because the lights were so bright, but I remember being the happiest little girl in the entire world. I totally commanded that stage. I knew that performing in front of people was something I wanted to do for the rest of my life.
How did you begin acting? Did it seem like a natural transition to pick that up along the way?
It definitely felt like a natural transition from dancing. They are both an art; a form of expression. They kind of go hand in hand. I was about nine years old [when I started acting] and I actually got my start in acting through dance. I was performing in a school show where I was a featured dancer. I had a couple solos and there was a talent agent in the audience. She approached me after the show, so it kind of all started from there. [I thought] 'Why not? That would be really cool. I might as well try it.' From there, I started getting more into commercial auditions and TV auditions and, eventually, made my way into film auditions.
Do you feel like your dance background helped with your acting?
Totally! The memorization it takes to dance, like when you're doing twelve dances in a recital, really helps when memorizing lines. And being in front of an audience is so natural for me. Performing on set with the producers and directors and, ultimately in front of millions of people throughout the country, really doesn't make me nervous at all. It really gives me a rush of excitement.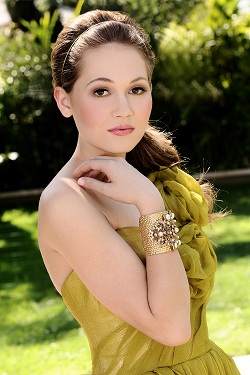 Between your TV show, Lab Rats, dancing, and going to school, how do balance everything? Do you have any tips?
I have a very, very busy schedule but I have always dreamed about being on a TV show. I'm like, 'How am I going to make time for my dance classes, school, family and so many different things?' It's hard when I am shooting five days a week, ten hours a day…it definitely takes some getting used to. I do independent study but I am still enrolled in my high school and I take a class online. School is pretty manageable.
I got really upset about dance class though, because I had taken class at my local studio for years and then I had to stop. I thought, 'I can't not have dance in my life. That is not an option.' So, there is a studio near where I film and I've been taking classes there every week. I still wish I could compete, but I have to do the show right now. I just have to balance everything equally. In my free time I still hang out with my family, I go out with my friends and I go to the mall. I still make sure I have that normal life.
Do you have any advice for other kids your age who want to jump start their careers in acting or dance?
One thing I've always told myself and told anyone else that's asked me about it is this business comes with a lot of rejection. I have gone on hundreds and hundreds of auditions and after six years of doing this, I've finally landed this opportunity of a lifetime. Honestly, the opportunity can come at any time; it just has to be the right moment. You have to know that people are going to say 'no' but everything happens for a reason and there's a reason you didn't book that job and why you're going to book this one. The right one will come along.
Where do you see yourself in five years?
I am hoping I can still be acting because that's something that I really love and want to do for the rest of my life. And, I really hope that dance is still a big part of my life. I've always dreamed of being in a Step Up-type of movie. How cool would that be? I could combine both my acting and my dancing. It'd be absolutely perfect! I've been bribing my producers to incorporate a dance somehow into the show. I am still going to be dancing every single day… it's something that I will never stop doing.