They stole our hearts and won the ninth season of So You Think You Can Dance. Find out a little more about winners Eliana Girard and Chehon Wespi-Tschopp, and what they plan for the future.
By Deborah Searle.
Chehon
Did you expect to do so well in the competition?
No, not at all. I took a chance auditioning. It was a big risk because I already had a very good job with Twyla Tharp's touring Broadway show Come Fly Away. I was working in that for a year, and I just kind of wanted to do something new. I thought that it would be good exposure, but I just never anticipated making it so far.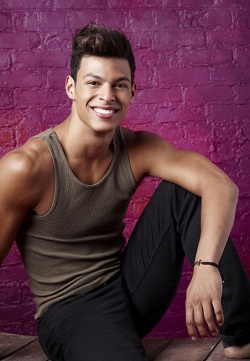 What are your plans once the tour ends?
I think I'd like to come out to LA and try some commercial work. My dream is to pursue my passion to choreograph – that's been something that has always interested me. It's been hard to do because in the ballet world you don't have that much exposure and people don't take chances by giving young people an opportunity to choreograph. I was just hoping that the show could help me get exposure and through that build a name so maybe I could choreograph somewhere after the show or if the show's still on, maybe come back sometime. I'd like to go into acting and I'd love to do some dance movies. I don't think I'd want to join a ballet company again.
What do you plan to do with the prize money?
I think I will save the money because I'm sure, in the profession were in, that there's going to be times when I need money on the side – for if I don't book anything, or especially if I want to see my parents. It's not cheap to get to Switzerland. Or also, if I choreograph something somewhere I can pay the dancers or buy some costumes, or whatever is needed.
What do you like to do outside of dance?
I enjoy being around the city. I like to just watch people and observe. It inspires me for if I choreograph or if I compose. I compose music a lot. But hobby wise, I like to snowboard when I'm in Switzerland. I always go with my brother. And I love to cook. I actually hate cooking from recipes, but I love doing my own things.
What was the biggest highlight of being on the show for you?
I think my most defining moment was when my mom was able to come out, because for some reason that week was the week that I really thought I would be going home.  It was after the week I did the hip hop and I was already in the bottom the week before, so I thought that would be my last week.  Having my mom come out was so special because she hasn't seen me dance since I was a student.  I wanted to make this last show about enjoying it.  For some reason, that was my breakthrough moment.  It just came all together at the perfect time and perfect moment.
If there's going to be another season of So You Think You Can Dance, would you like to return as an All Star?
Yes, I think I would like that, but even more so I'd love to submit my choreographic reels and possibly choreograph in the future someday.  That's something I'm really passionate about.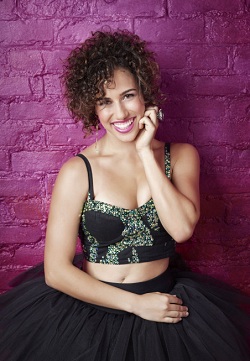 Eliana
Did you expect to do so well in the competition?
Absolutely not. I came into the competition with no expectations. I honestly just take everything a day at a time and I was just really thankful to make it through each week.
What do you think made you stand out in the competition?
I don't know, maybe the fact that I came in as a ballet dancer, because that is something that has not really been highlighted very much on So You Think? I don't know? I just tried to be myself the whole time.
What are your plans after the tour?
So far I'm planning to do concert dance, because that's something I haven't had a chance to do yet. The quality of the movement is so incredible and I feel like there is so much more for me to learn. I really want to do concert dance in New York.
Is there a certain company you'd love to join?
Definitely! I would love to do a season with Complexions or Cedar Lake. I think I'm really hoping to eventually go to Europe. I'd like to dance with Béjart, Frankfurt Ballet or Nederlands Dans Theater.
In the final show Nigel Lythgoe said that Desmond Richardson would like to work with you in his company, Complexions Contemporary Ballet. What do you think of that?
When I heard that my jaw dropped.  Are you serious?  Because that's definitely one of the companies I want to work with.  Chehon, Daniel, and I got to work with Desmond and Dwight in the first week and it was amazing.  They are such brilliant minds.
What do you plan to do with the prize money?
I'll set some aside for rent because rent is very expensive. I will definitely be 'bill smart', but I'd like to give some to my mum because she's helped me out so much and I just want to bless her back. Also, I'm going to buy a bird.  I'm a huge animal lover and I would like to have a bird.
What was the highlight of the show for you?
Honestly it is so hard to pick one because this whole experience has been a thousand times better than I ever imagined it to be. I think one particular highlight would probably be working with the choreographers. Coming into this I really wanted to work with Stacey Tookey, Sonya Tayeh, Travis Wall and Mia Michaels. Being able to work with them one-on-one has been just the biggest dream come true. I just wanted to learn and what better way than to have one-on-one time with these leading choreographers?!
Would you like to return as an All Star if there's another season of  SYTYCD?
Absolutely, without a doubt.
Top photo: Adam Rose/FOX
Profile pictures: Mathieu Young/FOX ©2012 FOX Broadcasting Co.