Teachers, it's time to start ordering costumes for your upcoming recital. Here's some helpful advice from Costume Gallery:
1)   Read the Ordering Instructions to avoid surprises. Be familiar with things like return and exchange policies BEFORE you order!
2)   Order Early! There are fabulous discounts for orders paid in full and placed by January 9th.
3)   Measure your students carefully using the Costume Gallery size chart. (They vary from company to company) If possible, have only one person doing the measuring – don't accept size suggestions from parents!
4)   Order online! This eliminates the risk of order entry mistakes.
5)   CHECK YOUR CONFIRMATION against your original order.  Its easy to forget a child or a class.
Costume Gallery Dazzles!
One peek at the costume runway show video from the NYC Dance Teacher Summit this past summer explains the buzz about Costume Gallery! The company distinguished itself with a dazzling array of stones, feathers and sequins on amazing, fashion forward styles.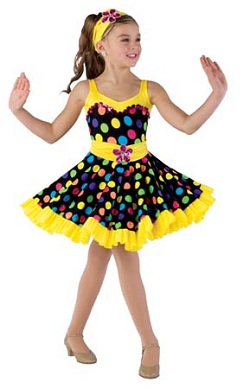 Check the tag of the first costume you wore as a child (we know you still have it stashed somewhere!) and chances are good that it came from Costume Gallery.  With half a century of manufacturing know-how, the company has reinvented itself and is bringing pop culture and style onto recital stages around the world.
Teachers, kids and audiences want fresh, fun costumes– not something  rehashed from the 70's.  They expect little Susie's dance classes to culminate in a Broadway like extravaganza, and the outfits can make or break the show.  That's why Costume Gallery incorporates elements from the fashion world and makes them eye popping as well as "danceable."
Creating recital styles that are hip, cool and edgy, bearing in mind that granny and neighbors are in the audience, presents unique challenges for designers. "Age appropriate" is a huge element.
"There's no question that kids are getting larger," says Kimberly Keller, Chief of Design at Costume Gallery "and its critical to acknowledge that in our design process. We create styles that look fabulous on all the dancers, even those with less than perfect bodies."
"You're not just buying costumes, you're buying peace of mind," is the watchword at Costume Gallery.  Their customers are dance instructors, who already have challenging jobs! The last thing they need is to stress over costumes! That's why the company has a customer friendly website, www.costumegallery.net, which makes ordering simple.  There are videos of every costume, showing details in the fabric, as well as how the costume looks on a dancing body.  "The videos augment through motion, what we could never achieve through a catalog alone."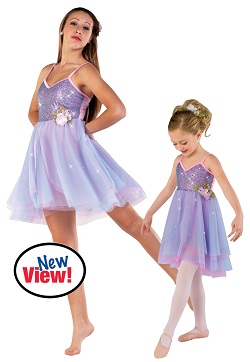 The website also features another treat – "A New View", showing the style on a different size dancer than the one featured in the Costume Gallery catalog.  "Sometimes it hard to visualize what a style shown on a child will look like on an adult, but often, they're amazing. "A New View" takes the guesswork out of ordering for classes with a wide age range. It's startling how you gain a completely different perspective on an outfit just by seeing it on another size model!
Costume Gallery stands alone in its efforts to help the dance community. Over $45,000 has been awarded to dancers age 12-21 over the past four years through the company's Beverly Miller Scholarships.  Winners must put their grants toward their dance education.  The company also supports breast cancer research by designing and selling a Dancing Toward a Cure tee shirt each year.
What remains unchanged at Costume Gallery is its commitment to producing quality costumes in the United States.  The company employs a stable and qualified workforce at its headquarters in Burlington, NJ, right outside of Philadelphia.
What's clear is that this rising star of the dance costume industry will continue to Dazzle the dance community for years to come!
Advertorial